Mother's Day Brunch Reimagined
A Delicious Twist on a Classic Family Gathering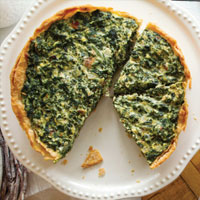 Photos by Scott Holstein
With just a little planning, you can create a healthful, appetizing meal for Mom's special day served on a beautifully set table.
Mother's Day can be a challenge. How do you figure out what to get for the woman who's given you everything? No new scarf or designer perfume could even begin to pay her back for those troublesome teen years of yours, the innumerable free counseling sessions she's given you or the thousands of PB & Js made in your honor. Our recommendation? Don't even try. It's a lost cause.
So, instead of spending countless hours in an online search for the "perfect" gift, give Mom what she really wants this year — you. A special day just for the two of you (or, better yet, invite the whole family) to relax and unwind with great food and even better company. Preparing a delicious (and nutritious) brunch is an ideal way of bringing loved ones together and letting her know you care.
Ensure this day is 100 percent stress free for momma-bear by telling her to sit back and relax, you've got the menu under control. All she needs to do is sip her freshly prepared Pear Mimosa — and we think she can handle that.
Getting the Right Look — Keep it Ladylike
Nothing says femininity like French-country décor. Embrace this cozy, soothing style for your brunch backdrop. Combining crisp, neutral linens with delicate colors like pale pink, sky blue and soft mint will enhance the mood of the day without making any fellows in the room feel too out of place. Afterward, any new linen additions you purchased for the day will make for an excellent extension of your interior-decorating arsenal. Win-win.
For serving and dining ware, there's no need to pull out the fine china. Your simplest white dishes will work perfectly for this "shabby chic" look, which relies heavily on understated elegance and a comfortable sense of refinement.
If you're having trouble pinning this style down, check out local boutiques like Sweet Patina, Peculiar Goods and That's Mine to help you find your way.
About the Menu — A Personal Touch Is Preferred
On a hot Tallahassee day, Mom will love these refreshing selections. Items included in the menu are designed to be tasty and adaptable. Altering or enhancing the flavors to suit your family's taste buds is exactly the sort of personal touch your mom is looking for in a gift.
The Caprese salad (or as we like to call it, the "easy Caprese") is a real crowd pleaser. Utterly delicious and completely healthy, this is a low-effort appetizer that will allow your guest to snack without filling up or overindulging.
To keep unnecessarily high stress levels at bay, prepare certain menu selections early. The spinach quiche and chicken salad keep well overnight. Preparing your fruit pizza's crust the night before will allow it to be perfectly cooled by the time you're ready to decorate. As far as toppings are concerned, the decision is truly up to you. Avoid particularly juicy fruits, such as oranges, grapefruit and watermelon, which will water down your dessert and make indulging in its deliciousness a messy affair.
Spending a portion of your Saturday evening cooking will allow Sunday morning to be a far more relaxing and enjoyable experience.
Appetizers
Cucumber Finger Sandwiches
Ingredients:
1 (12-ounce) package of reduced-fat cream cheese
12 tablespoons fat-free sour cream
4 teaspoons garlic
1 tablespoon chopped onion
4 large cucumbers
10 slices bread of choice
Directions:
Wash and peel cucumbers; slice off seeds. Rinse and drain. Cut cucumbers into ¼-inch slices. Combine all other ingredients in mixing bowl. Spread desired amount of mixture on bread. Follow with sliced cucumbers. Cut sandwiches into 4 squares each. Refrigerate before serving.
Serves 8
Caprese Salad
Ingredients:
6 medium very ripe tomatoes
4 ounces fresh mozzarella
6 large fresh basil leaves
8 teaspoons balsamic vinegar
2 tablespoons extra virgin olive oil
Directions:
Cut tomatoes and mozzarella into even slices approximately ¼ inch wide. Layer on a serving platter or individual salad plates. Combine balsamic vinegar and olive oil. Cut basil leaves into thin ribbons and sprinkle them over the salads. Drizzle salads with olive oil dressing and sprinkle with salt to taste. Serve immediately.
Serves 6-8
Main
Spinach Quiche
Ingredients:
1 prepared piecrust (9-inch)
¼ cup chopped onions
1 (8-ounce) package cream cheese, cubed
¾ cup milk
4 large eggs, lightly beaten
1 (10-ounce) package frozen chopped spinach, thawed and well drained
1/8 teaspoon pepper
5 strips crispy bacon (optional)
1 (2-ounce) jar diced pimiento, undrained (optional)
Directions:
Bake piecrust at 450 degrees for 10-12 minutes, set aside. Melt butter in a skillet; add onions, cook until tender. Add cream cheese and milk to skillet. Cooking over low heat, whisk mixture until cream cheese melts. Reduce heat. Gradually whisk in eggs and remaining ingredients. Pour into prepared crust. Bake at 350 degrees for 35-40 minutes.
Serves 8
Southern Style Chicken Salad with Bread Crisps
Ingredients:
3 cups diced chicken
½ cup mayonnaise
1 cup seedless green grapes, sliced
2 green onions, finely diced
1 rib celery, thinly sliced
1 cup walnut pieces
¼ teaspoon salt
Dash pepper
1 tablespoon lemon juice
2 teaspoons honey, or to taste
Loaf of French bread (baguette)
Directions:
Combine the diced chicken with mayonnaise, sliced grapes, sliced green onion, sliced celery, walnuts, salt, pepper and lemon juice. Stir in the honey. Serve chilled. For bread crisps, lightly butter 10 pieces of thinly sliced French bread. Pan sear or grill until toasted golden brown. Serve aside chicken salad.
Serves 6-8
Glazed Carrots
Ingredients:
2 shallots
1 ½–2 pounds baby carrots
1 1/2 teaspoons salt
4 tablespoons butter
4 tablespoons honey
3 tablespoons packed brown sugar
Directions:
Rinse carrots under cold water, drain and place in a medium saucepan. Cover with water, adding a pinch of salt. Bring to a boil. Reduce heat to medium-low, cover, and continue cooking for about 15 minutes or until tender. Drain and set aside. In a saucepan, melt butter over medium-low heat. Add finely chopped shallots, cook until tender. Add honey and brown sugar to heated pan; stir until sugar is dissolved. Add lemon juice to mixture. Gently stir in carrots, coating well. Continue heating until carrots are hot and glazed. Serve hot.
Serves 8
Tossed Salad
Ingredients:
1 cup blanched slivered almonds
2 tablespoons sesame seeds
1 head romaine lettuce, torn into bite-size pieces
1 head red leaf lettuce, torn into bite-size pieces
1 (8 ounce) package crumbled feta cheese
1 (4 ounce) can sliced black olives
1 cup cherry tomatoes, halved
1/2 red onion, halved and thinly sliced
1 (8 ounce) bottle Italian salad dressing or preferred blend
Directions:
Heat a large skillet over medium-high heat. Place the almonds in the skillet, and cook, stirring frequently until lightly browned. When the almonds are beginning to turn, add sesame seeds and cook one more minute, or until seeds are toasted. In a large salad bowl, combine lettuce with feta cheese, olives, almonds, sesame seeds, tomatoes and onion. When ready to serve, toss with dressing.
Serves 8-12
Dessert
Fruit Pizza
Ingredients:
1 package sugar cookie dough
8 ounces reduced-fat cream cheese
4 ounces fat-free whipped topping
Your choice of sliced fruit such as strawberries, blueberries, kiwi, pineapple and bananas
For glaze:
¼ cup water
1 tablespoon cornstarch
½ cup orange juice
¼ cup sugar
Directions:
Coat pizza pan or other circular baking pan with cooking spray. Making sure the dough is evenly distributed, press sugar cookie dough into pan to form crust. Bake according to package instructions. Set aside and let cool. Blend softened cream cheese and whipped topping until smooth. Evenly spread on cooled crust. Arrange sliced fruit as desired. Combine all four glaze ingredients into small saucepan. Bring mixture to a boil, stirring occasionally. Allow time for cooling and thickening. Drizzle over pizza. Chill and serve.
Serves 8
Drink
Mint Tea
Ingredients
1 quart water
4 family-size tea bags
2 cups sugar
1 bunch mint leaves
1 lemon, sliced for garnish
Directions:
Prepare iced tea as directed on package for 1-gallon portion. To serve, pour each glass of tea and garnish with a slice of lemon and mint leaves.
Yields 1 gallon
Pear Mimosa
Ingredients:
» 2 bottles Champagne
(or ginger ale), chilled
» 4 cups pear nectar
» 1 lime, cut into 8 wedges
Directions:
For each serving, pour 3/4 cup of Champagne (or ginger ale) into a flute or wineglass and top with 1/2 cup of pear nectar. Squeeze and garnish with a wedge of lime.
Serves 8