Meet Our 2011 Top Singles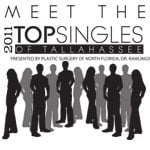 It can be sidelong glance, a wink, a smile or just "hello" that makes you think, "Hey, that person is flirting with me!" And, in a heartbeat, you're also thinking, "Hey, I want to get to know him (or her!) better."
Eighteen "best-catch-not-yet-taken" bachelors and bachelorettes have agreed to make the first move and share their photos, a little chit chat and a very short — only six words — biography with our readers.
If you see someone you'd like to get to know better — or you just want to liven up the hot summer months with a fun night out — join us at the Hotel Duval for Tallahassee Magazine's Top Singles bash on Saturday, July 16. All our featured singles have agreed to participate in a date auction during the festivities. And all money raised during the bidding will be donated to the charity of each single's choice. Last year's inaugural event raised more than $22,000 for 13 nonprofit organizations.
VIP Club Promoter and Event Planner
Charity: Ronald McDonald House Charities of Tallahassee, Inc.
Six-Word Memoir: The Life Of The Party. Literally.
Personal Trainer, Premiere Health & Fitness and Golds Gym
Charity: Tree House of Tallahassee and Young Life
Six-Word Memoir: Life is UNTAMED! Play. Sweat. Love.
Client Service Representative/Media Sponsorships, Rowland Publishing, Inc.
Charity: Big Bend Hospice
Six-Word Memoir: First one on the dance floor.
Professional Motocross Racer
Charity: LIVESTRONG
Six-Word Memoir: Always give more than you take.
Reporter for WCTV Eyewitness News
Charity: Children's Home Society
Six-Word Memoir: Pass the bubbly, it is me.
Government Liaison, Office of Agricultural Water Policy
Charity: Cards for a Cure event, benefiting TMH Cancer Programs/h4>
Six-Word Memoir: Mistakes happen, Laugh — Love — Smile anyways.
President, Whitley Contracting and Partner in Duval Partners
Charity: Boy Scouts of America Suwannee River Area Council
Six-Word Memoir: So far, so good, what's next?
Licensed nurse and massage therapist at Chelsea Salon and Spa and Tallahassee Plastic Surgery Center
Charity: The Refuge House
Six-Word Memoir: Life and laughter always come together.
Pharmaceutical Representative and Wedding Planner
Charity: Tallahassee Animal Shelter Foundation
Six-Word Memoir: Today, Tomorrow, Yesterday = Happiness, Excitement, Laughter.
Chief Operating Officer of Florida United Businesses Association (FUBA)
Charity: The Shelter of Tallahassee and Leon County
Six-Word Memoir: Life Is Great. Share Yours Today.
Administrator at Centre Pointe Health and Rehab
Charity: Chelsea House
Six-Word Memoir: Live For Today — There's Always Re-Do.
Criminal defense and personal injury attorney in the law firm Johnny Devine, P.A.
Charity: Leon County Humane Society
Six-Word Memoir: Lawyer enduring life's trials with laughter.
Program Coordinator for Miracle Years Child Care Centers/Nursing Instructor at Lively Technical Center/Home Health Registered Nurse
Charity: The Reading Rally
Six-Word Memoir: Striving for excellence, accepting nothing less!
Lobbyist, Gunster Attorneys at Law
Charity: Seminole Boosters and YMCA
Six-Word Memoir: Don't tempt me, I'm all in.
Vice President, VanAllen Insurance Agency
Charity: Big Brothers Big Sisters of the Big Bend
Six-Word Memoir: Working to Live, Not Living to Work.
Program Coordinator at the Knight Creative Communities Institute and Social Media Monitoring Manager at The Zimmerman Agency
Charity: National Eating Disorders Association
Six-Word Memoir: She's designing a life she loves.
Hardware Account Executive State of Florida Government at SHI International Corporation
Charity: The Junior League of Tallahassee
Six-Word Memoir: Laugh Often. Work Hard. Be Classy.
Cardiac Rehabilitation Coordinator at Capital Regional Medical Center/ part-time bartender at The Moon
Charity: Juvenile Diabetes Research Foundation (JDRF)
Six-Word Memoir: Good perspective makes all things relative.