Marching Toward Success
J.C. Watts quarterbacks the Black News Channel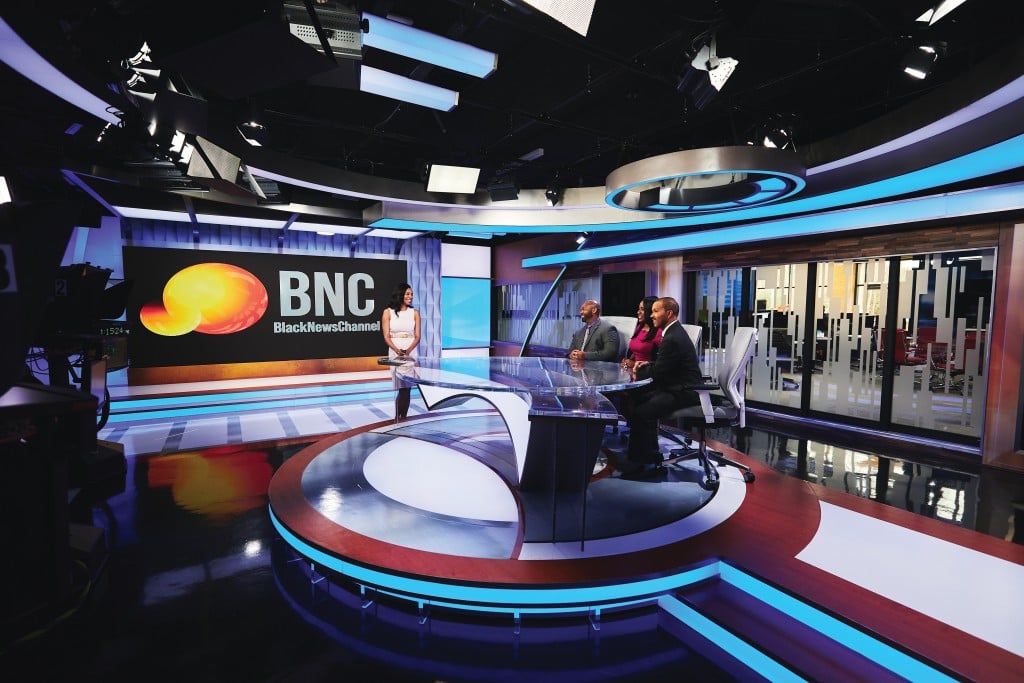 The Florida State University Seminoles and their new coach Bobby Bowden traveled to Norman, Oklahoma, to take on the No. 4 ranked Sooners. A week earlier, FSU had been blanked, 47-0, by an unranked Miami team, and Oklahoma was expected to blow out the Seminoles in what, for the visitors, would be their third straight road game to open the 1976 season.
But FSU refused to lie down. In the fourth quarter, despite four Seminole turnovers, Oklahoma led by just 17-9 and the visitors had the ball with a chance to tie the game. Oklahoma would win, 24-9, but spectator J.C. Watts had been mightily impressed by FSU, presciently so.
Less than four years later, Watts, as the Oklahoma quarterback, would lead the underdog Sooners against FSU in the 1980 Orange Bowl. FSU entered the game undefeated at 11-0.
These days, Watts likens what he calls the "upstart" Black News Channel to the 1976 Seminoles and himself to the Bobby Bowden of that time. Watts, who makes his home in Oklahoma City, is the co-founder and chairman of the Tallahassee-headquartered network, which launched in February.
"This is my first rodeo in starting a network, and there have been some surprises and some missteps, but overall it's been a good experience because we have a good team," Watts said. "Our news director, Gary Wordlaw, has been in the industry for 50-plus years. Our engineering and operations director, Kenny Elcock, is solid. Our finance people, general manager Frank Watson and finance director Maureen Brown, they're solid. Much of our staff is young, but our management team has 'been there, done that.'"
At this writing, the Black News Channel is accessible via ROKU devices, Comcast Xfinity and Charter Spectrum TV. The network is working to establish relationships with additional cable providers and streaming services. A mobile app is in development. The network is committed to increasing the amount of original reporting generated by its bureaus in New York, Washington, D.C., Atlanta and Los Angeles. It receives news content delivered by the NNPA, a collection of African American-owned community newspapers from throughout the United States.
But COVID-19, no doubt, has been a wrench in its spokes.
"Three months into it, I had hoped we would be on our own 35, but we are on probably the 25-yard line instead," Watts said. "But we've still got the ball; we haven't turned it over. And there has been nothing that has led me to believe that our future is not bright."
The pandemic limited the ability of Black News Channel personnel to travel the country and meet with prospective advertisers. Advertising activity, generally, declined.
A "tough April" resulted, but "maybe we'll be able to get on track in the second half of the year," Watts said in May. "I haven't been on a plane in seven weeks."
In any event, the network knew that startup would not be easy.
After all the preparations for launch were completed, Shad Kahn, the network's, majority investor and the owner of the Jacksonville Jaguars, inspected its facilities.
"As Shad was leaving, the last thing he said to our chief operating officer, Jim Zerwech, was, 'Now the hard part starts,'" Watts recalled.
The pandemic, however, has served to prove the Black News Channel's value proposition.
"We want to be the source of education and information for the black community," said Watts, a former Republican congressman. "We focused a lot of attention on COVID-19 because it has disproportionately affected black Americans, and it has illuminated disparities in health care that I have been talking about for 30 years."
People in high places have taken notice of the Black News Channel's reporting and its strengthening connection to its audience. The White House reached out to the network to ask that it run public service announcements related to the pandemic.
The network is a news channel first, but Watts has been pleased to see viewership of all of its shows grow. It offers programs related to women's issues, men's issues, medicine, food and historically black colleges and universities.
Watts, who graduated from OU in 1981 with a journalism degree, had a show for a time but paused it when he realized that he was needed more badly in the trenches.
He said he is more comfortable
answering questions than asking them, but he has people he wants to interview when his show resumes, including retired Tallahassee physician A.D. Brickler, who delivered an estimated 30,000 babies in his career.
"No cavalry is coming to rescue us; we've got to take care of ourselves," Watts said. "But if the pandemic teaches us nothing else, it should be that no one is self-made. We all rely on others. I don't know the people who manufacture toilet paper or process meat. I don't know who dry-cleans my clothes, but I appreciate them and I want to highlight the contributions they make."
Too, he wants to interview lions of the Civil Rights Movement, people such as Andrew Young and John Lewis.
"I had a conversation with Congressman Lewis one time, and I asked him how he could be so disciplined that he didn't fight back when he was spat upon, kicked and beaten in the head with blackjacks," Watts said. "And he told me that, before every march, Rev. King would plead with people not to participate if they thought they could not refrain from hitting back because that would compromise the movement.
"I want to tell more stories like that one."