FAMU-FSU Professor Christian Hubicki And His Time On "Survivor"
What being the fan favorite on a popular TV series taught him about risk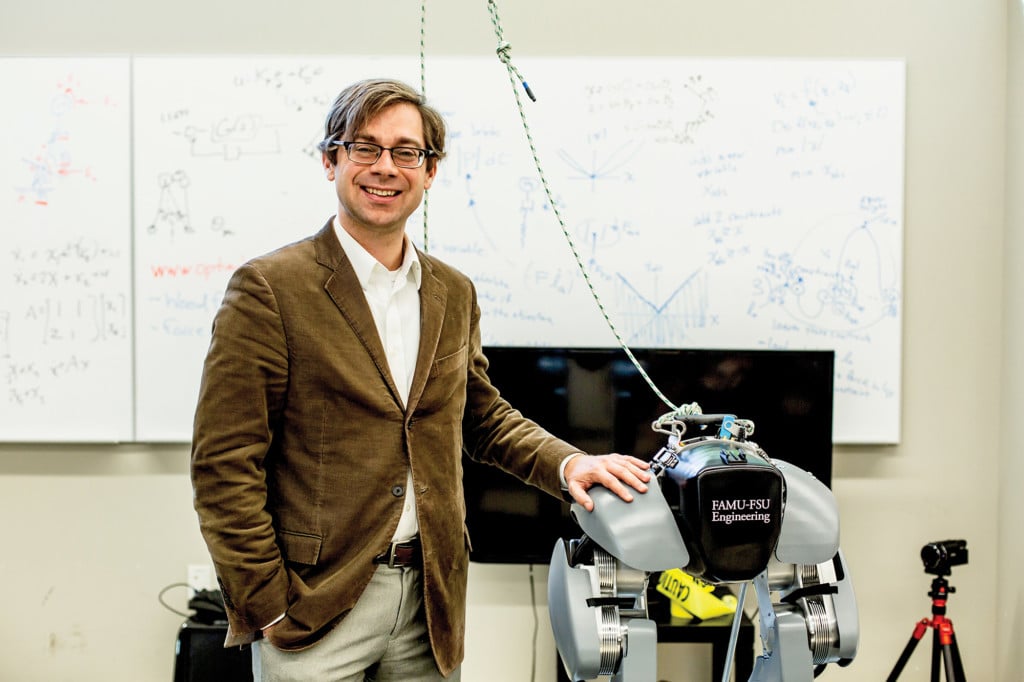 It's not easy to picture a robotics scientist competing against 20 strangers for $1 million on a deserted island.
But millions saw it happen last year.
Christian Hubicki, assistant professor of mechanical engineering at the FAMU-FSU College of Engineering, became a fan favorite on "Survivor," a CBS reality television series. He outwitted, outplayed and outlasted his castmates until episode 13, the last before the finale.
Hubicki pushed his physical and mental limits on a show where a group of strangers must endure the elements, compete in grueling challenges and strategize to avoid elimination.
The experience revealed Hubicki as someone who can be open and vulnerable, someone who is confident enough to make power moves and someone who can overcome stereotypes to show the world that people in robotics aren't so robotic.
"I don't think most people would look at me, a guy who sits at a computer and types out code, as someone who could huddle in a shelter made out of bamboo during hurricanes in Fiji," Hubicki said. "I'm not sure I knew that about myself, either, until I tried it. You don't know what you're capable of."
To millions of viewers, he became a star. The Hollywood Reporter underscored his status on the show in a December article that said: "Spirits are understandably low as one of the most compelling castaways in several seasons came up just a single episode shy of a shot at the Sole Survivor title."
"Survivor" contestants compete against each other in a remote location, where they vote fellow contests off the show until one Sole Survivor remains for a million-dollar prize. They must find ways to feed and shelter themselves, and they vie for rewards including food supplies and for so-called immunity from elimination.
Hubicki didn't expect to get that big phone call in September 2017, when producers said they were interested in him joining the Survivor's season 37 cast. He had just one problem: a plan to apply for his dream job.
That marked the last step on the "straight and narrow path" that Hubicki had set for himself: graduate with his bachelor's and master's in mechanical engineering, earn his dual-degree Ph.D. and become a professor.
A reality television show wasn't part of the plan. He thought about how the "Survivor" experience would affect his career and what it would mean to open himself to the public eye, where he couldn't hide in a lab.
"Are people going to take me seriously as a scientist when they saw me running around on an island in a reality show?" Hubicki said. "Should I go on this island where I have no credentials to hide behind? I'm not building robots. Instead, I'm trying to build alliances to stay in the game. People will see me outside this very controlled context of a laboratory, and that's a bit of a risk."
He concluded that a good scientist takes risks, and that's what he did. He continued interviewing for professor jobs, knowing he couldn't tell the schools that he was going to appear on television. On the day he left for Fiji in March 2018, he signed the paperwork for his
teaching position at the FAMU-FSU College of Engineering.
The season premiered in September, only a few months after he started running his research lab at the college. He avoided mentioning "Survivor" during the beginning of the semester, but he knew the inevitable. Once the show aired, he found himself shocked from the overwhelmingly positive response from his leadership and peers.
"All my fears were completely unfounded," Hubicki said. "The College of Engineering has really embraced this."
Though he doesn't encourage his students to go to a remote island with strangers, he does urge them to take risks on class projects.
"I tell them, 'I'd rather you take a risk and try to do something ambitious, whether you're making a robot or programming a really cool algorithm,' " Hubicki said. "If you show that you shoot really high, that's something that I reward in my class, even if it doesn't quite work out the way you wanted."
Now recognizable around Tallahassee, he gets plenty of questions about his time on "Survivor," but he finds that people misunderstand the show.
"People hear that you're a robotics research scientist on the show and ask, 'Did you go and build robots out of bamboo?' " Hubicki said. "Generally speaking, people don't know that 'Survivor' is largely a social-political game. They think you just survive in the woods, but that's only a component of it. It tests your ability to work with people."
It's the second component that scared him. The season's theme was "David vs. Goliath," and he was a David, an underdog. How would he fare with Goliaths? How would he connect with people he never encounters in his day-to-day life?
With little to do on the shores of Fiji besides talking with fellow contestants, he soon realized that he could find common ground with all different types of people — even the "Brochachos," a wrestler and S.W.A.T. officer he befriended during the show.
He overcame a 5 ½-hour immunity challenge through recitation of his master's thesis to Jeff Probst, the show's host and executive producer. He thereby realized that his conversationalist nature and passion for robotics can serve him in all kinds of situations.
When he planned "blindsides" and other strategic gameplays, he realized that other people could recognize his capabilities outside the lab.
He discovered a new side of himself as he showed viewers a different side of engineers.
"There's a stereotype that engineers, and perhaps most appropriately, people in robotics, are robotic and lack emotional awareness. I never liked that stereotype," Hubicki said. "To be a successful robotics person, you have to work with people."
Now, Hubicki can share his passions with his new Twitter following. By spring, he had amassed more than 20,000 followers.
Making scientific concepts palatable for a reality show audience isn't easy, but he feels obligated to educate people with his platform.
"So often, our research is funded by taxpayer dollars," Hubicki said. "I think for some of us, it's our responsibility to say, 'Here's what you're paying for, this is what we're doing, and this is why it's important.' "
Today you'd likely find Hubicki at home with Emily, his girlfriend, and Fermi, his dog, or working with students on Cassie, his robot, which he named after the cassowary, a massive flightless bird.
He's enjoying life after "Survivor" but can't help but think about the place over 7,000 miles away that changed his life, saying "so much of the 'Survivor' experience is crystallized in my mind."