March/April 2015 Agenda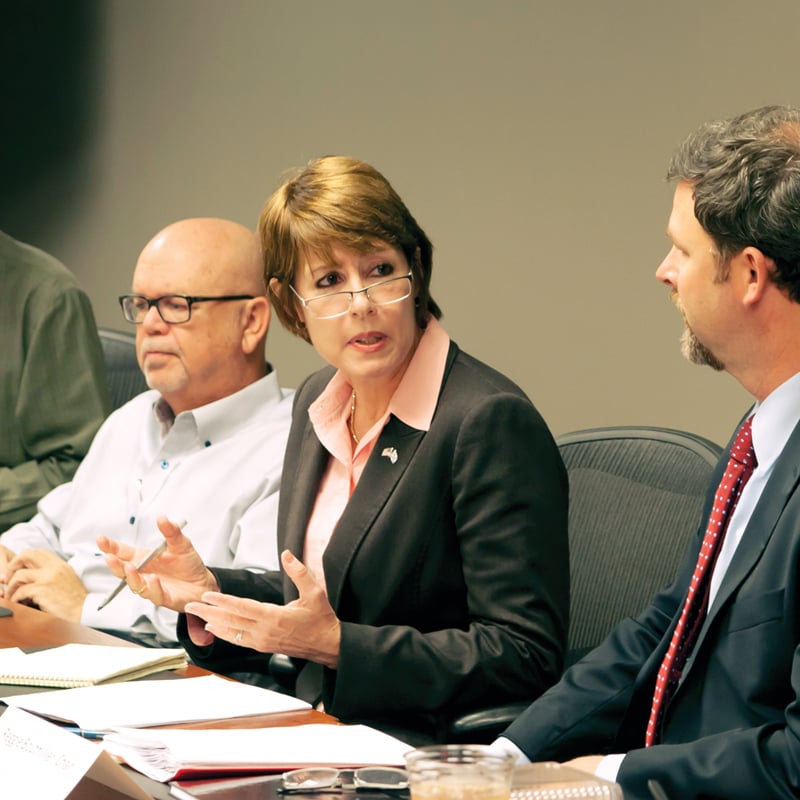 Awards and Accolades
Aegis
Aegis Business Technologies took home several honors at Tallahassee Society of Association Executives' annual event, including Supporting Organization of the Year; and Aegis Account Manager Garrett Lucas took home the trophy for Associate of the Year.

Gov. Rick Scott and Volunteer Florida CEO Chester Spellman recently recognized Tallahassee's Debra Trent and Stefon Gavin of 50 Large with the Champions of Service Award. Trent and Gavin are tutors with the 50 Large program, a Leon County Schools effort to match at-risk youth with coaching and support mentors. The purpose is to break the cycle of multiple discipline referrals, suspensions and truancy. Gavin is a peer tutor and mentor to the young men in 50 Large and helps them make healthy choices as they face the challenges of daily life. Trent works with 50 Large students to provide academic support, focused mentoring, character development and life skills.




Parisi

For the third year in a row, Dan Parisi, director of new business development at Rowland Publishing Inc. has been named Top Producer in overall advertising sales at the regional publishing house. In 2014, he sold the highest dollar volume for two of the company's flagship publications, Tallahassee Magazine and 850 — The Business Magazine of Northwest Florida.

E. Edward Murray, Jr., CCIM at NAI TALCOR, has achieved the prestigious SIOR Office designation from the Society of Industrial and Office Realtors, a Washington, D.C.-based international professional organization of more than 3,000 commercial real estate professionals, 2,800 of whom have earned the coveted SIOR designation. Individuals who hold the SIOR designation are top producers in the commercial real estate field and are represented in more than 630 cities in 29 countries around the world. To achieve the SIOR designation, Murray completed at least five years of creditable experience in the highly specialized field of real estate leasing at NAI TALCOR; met stringent education requirements; and demonstrated professional ability, competency, ethical conduct and personal integrity.
Economy
U.S. Rep. Gwen Graham and the Greater Tallahassee Chamber of Commerce recently sat down to talk about issues affecting local businesses and the community at large in the capital city. The roundtable discussion took place during a meeting of the Chamber's Business Advocacy Committee and covered topics such as health care, enhancing research and training programs, the importance of local higher-education institutions and federal support for projects that will create jobs.
Silver Airways is now offering service between Tallahassee Regional Airport and Fort Lauderdale International Airport, and an additional flight to Orlando International Airport as well. "Fort Lauderdale is one of our top three destinations. We are happy to work with our partner, Silver Airways, as we continue to enhance the intrastate services offered at TLH," Director of Aviation Chris Curry said. "Nonstop, daily flights between Fort Lauderdale and Orlando will provide the residents in our community with greater connectivity within the state." Silver Airways is one of three major commercial air carriers servicing the Tallahassee market, along with American Airlines and Delta Air Lines.
Appointments and Transitions
Jeremy L. Susac, a partner with the Florida business law firm Berger Singerman, is now a member of the Florida Energy System Consortium advisory board. Susac is a member of Berger Singerman's Government and Regulatory Team, and his practice focuses on energy and environmental law and water/wastewater regulation. Based in the firm's Tallahassee office, Susac has extensive experience with regulations governing entities subject to the jurisdiction of the Florida Public Service Commission, Florida Department of Environmental Protection and Florida Department of Agriculture and Consumer Services.

Leon County Administrator Vincent S. Long is now president-elect of the newly formed Florida Association of County Managers Inc. The FACM is a professional association of chief executive officers created to address common challenges and opportunities that affect county governments. County managers from throughout the state recently attended the Florida Association of Counties (FAC) Legislative Conference in Tampa to formally establish the FACM as an affiliate of the FAC.




Wood

Heather Mitchell, formerly president and CEO of United Way of the Big Bend, is now vice president for resource development at Tallahassee Community College and executive director of the TCC Foundation.

Shannon Wood is now a mortgage loan consultant for Gulf Winds Federal Credit Union. Wood's job is to work with Realtors and business leaders throughout the community to promote the mortgage division's loan products and services. Wood has more than 10 years of experience in the credit union industry. Before joining Gulf Winds, Wood worked for nearly five years as assistant vice president of the Home Loan Department at Envision Credit Union.

Brett Cyphers of Tallahassee has been named the new executive director of the Northwest Florida Water Management District Governing Board. Cyphers previously served as the assistant executive director since June 2012 and replaced Jon Steverson, who has been appointed as secretary of the Florida Department of Environmental Protection. Cyphers is a veteran of the U.S. Army and Florida National Guard and holds a degree from Florida State University.




Anway

The Florida Restaurant and Lodging Association's Tallahassee Chapter recently installed new officers for 2015. The installation took place at the Versi Lounge in the 101 Restaurant in December. The new officers are President Sam McKay of Staybridge Suites; Vice President of Restaurants Mike Schmidt of The Egg Café & Eatery; Vice President of Lodging Michelle Wilson of Hampton Inn & Suites; Treasurer Emily Johnson-Truitt of Springhill Suites; and Secretary Russell Daws of Tallahassee Museum. The chapter also swore in a new board of directors: Adam Corey of 101 Restaurant, Clint Brewer of Republic National Distributing, Ernie Moses of Candlewood Suites, Wade Shapiro of Legacy Insurance Solutions, Steve Adams of ClubCorp of America, Jon Sweede of 101 Restaurant, Bo Schmitz of Four Points by Sheraton Tallahassee Downtown, Jonathan Brashier of Aloft Tallahassee Downtown and Amanda Morrison of Madison Social.

Congratulations to the 2015 Knight Creative Communities Institute Community Catalyst Class: Paige Carter-Smith, Fran Conaway, Ashley Daniels, Brad Johnson, Stefanie Kiedrowski, Jack Levine, Lucas Lindsey, Joseph Lowder, Christine Nieves, the Rev. Robert Streater, Alana Taylor, Krishnan Viswanathan and Gayle Webb. KCCI brings together a diverse group of visionaries who implement "sense of place" projects to retain, attract and harness talent, increase entrepreneurship and enhance Tallahassee's economic mobility.

Michael Anway, former Health and Human Services policy coordinator for Gov. Rick Scott, has joined Holland & Knight's Florida Government Advocacy Team as senior policy adviser in Tallahassee. Anway will advise health-care industry clients, including Medicaid vendors and providers; pharmaceutical, medical device and biotechnology companies; hospitals and research institutions; and technology companies on government relations strategies.




Martin & Harmon

Rachel Luoma, MS, CAE and John Ricco, MPA, CAE are two of the newest vice presidents of Partners in Association Management. Each vice president is responsible for specific strategic endeavors that assist partners with business development and workforce infrastructure. The company provides full-service management to over 16 state, regional and national not-for-profit organizations and also provides consulting/project management services to a similar clientele.

Thomas Howell Ferguson P.A. welcomes manager Lori Martin, CPA, and staff member Taylor Harmon to the Assurance Services Department. Martin has almost 10 years of experience with assurance, consulting, tax and other accounting services. Martin is also a certified anti-money laundering specialist, a member of the Florida Institute of Certified Public Accountants, the American Institute of Certified Public Accountants and the Association of Certified Anti-Money Laundering Specialists. Harmon is experienced in tax preparation for corporations, partnerships, individuals and not-for-profit organizations, as well as audit procedures for government agencies, not-for-profit organizations and construction companies.
Good Works
Sweat Therapy Fitness hosted a "Super SweatFest" at its Midtown studio in Tallahassee to raise money for the local Big Bend chapter of Girls on the Run. More than 40 people participated and raised a total of $550. Girls on the Run of the Big Bend is part of a network of more than 200 nonprofit councils across the country. Kim and Brian Bibeau, owners of Sweat Therapy Fitness, presented the donation check to Ericka McKibbin of Girls on the Run. In other Sweat Therapy news, Kim Bibeau was named as an ambassador for PTontheNet, a website devoted to the international community of fitness professionals. She will serve as the personal trainer's voice via PTontheNet blogs, social media and forums throughout 2015.

Gulf Winds Federal Credit Union donated $20,000 to America's Second Harvest of the Big Bend this past Christmas season to help put groceries on the table for folks during a tough time of year. America's Second Harvest has worked for more than 30 years serving those in need.