March/April 2013 Agenda
The Latest on Tallahassee's Movers and Shakers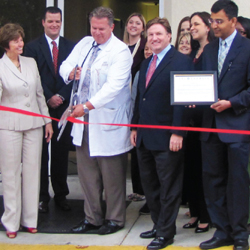 Tallahassee Mayor Pro Tem Nancy Miller holds the ribbon while Capital Regional Medical CEO, Brian Cook and Florida Cancer Specialists' Dr. Scott Tetreault cut the ribbon celebrating the Grand Opening of the new Tallahassee North office. Florida Cancer Specialists' CEO Brad Prechtl, Dr. Viralkumar Bhanderi and VP Shelly H. Glenn were also welcomed by the Chamber Ambassadors.
Accolades
▪ Althemese Pemberton Barnes, executive director of the John G. Riley Museum, recently received a presidential appointment to the National Museum and Library Services Board, the advisory body for the Institute of Museum and Library Services (IMLS). The appointment is made based on her experience with museums and service organizations. Barnes founded the Riley Museum in 1996 and established the Florida African American Heritage Preservation Network, a statewide professional museum association, a year later. She is a member of the American Alliance of Museums, the Florida Heritage Foundation, the Florida Association of Museums, the Association of African American Museums and the National Trust for Historic Preservation. Barnes received B.S. and M.S. degrees from Florida A&M University.
▪ Deidra "Dee" Kring, director of continuing education at the Florida Engineering Society (FES), was recently installed as 2013 President of the Tallahassee Society of Association Executives (TSAE). Kring has been a member of TSAE since 1996 and has served on the TSAE Board of Directors since 2006. Kring began her association management career in 1992 and has worked for national and state associations ever since, joining FES in 2003. She is a graduate of TSAE's Program for Association Leadership (PAL) and holds the Certified Meeting Professional (CMP) and Certified Association Executive (CAE) designations.
▪ Andrew McClenahan has been named public safety director of the U.S. operations of SmartWater CSI, LLC, a cutting edge, high-tech security company with a great track record in the United Kingdom. McClenahan has more than 18 years of law enforcement experience and training at both city and state levels, including the Tallahassee Police Department and the Florida Fish and Wildlife Conservation Commission.
▪ Richard A. Greenberg of Rumberger, Kirk & Caldwell, has been picked "Lawyer of the Year" by Best Lawyers in America in the area of Criminal Defense: Non-White Collar.
▪ Ian Macdonald has joined the Tallahassee office of Clark, Partington, Hart, Larry, Bond & Stackhouse. His practice focuses on commercial litigation, creditor's rights and real property litigation. While attending the Florida State University College of Law, Macdonald was a member of the Jessup Moot Court team and served as articles selection editor for the Journal of Transnational Law and Policy.
▪ David Faulkenberry, president of FBMC Benefits Management, has been appointed to serve as secretary/treasurer of the Florida Sterling Council. He has served as deputy secretary of the Florida Department of Management Services and CFO of the Florida Lottery and has owned a private consulting firm. FBMC Benefits Management Inc. is a national employee benefits broker and administrator.
New Beginnings
▪ Sarah Bascom, president and owner of Bascom Communications & Consulting LLC, was recently named to the board of the Economic Club of Florida. Bascom was also recently announced as a co-host of the syndicated political talk show "Usual Suspects."
Kristen Bridges has been promoted to senior vice president of BCC. She will continue her role as a lead communications consultant for Bascom and will also oversee the Web & Graphic Design Division and serve as a member of the firm's senior leadership team.
▪ Michael Campbell is the new director of the North Florida Outreach Initiative for The Jim Moran Institute for Global Entrepreneurship at Florida State University. A financial advisor and entrepreneur, he is the former owner of Statement Analysis Corp. and Trusteria Services Inc.
▪ Fort Lauderdale-based public relations pro Stan Smith, who helped create MyFlorida.com, is working with award-winning television producer Steve Hull to open a new office of Smarter Story LLC in Tallahassee.
▪ After 22 years as the executive director of Tall Timbers Research Station & Land Conservancy and the Tall Timbers Foundation, Lane Green has retired to pursue his passions: time with family, hunting, travel, playing baseball and managing his family land.
▪ Pam Monnier has been hired as director of Resort Events and Promotions at Honey Lake Plantation Resort & Spa. She most recently served as director of meetings and events at Tallahassee's Hotel Duval.
▪ First Commerce Credit Union has named Kim Howes as Brand Manager. She has an extensive background in Marketing/Communications from various positions including VISIT FLORIDA, where her team won numerous accolades for promoting Florida tourism, the Florida Credit Union League, and more. A longtime Tallahasseean, she was previously COO at LeadingAge Florida and Rowland Publishing.
▪ Dr. Lisa Conti has been named deputy commissioner and chief science officer at the Florida Department of Agriculture and Consumer Services. She most recently worked with Global One Health Solutions on educational services focused on improving human, veterinary and environmental health.
▪ After serving three years as president of the Florida Chamber Foundation, Dale Brill left his post at the beginning of the year to start an economic development practice.
▪ Ellen Anderson, most recently chief of staff to state Senate Minority Leader Nan Rich, is the new director of state advocacy for the Florida Hospital Association.
▪ Former state insurance regulation official Claude Mueller has joined the lobbying and law firm of Colodny, Fass, Talenfeld, Karlinsky, Abate & Webb, where he will work with clients on regulatory compliance and legislative lobbying.
▪ Charles D. Johnson has been named vice president of human capital management at Citizens Property Insurance. He came from American Express Inc., where he led human resources support for approximately 15,500 employees throughout North America and 15 other countries.
▪ Christa Calamas, the chief health policy staffer in the Florida House of Representatives and a former secretary of the Agency for Health Care Administration, has been appointed to the First District Court of Appeal Judicial Nominating Commission.
▪ Monte Stevens has been hired by the Florida Medical Association as director of payment advocacy. He comes to the doctor lobby from the Office of Insurance Regulation, where he had served as director of governmental affairs since 2008. Rebecca Matthews has assumed the governmental affairs role while continuing as the agency's deputy chief of staff.
State of Business
▪ The Association of Florida Colleges (AFC) was recently recognized as Association of the Year during the annual meeting of the Tallahassee Society of Association Executives. The award recognizes an organization that has demonstrated outstanding efforts, excellence and innovation related to its ongoing or special programs and services, which benefit their industry, profession or the public at large. AFC is the professional association for member institutions of the Florida College System, their boards of trustees, employees, retirees, associates and the Division of Colleges.
▪ Florida Cancer Specialists & Research Institute (FCS) has opened a second Tallahassee office to better serve patients and families in the region. "Our new Tallahassee North office will provide a convenient option for area patients and allow us to better meet the growing demand for state-of-the-art cancer care in Northern Florida," said Brad Prechtl, CEO of the largest independent oncology/hematology practice in the United States. FCS board-certified oncology and hematology specialists doctors Scott Tetreault, Viralkumar Bhanderi and Paresh Patel will see patients at the new Tallahassee North office at 2626 Care Drive near Capital Regional Medical Center, as well as the Tallahassee office at 1600 Phillips Road.
▪ Two of Ajax Building Corporation's projects were named to the list of winners in the ENR Southeast's 2012 Best Projects competition. Conducted annually, the competition recognizes the industry's best construction and design achievements. Both winning entries are for Florida projects — Lynch Replacement Elementary School for Pinellas County Schools in St. Petersburg and the University of North Florida Science and Humanities Building in Jacksonville.
▪ The graduate program of the Department of Interior Design at Florida State University has been named the most admired program of its kind in the country in a national survey of 122 deans and department chairs.
▪ For the fourth consecutive year, Carlton Fields has received a perfect score — 100 percent rating — on the Human Rights Campaign (HRC) 2013 Corporate Equality Index (CEI). Carlton Fields is one of 71 law firms in the country that scored 100 percent. CEI provides an in-depth analysis and rating of large U.S. employers and their policies and practices pertinent to lesbian, gay, bisexual and transgender employees.
Appointed by Gov. Scott
▪ Charles L. Frank, 47, of Crawfordville, an operation review specialist at the Florida Division of State Fire Marshall, to the Florida Building Commission.
▪ Daniel E. Nordby, of Tallahassee, general counsel for the Florida House of Representatives, to the Supreme Court Nominating Commission.