Many Perennials Can Stand Up to Summertime Heat and Humidity
Flowers with Staying Power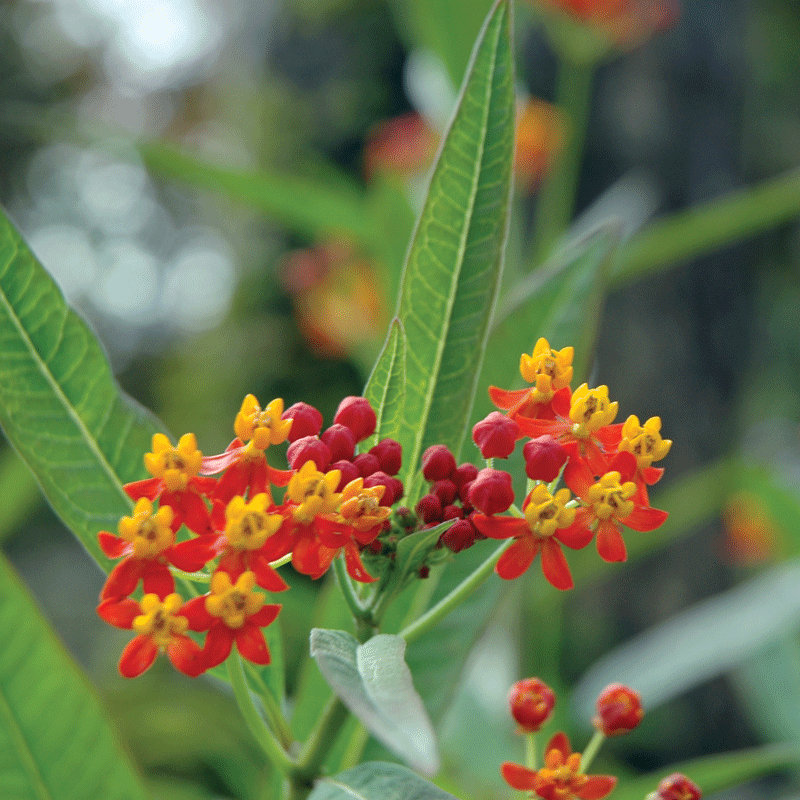 Q: My garden starts to look a bit bedraggled by mid-summer. Are there any flowers that can withstand our summer heat? I'd really prefer to plant mostly perennials. My garden is mostly in sun, but one end is shady.
A: The trick to planting perennials in North Florida is that they must be able to handle the heat and humidity of our summers, as well as freezes in winter. After several years of fairly mild winters, last winter was colder than usual and wetter than usual, and some perennials that weren't protected didn't survive. Gardening is always an adventure, some years more so than others. But there are a number of perennials that should work nicely for your yard.
Remember that it takes three years for perennials to establish themselves in your garden: The first year they sleep, the second year they creep and the third year they leap. So leave enough space for your perennials to spread as they settle in to their new home, and plan on dividing them every three or four years. If you don't divide them, they crowd each other out and bloom suffers.
For the sunny section of your garden, try pairing canna lilies and black-eyed Susans. Whether you choose cannas with green foliage or a cultivar with variegated foliage, this perennial can handle both our heat and our cold. Flowers come in red, orange or yellow and contrast nicely with the golden blooms of black-eyed Susans. Deadheading, or removing the spent flowers, will keep it blooming and you can trim any foliage that starts to look scruffy.
Crinum lilies and daylilies are also good choices for the sunny garden. Crinum lilies, also known as swamp lilies or bog lilies, are very tough plants and, like canna lilies, prefer most soil. However, once established, cannas and crinums, as well as daylilies, can tolerate dry conditions. So be prepared to water regularly the first season or two. Also, native hibiscus and lantana will provide flowers throughout the heat of summer.
Flowering shrubbery gives structure to the garden and can create shady conditions for plants that benefit from a respite from late afternoon sunlight. Heirloom roses, butterfly bushes and angel trumpet are all good choices. Select cultivars with bloom shades that coordinate well with other flowers in your garden.
Don't overlook trees as a source of flowers for your garden. Crape myrtles come in shades of red, pink and purple as well as white. Confederate rose forms a small tree, and its blooms change color as they mature.
Bee balm, either red or purple, is another tough perennial for our gardens.
Phlox used to be difficult for gardeners in the Florida Panhandle and Big Bend because of its susceptibility to mildew and fungus. However, some of the newer cultivars are more resistant, making them a welcome option. Try David for white blossoms or Flora-Bama for purplish/pink blooms. Phlox pairs well with purple coneflowers or Stokes asters, and phlox can tolerate partial shade.
Other perennials that perform well in light or partial shade include hostas, coralbells, flowering gingers and firespike. Many plants that bloom in shade have a springtime flowering season and go dormant in mid-summer, so the choice of plants is narrower than for sun-loving plants. If your shady section is deep shade, you'll have a difficult time getting anything to grow there, much less bloom. I suggest covering the shady area with mulch and creating a sitting area from which to enjoy your flowers.
July and August Garden Chores
Clear out the remnants of your summer vegetable garden and prepare for a second planting in September. Be sure to get

a soil test.

Watch for spittlebugs in centipede lawns and cinch bugs in St. Augustine grass.

Pull weeds in your garden beds before they set seeds, so you'll have fewer weeds next year.
Give citrus its final fertilizer dose of the year before the end of August.

Cut back straggly perennials to encourage another round of blooms in fall.

Plant seeds of cool-weather annual herbs such as dill and cilantro.
---
© 2014 Postscript Publishing, all rights reserved. Audrey Post is a certified Advanced Master Gardener volunteer with the University of Florida IFAS Extension in Leon County. Email her at Questions@MsGrowItAll.com or visit her website at http://msgrowitall.com. Ms. Grow-It-All® is a registered trademark of Postscript Publishing.