Make A Statement
Transform your barren wall into your next conversation starter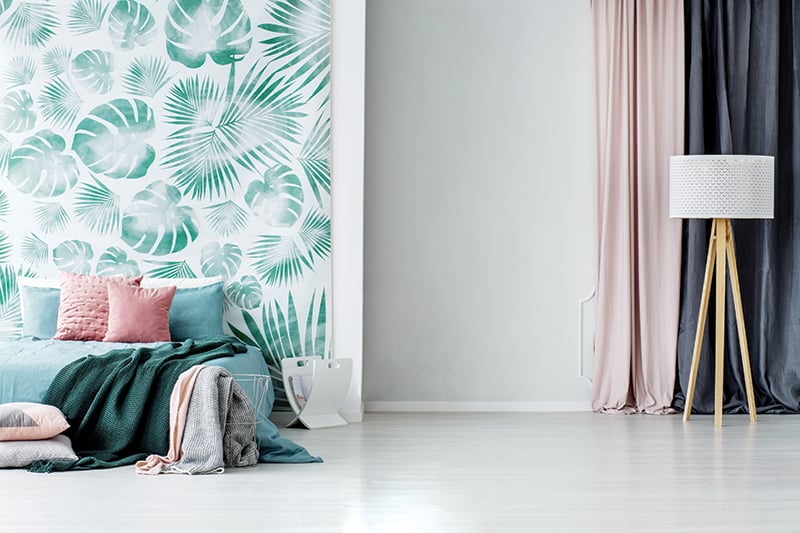 Everyone has one. That big, blank, boring wall may be in your bedroom, living room, kitchen or even hallway. You could throw up some family photos or a piece of art, but the whole effort feels daunting, and up until now, you've left well enough alone. No more. A delightful trend has emerged, proving that with a bit of creativity and elbow grease, even these windowless, doorless stretches of paint and plaster can become the focal point of a room.
The popularity of statement or accent walls saw a meteoric rise about 10 years ago, thanks to websites like Pinterest. Put simply, an accent wall uses elements like paint, wallpaper, laminate, paneling, tile, wood, art or photographs to draw the eye and add personality to a room. Consider bringing in a pop of color, covering an entire wall with reclaimed barn wood or creating a modern textural pattern with carefully placed paneling. The options for creating an accent wall are as varied as your imagination. Still, there are a few things to consider before you reach for your paintbrush or load up the nail gun.
Anna Osborne and Ashley Farrell of Studio A Interiors frequently create accent walls through their interior design services. For Osborne, who focuses on the commercial side of the business, designing an accent wall relies on three basic questions.
"There are lots of ways to approach it, so it really comes down to budget, your style and whether or not you can do it yourself," Osborne said.
Budget, as you might expect, is directly tied to what you can do yourself. DIY projects can be both fun and economical, but it can be easy to get in over your head.
Elements like tile backsplashes or large paneled designs are beautiful, but they require special equipment and a deft hand. Tile, in particular, is expensive and tricky to install without expert help. The last thing you want is for the whole thing to come crashing down in the middle of the night. There is less margin of error when installing paneling on your own, but the right tools are necessary. Osborne recommends keeping a miter saw, nail gun and good-quality glue on hand.
Paint is arguably the most popular approach in accent walls for a number of reasons. It's simple, inexpensive and easily covered if you decide to refresh the room down the line. In the 2010s, the trend of painting one wall a different shade or color took off, but in some cases, the theory behind this design was lost in the excitement.
"I am delicate with accent walls, especially when it comes to paint," Osborne said. "You are either going to make or break a space depending on how you incorporate color. It should tie in with other parts of the room, like lamps, throw pillows or curtains. There is also something called chair railing where you can do one color on the bottom and a complementary contrasting color on top."
When tying in pops of color throughout the room, Osborne says to avoid permanent features like tile or countertops. Stick with things that can be changed or rotated out if you decide to repaint. This principle applies to other accent wall mediums, as well. Wallpaper has had a major resurgence in recent years, particularly once peel-and-stick products hit the market, cutting down on the hassle of application and removal.
"If you go with a textured surface like a wallpaper, you can create warmth," Farrell said. "Some wallpapers have almost a fabric quality and really add to that warm, homey feeling. Using a laminate approach gives you a more commercial or contemporary look. I have even seen people incorporate plants into their accent walls, so you have the feeling of the outdoors indoors."
Creating a statement does not have to require power tools or hours of dry time. Arranging gallery walls with family photos, landscapes and unique artwork is a great way to display your creativity and cherished memories.
Gallery walls have become especially popular in recent years. This style of hanging photos foregoes the older linear display. This approach creates movement, fluidity and texture when done correctly. Before you start, consider choosing between a color or black-and-white motif, then lay the whole arrangement out on the floor to get an idea of how the finished product will look.
Whether you opt for firing up the miter saw or painting that once overlooked wall Pantone's color for 2023 (Viva Magenta), your accent wall is sure to make a standout statement.
---
Pantone's Color of 2023
It is described as a "crimson red tone that presents a balance between warm and cool."
---