Mad Dog's Rooftop Garden
How does your roof garden grow?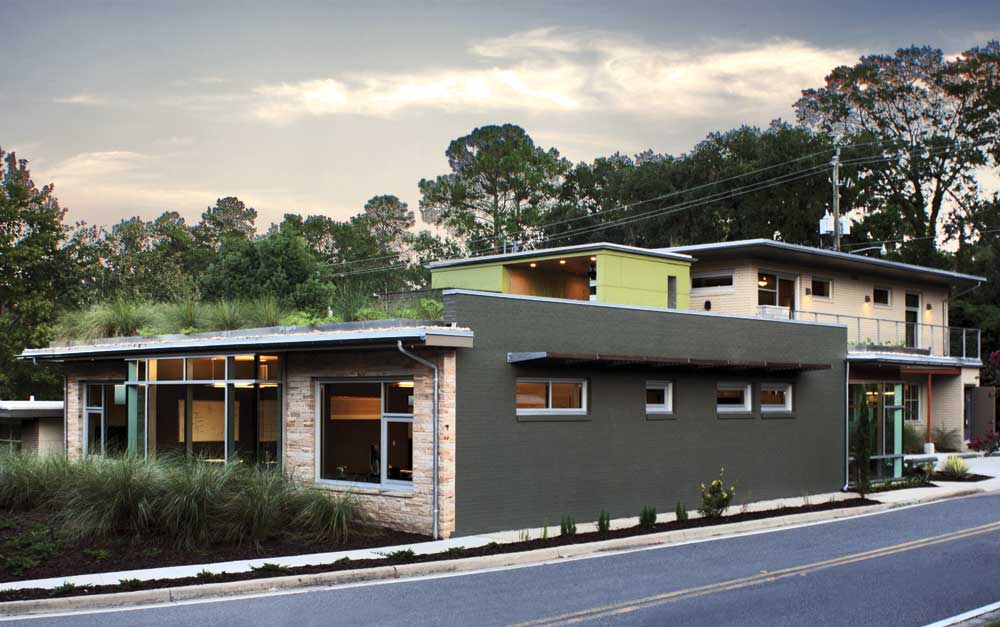 Mad Dog Construction's headquarters is green inside and out — and on top, too. Having built the only privately owned green roof in Tallahassee, the company has completely transformed a 1950s-era doctor's office into one of Tallahassee's most environmentally friendly buildings.
Plants varying from cacti to local herbs and grasses grow on the rooftop, planted in 6 inches of soil. When it rains, the water filters through and travels down gutters into a 3,000-gallon cistern buried in the front yard of the lot. The water is then re-used for irrigation — an environmentally friendly and aesthetically pleasing alternative to a holding pond.
"It's meant to be very low maintenance and not need very much water so that the capacity of the cistern can sustain the irrigation," said Kelly Dozier, vice president and co-owner of the company.
The soil and plants also insulate the building from the heat and cold and block the sun's UV rays. Not only does it help reduce utilities, but it prevents roof deterioration and can prolong the roof's life span up to twice as long as the average.
The building also includes solar panels, low-flow water fixtures and Energy Star lighting, and should have its gold LEED certification soon.
The company has always been known for being green, but building the green roof was a way for them to become experts in the field.
"It was a way for us to practice and learn 'the new green,'" she said.