Looking For a Reason to Visit the Forgotten Coast?
Popular art, music and food events will lure you back to the coast this spring.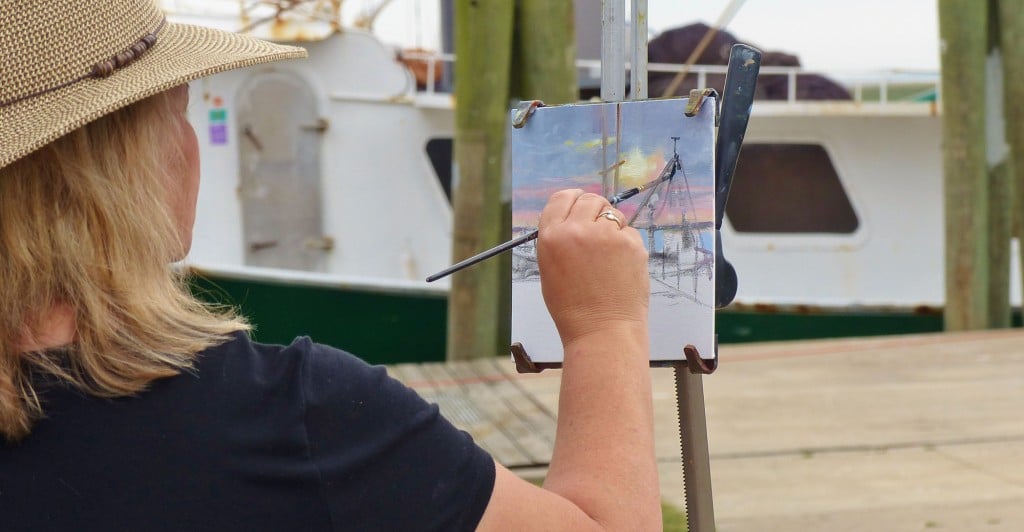 Annual St. George Island Chili Charity Cookoff
St. George Island will host its annual Charity Chili Cookoff and Auction March 5–7. Activities include a golf tournament, 5K Red Pepper Run, Chili Cook-off, Auction and the naming of Miss Chili Pepper and Mr. Hot Sauce. All proceeds benefit the St. George Island Volunteer Fire Department and First Responder Unit.
Camp Gordon Johnston Reunion Days
The Camp Gordon Johnston Association and the WWII Museum celebrate the 25th annual Camp Gordon Johnston Reunion Days the weekend of March 13–15 in Carrabelle.  All veterans and their family, friends and supporters are invited to Carrabelle for the three-day celebration which will include a parade, dinner dance, dice run and a low country boil for veterans.
Eastpoint Rib Cookoff
The Eastpoint Volunteer Fire Department will host its annual rib cookoff on Saturday, March 21, from 8 a.m.–5 p.m. at the Eastpoint Fire House. Free admission with live music, silent auction, kids' activities and of course, ribs!
Dixie Theatre Presents The Currys
The Dixie Theatre will host the Gulf Coast kick-off for The Currys' newest CD release "This Side of The Glass." The performance is at 8 p.m.
St. George Light Full Moon Climb
Watch the sun set and full moon rise from the top of the Cape St. George Lighthouse on Monday, March 9, and Tuesday, April 7, from 7:30–9 p.m. Light refreshments are served. The Crooked River Lighthouse at Carrabelle Beach will also feature full moon climbs on or near the same day.
Plein Air Paint Out
More than 20 nationally acclaimed artists will gather on Florida's Forgotten Coast in late March to participate in the 15th annual Florida Forgotten Coast Plein Air Invitational, March 20-29. Painters will set up their easels and pull out their brushes to document the landscape and culture of authentic "Old Florida."
Apalachicola Hosts Art & Wine Walk
The Apalachicola Bay Chamber will host its annual Artwalk on April 4, from 11–6 p.m. Art in all forms will be woven in and around downtown Apalachicola where artists will show, sell and demonstrate their talents. The festivities are combined with a wine tasting from 1–4 p.m. Afterward, area chefs will prepare dishes at their restaurants pared with special wines.
Antique Boat & Car Show
Apalachicola will host its annual Apalachicola Antique & Classic Boat & Car Show on Saturday, April 18. Come to Riverfront Park in Apalachicola to see many antique and classic vessels, workboats and runabouts. Fiberglass, wood and aluminum as well as classic cars will be on display.
St. George Island Brewfest
Join us for the 5th Annual St. George Island Brewfest on Saturday, April 18, from 1–4 p.m. at Paddy's Raw Bar. The SGI Brewfest is a one-day beer tasting festival to promote the appreciation craft beer. All proceeds benefit the Franklin County Humane Society. This year's event features an even broader selection of amazing craft beers, friendly faces and furry friends.
Carrabelle Riverfront Festival
Carrabelle will host its 30th annual Carrabelle Riverfront Festival on Saturday, April 25.  The festival will  be held on Marine Street along the riverfront with arts and crafts, seafood, a pet parade, live music, maritime exhibits, a fishy fashion show, food booths, a childrens' zone and even a classic car show.
For a complete list of all upcoming Forgotten Coast events, visit Floridasforgottencoast.com