Local Love Stories and How They All Began
Just in time for the day dedicated to love, local couples reminisce about how their relationships got started — in the most amusing ways.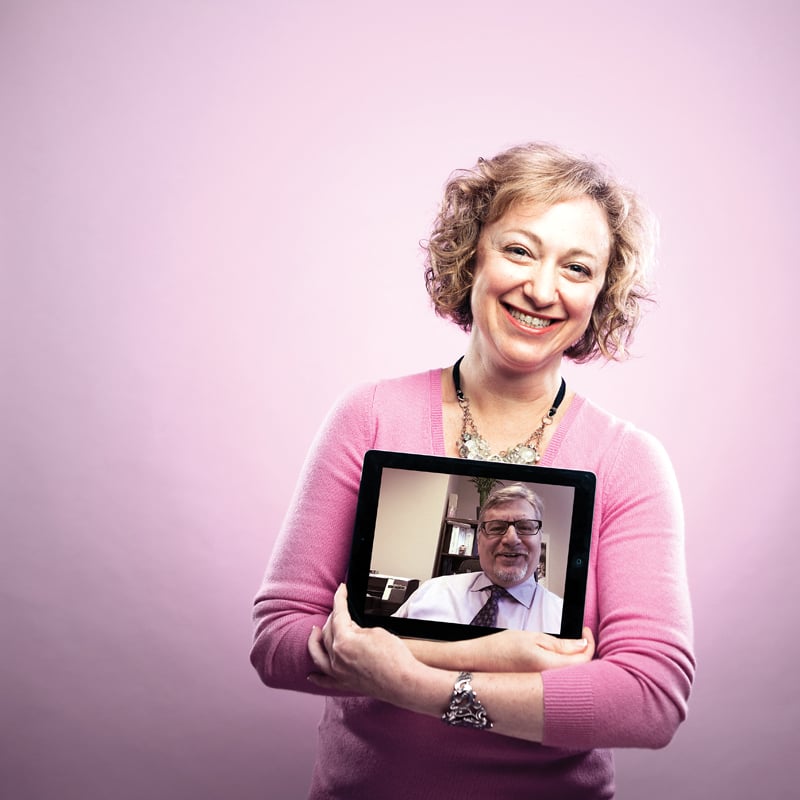 History, literature and film are brimful of tales of great love that ultimately end on a down note: "Casablanca's" Rick and Ilsa, Lancelot and Guinevere, Rhett Butler and Scarlett O'Hara, any poor sap who has the bad luck to appear in a Nicholas Sparks novel (can you say "The Horse Whisperer"?) and the biggest downer of them all, "Romeo and Juliet."
But there's one place where you can always count on a happy ending — the romantic comedy movie. Usually, the lovers "meet cute" in some amusing way. While there might be a bit of drama in the middle, we know any misunderstandings or obstacles will be overcome and love will triumph in the end.
In honor of Valentine's Day 2015, we're casting aside the high drama and tragedy to embrace the rom-com. Local couples share their how-we-met stories filled with love, laughter — and perhaps a film-worthy fillip of whimsy.
Sarah Coakley and David Holtz
A Facebook-Facilitated Affair
---
They met 17 years ago, and some of the details are lost in the mists of time, but David Holtz and Sarah Coakley remember, with great clarity, when Cupid's dart hit them both — Aug. 11, 2014. But if they didn't, all they'd have to do is scroll back on their Facebook feed to the fateful day when Sarah posted a humorous observation about Florida State University's sorority rush. David answered — he was particularly struck by her phrase "blinding cleavage" — and a mild flirtation ensued in the comments, which led to texts, which led to phone calls, which led to Skype, which led to … but we get ahead of ourselves.
The two first met years ago at an adult education class at Tallahassee's Congregation Shomrei Torah. Both were unhappily married at the time, but didn't know that about each other. "We liked to sit together, and that was the whole relationship," Sarah says. She does, however, admit to crushing on him a bit: "I noticed he would doodle (and) draw little pictures in the margins. He was funny, and he always smelled so good."
David was pretty much oblivious. "I knew little about her, but … I remembered her voice and laugh," he recalls.
He moved. She moved. She moved back. Both got divorced. Fast-forward a decade and a half: About a year ago, Sarah, an artist, was living in Tallahassee and working at Florida State University's Master Craftsman Studio. David was a general manager for Dade Paper, living in Annapolis, Maryland. Both were on Facebook and, because of their Tallahassee and synagogue connection, had common online friends. After seeing him in a friend's comments, Sarah sent him a friend request and … nothing. For several months, it languished in the cloud.
"I had no idea that if people sent requests while I was offline, they were floating out there in the FB ether, waiting for me to acknowledge!," he wrote in an email. Ultimately he got a clue, reciprocated her Facebook friendship and commented on the "blinding cleavage" post.
The chemistry was immediate; messages flew back and forth on every communication platform. After a week, he sent an email asking if he could fly into town and take her on a date — with an addendum listing possible weekends for a visit.
"I got ready for that date like I was going to the prom," she says. They planned to meet at Sage restaurant.
Being middle-age adults — he's in his mid-50s, she's 10 years younger — they had considered the possibility that the so-far long-distance romance might not pass the, shall we say, physical chemistry test.
'Well, I probably should just kiss you right away because that's the only way to tell.'
"He said 'Well, I probably should just kiss you right away because that's the only way to tell,'" Sarah relates.
"I guess he was watching for me and somehow recognized me after all these years because … he hurried with his single long-stemmed red rose, got the door for me, got me out of the car and didn't say a word of greeting. Just boom!, a big 'Gone with the Wind' fiery kiss," she says. "There were two old ladies sitting on that bench in front of Sage … and we gave them something to talk about at bingo. Chemistry was there, it turns out."
The pair has agreed to visit each other at least once a month and take stock of whether their relationship will be a forever thing in a year or so.
"He writes me handwritten love letters. On his monogrammed beautiful stationary," Sarah confides. "What's more romantic than that in the age of email? He's so funny. Whatever I say that I think is all witty and funny, he tops me every time. And it's intimidating when your boyfriend's prettier than you are too."
Sarah is confident she's found The One.
"I'm lucky in a lot of ways, but I've never, ever been lucky in love. Until I finally got it gloriously, spectacularly right."
Chasity and Brent Phillips
The Magic of a Wedding Meet-Up
---
Walking into a new colleague's wedding, Chasity noticed an attractive groomsman perched by the door. He was the life of the party, and she couldn't take her eyes off of him.
It was May 31, 1998. And man, was she glad she decided to go stag.
"As we were walking into the church," recalled Chasity, "Brent was shaking hands with some random person. He was in his tux. And I remember walking in and thinking, 'That's the kind of guy that I could marry.' I didn't know his name, I knew not who he was. But it was just the way he was shaking hands and interacting with people. It caught my attention."
Their instant attraction was put on hold while their buddy's nuptials were exchanged, but Brent (brazen with liquid courage) caught up with Chasity at the reception, sashaying through a large group of people just to speak to her.
Needing an "in," he complimented the dainty daisy tattoo floating on her left shoulder.
"He looks at me and goes, 'I have a tattoo,'" twinkled Chasity.
"About then, I proceeded to pull down my pants at the reception," chuckled Brent, 15 years later. At the time, it seemed like the Seminole logo-head strategically tattooed on his upper thigh was the perfect icebreaker. "I pulled them back up and walked off."
Feeling a little less daring the next day, it took a month and a half for Brent to ask Chasity on a date, which was chaperoned by two other couples — their newly wedded friends included.
Chasity and Brent married on Nov. 27, 1998, surrounded by more than 200 of their friends and family. In true Seminole fashion, the reception was held at the then-recently opened University Center Club.
Sixteen years later and with two growing boys, Brent is still making Chasity laugh every day. They've since relocated to Nashville, Tennessee, but still consider Tallahassee and the land they own here "home."
More love stories on the following pages…
Bryan and Kelly Honhart
A Picture-Perfect Relationship
---
Young love can be an exciting whirlwind of emotions. But Bryan and Kelly Honhart knew from the very start that their story was going to be much, much more than just a summer fling.
"As soon as I saw him, I was like, 'Holy. Crap.,' laughed Kelly, while the couple's 3-year-old daughter, Saylor, playfully squirmed on her lap.
It was late in the summer of 2006, so the story goes, when Bryan, then 24, was on tour with his hardcore Christian rock band. The group had a pit stop in Tallahassee between shows in New York and California. For some reason, Bryan's buddies kept insisting he meet up with this one, incredible girl.
Kelly, coincidentally, was undergoing the same sort of Cupid-inspired coaxing.
Thrown together by good friends and divine fate, the two hip honeys were set up on a "partially" blind encounter (both now admit that maybe, just maybe, they scoped the other out on the Internet beforehand) that couldn't have sizzled with more chemistry.
Three months of long-distance calls later, rambling man Bryan was officially residing in Kelly's hometown of Tallahassee. She was a doe-eyed 21 at the time.
He left the band and the pair was engaged in June 2007. They married the following year and in 2011 went on to launch a wildly successful company, Black & Hue Photography, which focuses on wedding photography. The pair's work-togetherness comes in handy, say clients, because when it's time to snuggle up for a shot, they can demonstrate the poses themselves.
"I really feel like everything, even the business, has helped us grow together so much," mused Bryan. "We're so intertwined."
Their secret to happiness? A constant flow of communication and support, with a whole lot of laughs sprinkled in along the way.
"We try to serve each other," shared Bryan. "It really is about putting yourself last as much as you can."
More tidbits of love…
How They Met
(As Told on Facebook)
---
Jennifer Ann and Justin RossMilam
Married since Sept. 2011
"We met CornerPocket Bar N Grill!! I was having a "Girls Night Out" and our eyes met across the bar. I walked up to him and introduced myself and found out we were both landscapers! We were married two years later and now have our own local landscape business, Milam Pride Landscaping and Design, LLC. We LOVE Tallahassee, love what we do, love to travel and never seem to get sick of each other, even though we work together!"
Leeja Collier
"I used to own a pack 'n ship in Tallahassee when my now-significant other came in to rent a P.O. box. I was on the Northeast side of town, he worked near the airport and lived in Havana, so it wasn't really the most convenient place for him to get his mail. Then, he started coming in every other day to ship something. We've been dating for four years and he just admitted to me on our last anniversary that he never really needed a P.O. box. He was shipping things that he didn't need shipped to various buddies in different states, just so they could turn around and ship it back to him. Not only did he win me over but I think he solely kept my business open for as long as it was!"
Dawn Betts-Green and Anna Green
Married since 1998
"My wife and I met in high school chemistry class. I was new, and she was the only one nice enough to offer to be my lab partner. Seventeen years together, 16 since our commitment ceremony, and a year and a half of registered domestic partnership!"
Jessica Wise Potts
"We met at Borders bookstore our freshman year at FSU. He claimed he had to interview a stranger to write a paper for English class. Fifteen years later I have no idea if it was true or not. He never did take out a notebook and write anything down though!"
Jamie and Laura Lasseter
Married and "living our fairytale" since 2004
"My husband and I met at Tom Brown Park where he was playing slow-pitch softball and I was an admiring onlooker. Tom Brown Park is also where he surprised me by proposing one year later as he rode up on a white horse in knight's armor. I'm his princess and he's my knight in shining armor. Fifty of our close family and friends were there to witness the event and share in the excitement by celebrating with a cookout for all."
Caryl Doyle Donnellan
"We met over a pelvic exam. Thirty-seven years later, we're still married."