Living Between the Lines
Tennis enthusiast Louis Beall is a model of consistency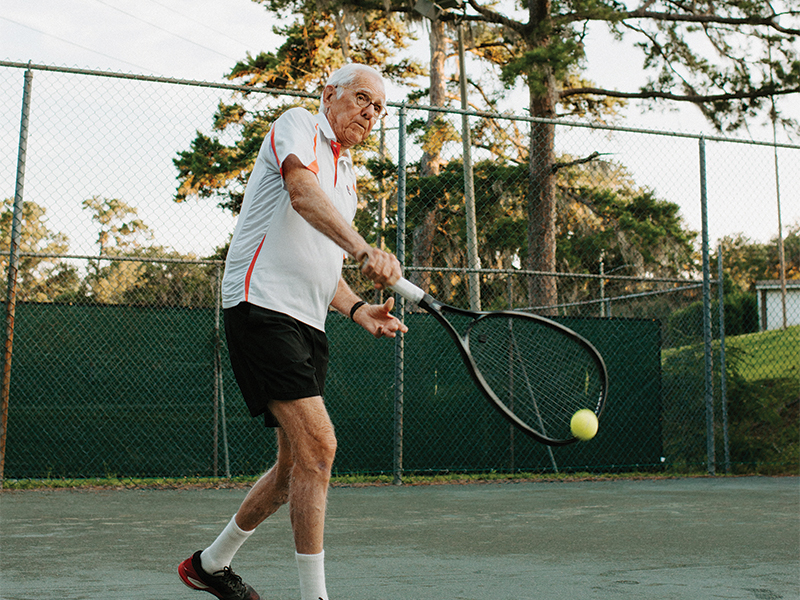 Keto, paleo, carnivore, intermittent fasting. HIIT, CrossFit, spin class, 12-3-30. There are diet and exercise trends aplenty — more each day, it seems.
What is 91-year-old Louis Beall's secret to a long and healthy life?
A bowl of frozen blueberries every morning. And tennis — singles only.
"I don't feel old at all," Beall said.
Of course, there is no quick and easy silver bullet to healthy living. It's a discipline that requires consistency, something Beall exemplifies.
He's been active all of his life.
In 1950, his talent for running landed him a four-year scholarship to the University of North Carolina. He did a stint in the Army toward the end of the Korean War as a buck private making $88 a month. He attended Birmingham-Southern College, then completed dental school at the University of Alabama and arrived in Tallahassee in 1962 and started his dental practice.
"I had a wonderful 40 years of practicing dentistry. I loved it," Beall said. "Being a dentist, everything is scheduled. I could set my time, I didn't have to listen to someone else. So I had time to run. And I ran for years."
With a family history of diabetes, Beall decided at a young age that he would hold the disease off for as long as he could through a healthy diet and exercise. He was finally diagnosed as diabetic two years ago but has been able to manage it with the help of medication and his continued healthy lifestyle.
"I am the luckiest old man you've ever met," he said. "I don't have any health problems other than diabetes."
He's been playing tennis for 40 years and has traded road running for gym sessions. And while he has always eaten healthy, he's adopted a mostly vegetarian diet in the last 20 years, thanks to his wife, Rachel.
Beall does cheat occasionally, he admits — sampling bacon on rare breakfast outings and regularly enjoying fish, his personal favorite, when out to lunch. He consistently steers clear of red meat, though. At home, breakfast and dinner are always vegetarian.
Beall starts his day with a bowl of oatmeal and lots of peanut butter or eggs with cheese. A mid-morning snack of his favorite frozen blueberries tides him over until lunch at Capital City Country Club, where he indulges in a fish Reuben, salad with grilled chicken or a chicken salad sandwich. And, of course, dinner at home is back to veggie only, usually "three good vegetables with a lot of beans."
Beans are his favorite savory sides, a source of that good Southern-cooking flavor he enjoyed in his younger years, along with okra and fresh tomatoes.
Beall plays tennis four days a week with the country club's pro, John Zolin, and his one-time dental partner, Landon Mazyck. Beall insists on playing singles, matched against his regular opponents who are as many as 20 years younger than himself.
"I don't like to play doubles because I get no exercise, and I want to hit the ball every time it comes over," Beall said. "Luckily, I can still give them enough of a game that they'll play with me, but I don't ever win."
On his days off from tennis, Beall and his wife attend twice weekly gym sessions with personal trainer Tara Jennette, whom he met during a tennis match in 2003. She works with him to manage balance, strength and flexibility.
"For 10 years, I don't think I had even one or two little times where I was sore," Beall said. "John Zolin says that I'm playing better tennis now than I have my whole life.
"After I retired, I did more, I played more. My wife and I traveled all over the world. We've been to 50 countries in the last 20 years and all over the United States in the car."
Among his next adventures, Beall is headed to Birmingham for track racing in his Porsche. He has no plans to let up on tennis. And he's already looking ahead to his 95th birthday, envisioning a bash that just might outdo his 90th, where a 200-person guest list maxed out the Country Club.
"I just really have not gotten old yet," he said.