Little Gems
Adopt a tree. It's free!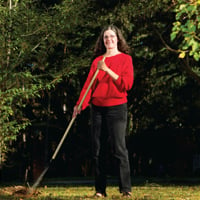 Photo by Scott Holstein
Ann Bidlingmaier with her American Hornbeam trees (also known as Musclewood) from previous years' Adopt-a-Tree programs at her home in Tallahassee.
Little Gems
Leon County is kicking off the New Year with its 21st Adopt-a-Tree Program. In the effort to keep Leon County's environment lush and beautiful for years to come, the program is donating one tree to homeowners living in Leon County but outside Tallahassee city limits.
"I believe the program has two primary impacts. The first, of course, is that more beautiful trees are planted, providing the many benefits of trees that we are all familiar with. The second is that we try to offer different types of native trees that are excellent landscape trees, but that many people aren't familiar with. So I hope residents learn more about different native trees by participating in the program," says Tom Jackson, the right of way management superintendent.
Since 1992, 4,805 trees have been planted through the program. About 200 to 300 trees are planted each year. The tree available for adoption this year is the "Little Gem" Southern Magnolia. This variety only reaches 20 feet tall when mature and is more manageable than the traditional magnolia.
To adopt a tree, the property must be in Leon County, outside the Tallahassee city limits, and the planting site should be in front of any home located along any publicly maintained road or on any privately maintained road with public access. The planting site must be in front of the home. Tree owners must take responsibility for the tree by watering it three times a week for a year.
The application can be found online at leoncountyfl.gov. Once the application has been submitted, stake out the location for the new tree to show the Public Works Department employees where to plant it. The final day to submit an application is Jan. 31. Homeowners approved for the program will receive the new addition to the family in February or March.
With a little TLC and some Florida sunshine, county homeowners can have a precious "Little Gem" to call their own.