Kollet Probst's Passion Speeds Her to Artistic Success
How a therapeutic hobby turned into a career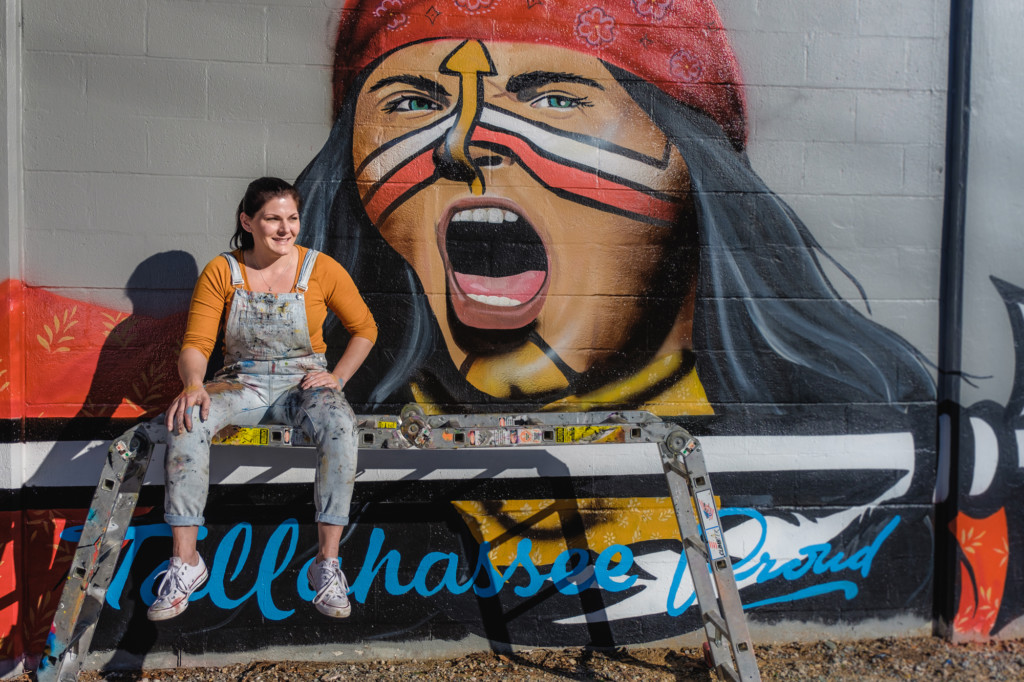 Artist Kollet Probst is flying high these days.
Thousands follow her Facebook and Instagram accounts, mesmerized as a pencil drawing of Clint Eastwood or a brightly colored pop art painting of Cher emerges in time-lapse videos of the native Tallahasseean at work.
Right now, "Murals are my passion," she said, and she currently has more than 25 in public places and businesses around Tallahassee.
"I'm doing something I love, which has created this perfect storm of, I guess, success," Probst reflected.
"I can't look back and give you years of history. It's very surreal because it's happening right now."
But that success evolved from a very dark chapter in the 37-year-old mother of two's life.
Four years ago, she was just out of a six-month stint in rehab for drug and alcohol addiction.
To help steady her shaking hands and focus her mind, Probst returned to art — an interest from her younger years — by making photo-realistic pencil portraits of movie stars, musicians and comic book superheroes.
She started making phone videos of her hands as they drew — speeding them up so an hour's worth of work was compressed into 45 seconds — and uploading them to her new Facebook page.
Along the way, "People started giving me feedback" and buying her drawings.
"It didn't start as a business model," she recalled. "It was just therapy — and then I got the bug. I think I still have the addictive brain. I know I do."
She was working in the business office of a department store at the time, but her mind was often on the painting on her easel back home or her next portrait.
Contemplating making her therapeutic hobby her job, Probst "started hoarding money and really focusing on Facebook."
After four months of replacing her store salary with art sales, in August 2017 she quit her job to become a full-time artist.
But that background in business and a successful stint in sales has given Probst a practical attitude that she tries to share with other up-and-coming artists.
Her business is named Kollet Originals (kolletoriginals.com) because she doesn't do reproductions of her work.
"They're all original. I really, really enjoy creating. And I don't believe in prints because it cuts down inevitably on the amount that you're creating because somebody will buy a print instead of an original."
Her unique way of pricing her art is to set how much she wants to make per hour, then charge for a piece of art based on the amount of time it takes her to complete it, no matter the size or the medium.
She works through her website and a few shows rather than galleries, and she's not particularly interested in becoming popular enough to raise her prices.
"What I'm catering to is people in their 30s and 40s who haven't been to a gallery … they're middle America," she explained.
"When they see $450 for a painting, that is a lot to them because they're new to it. To have a $2,000 piece … I'll sell 10 pieces a year instead of 100, and that doesn't make sense to me. I'm going to paint regardless."
Her favorite subject matter — music and comic book characters — seems to resonate with her target audience.
Music was a great influence in her life, and she listens "100 percent of the time" when she's drawing or painting.
"I grew up in a violent alcoholic family, and music was always present, to help me cope with feelings, with tragedies, but mainly to block out sound," she said.
The explanation for Probst's affinity for the latter is simpler: "I like comic books and superheroes," she said.
"They have a power and they're immortal. How much better does it get? There's that juvenile happy phase where you grew up. There is something very cathartic, but I think they're cool — it's just that simple."
One of her favorite icebreakers when meeting someone new is to ask them: "So, what's your superpower?"
"It will break down whatever wall or defense they have and they'll tell me their deepest, darkest thing. Like, you'll have a grown, 400-pound burly country guy tell me he crochets, I'll tell him, 'I'm a painter' and we just talk," Probst said.
"It's kind of fun … but it's a serious question because we all have one. It's whether or not we tap into it."