The Sounds of Music
Jax River Jams Concert Series to attract listeners throughout Florida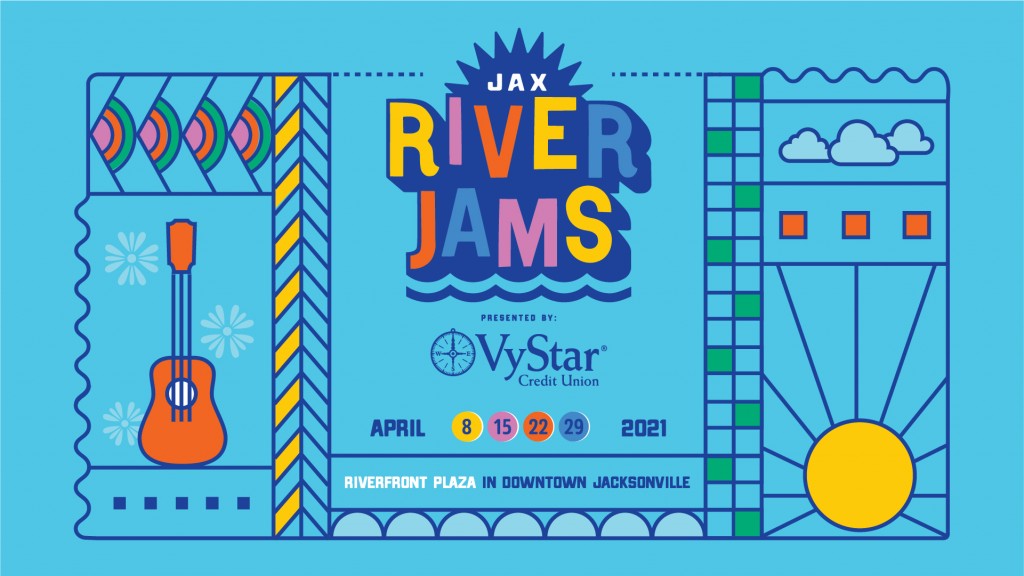 Imagine a breezy night under the setting sun as you listen to the sounds of live music swelling through the air.
The sensation of a live concert is coming back, and Downtown Jacksonville is delighting North Florida listeners with the Jax River Jams Concert Series.
The free Thursday night concert series, presented by VyStar Credit Union, will span four weeks and offer major musical acts and local and regional acts from across genres. The Riverfront Plaza on a spring evening is the ideal stage for you to pull up your lawn chair or spread out a picnic blanket while enjoying local food trucks, craft beer and spirits. Afterward, take a stroll through the Small Business and Artist Market to support local entrepreneurs.
Concert producer Downtown Vision, Inc. enlisted the expertise of The Florida Theatre to select acts in the genres of country, pop punk, hip hop and rock. The headliners are widely recognized names, and the openers are local acts who are likely on your playlist.
Downtown Vision, the JAX Chamber and city leadership have long envisioned this event. Pre-pandemic, the Chamber hosted annual trips to other cities where weekly concert series were greeted with great success. While the pandemic delayed the event, this allowed plenty of time to plan a safe, socially distanced event.
The park is located on seven acres, allowing attendees ample space to spread out to their comfort level. Masks are required upon entry, but they can be removed once you are seated. There will be copious hand washing and sanitizing stations located throughout.
"I feel like this is something our region deserves," said Katherine Hardwick, vice president of marketing with Downtown Vision, Inc. "Now that we are able to safely gather, we are looking forward to exciting events because people are hungry for a sense of community."
Similar to many cities, downtown Jacksonville's foot traffic has decreased over the past year. When surveyed, community members said events, culture and entertainment are critical to the downtown experience.
The concert series is not only geared towards Jacksonville residents, but also the entire region, encouraging attendance from those throughout North Florida and the Panhandle. Hardwick notes that Tallahassee is an easy three-hour drive away, making it the ideal weekend getaway.
"Begin with the Thursday evening concert series which is perfectly timed to coincide with happy hour then spend the night and make a weekend out of exploring our urban core offering cultural amenities, localized shopping and a flourishing food scene," said Hardwick.
Gates will open at 5 p.m., the opening acts will begin at 6 p.m., and the headliners will take the stage at 7:30 p.m. The schedule is as follows:
April 8: Country singer-songwriter Chase Rice with local opener Firewater Tent Revival
April 15: Punk Pop band New Found Glory with local opener Universal Green
April 22: Hip Hop artists and Jacksonville natives Quad City DJ's with local opener LPT
April 29: Rock band Sugar Ray with local opener Honey Hounds
To learn more about the series and Jacksonville, visit JaxRiverJams.com and DTJax.com.