Interviewing a Centenarian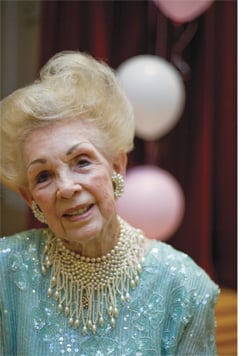 Lillian Cox celebrates her 100th birthday and offers a little insight into her long lifeLillian CoxOne Savvy Centenarian
Feb. 22, 2007, Lillian Cox turned 100 years old. Three days later, she and 400 guests enjoyed her birthday party at the Woman's Club of Tallahassee. Naturally, there was a lot to celebrate.
Over the past century, Cox has owned a ladies' fashion store, raised a daughter, held the title of Florida's Woman of the Year and traveled the world. To this day she remains a member of many local organizations, including First Baptist Church for more than 50 years. Many days you might find her dining out at one of her favorite restaurants, Marie Livingston's or Chez Pierre.
Cox also keeps an immaculate home, where she lives on her own. Cox recently sat down with Tallahassee Magazine writer Ashley Kahn to share her words of wisdom.
 
TM: What is your secret to a long and healthy life?
LC: I drink a lot of water, and I try to keep busy. And I don't give up easily.
 
TM: What is a typical day like for you?
LC: I wake up around 7 a.m. I start with breakfast, of course. Then I do a little housework. Up until recently I did a good bit of yard work. I like to dig in the yard. That's what I enjoy, being outside.
 
TM: You owned Lillian's for 28 years. What was it like being a career woman before it was fashionable?
LC: It was very nice, actually. My father was a merchant in Quincy. I guess I got the idea of a store, of selling things, from him. Women were not supposed to be out making a living. But my husband was very ill and had to give up his work, so I decided, "Well, I can do it."
TM: What do you consider timeless fashion?
LC: Buy basics, and you can either dress them up or dress them down.
TM: Who was your role model growing up?
LC: My daddy was the first one. He was so special. Also Alice Bell. She taught fashion and charm and all the nice things a lady ought to be. She put me on the right track.
TM: You traveled extensively. What was your favorite place to vacation?
LC: Hawaii. I was more relaxed on that trip, and there was beautiful scenery … beautiful music. You can just dream your life away over there.
TM: What were you doing when Pearl Harbor was attacked?
LC: I believe I was on a buying trip (for the store).
TM: And the Sept. 11, 2001, attacks on the World Trade Center?
LC: Well, that was a very sad time. I was home here in Tallahassee watching it on television.
 
TM: How has Tallahassee changed most significantly in all the years you've lived here?
LC: When I first bought this house (on Gunter Street), I was in the country. My husband cut a little trail in the woods for my daughter to go to Leon High School. Now I'm sitting right downtown.
TM: What piece of advice would you offer to today's youth?
LC: Get a good education, and go to church.