Honey Sesame Seared Salmon
The heart-healthy fish tastes great with an Asian twist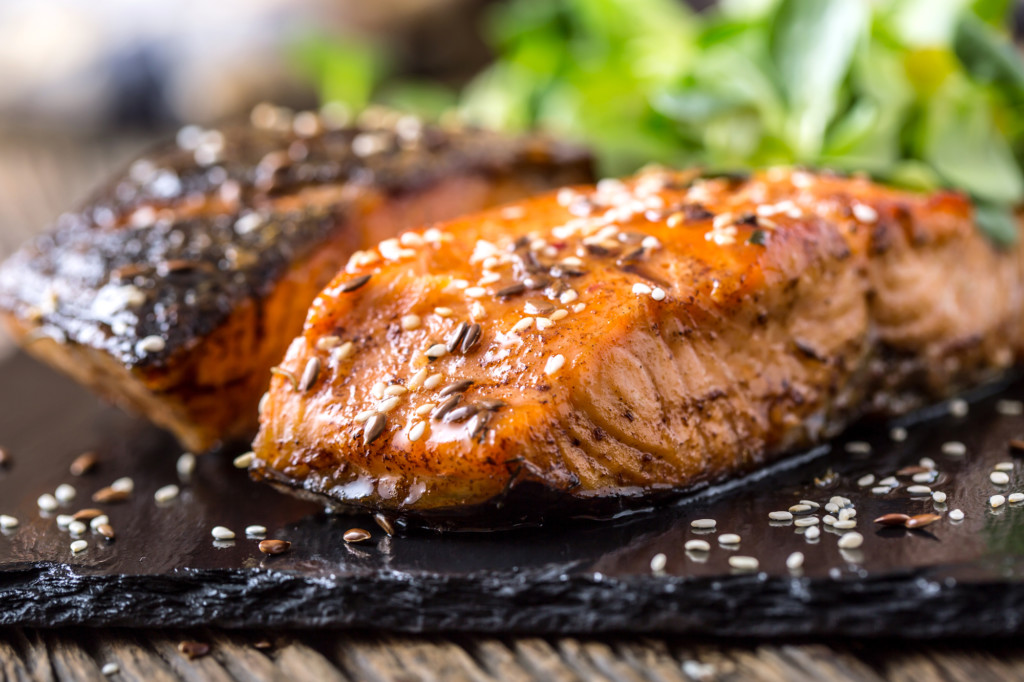 Found on Pinterest via Delicious Obsessions by Jessica Espinoza
Ingredients

2–3 pounds salmon fillets
¼ cup coconut aminos
¼ cup sesame oil
1 lemon, juiced
2 tbsp. honey
1" knob of ginger, finely minced, OR 1 tsp. dried ginger powder
2 cloves of garlic, minced, OR ¼ tsp. garlic powder
Coconut oil for searing

Toasted sesame oil for drizzling before serving
Diced green onions of chives for serving
Toasted sesame seeds for serving
Instructions
Mix all of the marinade ingredients together until smooth.
Place the salmon fillets in a Ziploc bag or a large glass dish (I use my large Pyrex casserole dish, which has a lid).
Pour the marinade over the salmon and let sit in the fridge for a few hours or overnight.
When you're ready to cook the salmon, heat a skillet, frying pan or cast iron pan (I use cast iron) over medium heat.
Add a tablespoon or two of coconut oil. Place the salmon in the pan, skin side down.
The salmon should sizzle when it hits the pan and this will sear the skin.
Cook skin side down for 2–3 minutes and then flip the salmon.
Pour the remaining marinade in the pan, lower the heat to medium-low, and cook the salmon for 3–5 minutes or until done.
Salmon will be done when it flakes with a fork.
Serve with fresh chopped chives or green onions, toasted sesame seeds and a drizzle of toasted sesame oil.
NOTE: Cooking time will vary, depending on the thickness of your salmon fillet.