Harvest Wine & Food Festival
Purposeful, memorable and delectable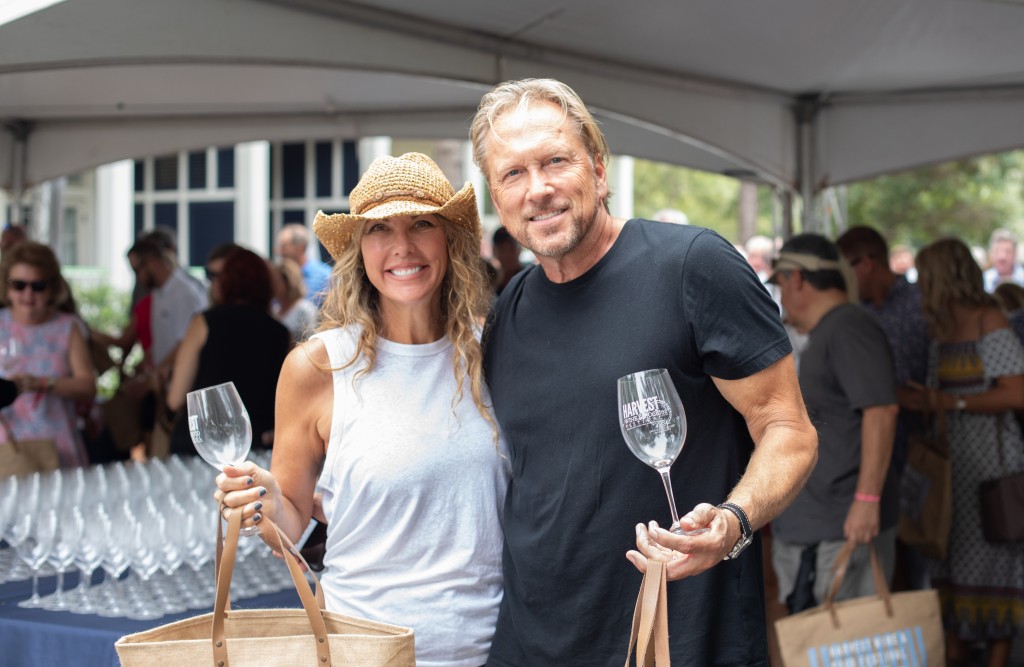 The Harvest Wine & Food Festival, held annually to benefit the work of the Destin Charity Wine Auction Foundation, is a sensory delight.
Its tastes and sights and sounds combine to make for an event — held at a delightfully comfortable time of year — that is unfailingly as memorable and elegant as it is purposeful.
This year's edition will be a bit different in the era of social distancing. To keep exposure to a minimum, the 2020 festival will be made up of a series of microevents throughout South Walton. They will be comprised of wine dinners, spirits dinners, wine and culinary seminars and even a bubbly brunch.
To maximize safety for attendees, these events will be limited to approximately 40 guests. Like past festivals, the events will be presented by celebrity chefs and key members of the wine, beer and spirits teams.
Despite the coming changes, last year's festivities are worth reliving …
At the 2019 edition of the festival, hundreds of people cued up at a starting line waiting on a signal from event volunteers. There were women in hats that Indiana Jones might have worn and men with small dogs in the crooks of their arms and women in rubber boots and men with Opus X cigars in the pockets of their Vineyard Vines shirts.
All were united by their fondness for wine — or craft beer — and their desire to support the work of the foundation, which conducts events that raise funds for children in need and has succeeded spectacularly, earning accolades from Wine Spectator magazine and donating more than $20 million to 16 Northwest Florida charities.
Touring the festival grounds at the St. Joe development Watercolor, I enjoyed Freeport guitarist and singer Mari Gleason's dreamy rendition of Budapest, a song popularized by George Ezra.
Aquaculturist Cainnon Gregg's oysters, shucked and on ice and each about the diameter of a 50-cent piece, were delectable.
At the V.I.P. tent, personnel from The Henderson offered festivalgoers flutes of lavender champagne, compliments of the resort.
Inside the tent, amidst wine connoisseurs, I scored a New England-style pale ale from Idyll Hounds Brewery.
With it, I washed down a cauliflower fritter, courtesy of Coastal Kitchen Catering & Events.
Meanwhile, Chef Mark Eichin of Restaurant Paradis in Rosemary Beach, dished up braised pork ragú.
And, all about, there was wine.
The Gamble Family Vineyards of California's Napa Valley offered tastes of a cabernet, a blend and a Sauvignon Blanc. With Florida's Emerald Coast among its key markets, Gamble Family Vineyards has been a long-standing supporter of DCWAF throughout the foundation's 15-year history.
Sellers of merchandise and experiences — as singular as flights aboard private jets — manned their booths.
Renee Launiere of Bijoux de Mer Fine Jewelry attracted lots of women who could not resist trying on her nautically themed pieces.
To say that Launiere's orange opalicious necklace was a statement piece would be an understatement. I can picture it still.
Elsewhere on the festival grounds, Slick Lips Seafood & Oyster House offered braised rabbit tacos, or Easter tacos, as the servers called them. Atlanta-based celebrity chef Hugh Acheson, Birmingham baker and restauranteur Kristen Hall, and Auburn's favorite son David Bancroft, along with a variety of chefs from across the Southeast spread across Cerulean Park, offering their signature dishes to festivalgoers.
As the afternoon continued, the breeze freshened and dark clouds neared. Maybe, it seemed, the ladies in rubber boots had been on to something.
But the threatening rain thought better of dousing the festival. Year three, building on previous years, had been an unqualified success.
Year four will be even better.
4th Annual Harvest Wine & Food Festival
November 5–7, 2020
Consisting of wine dinners, lunches, seminars and signature events, the 2020 festival will boast a series of epicurean events throughout South Walton that offer something for every wine, spirit and food lover to enjoy.

Visit HarvestWineandFood.com for the most up to date schedule of events. Tickets on sale September 1.