Great Gulf Getaways
Two ways to enjoy a short stay by the water — family fun or all the comforts of home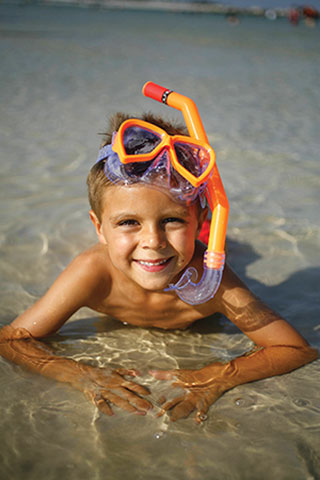 For many of us, time can be one of the most precious resources in our lives. A true two-week vacation might be ideal, but oftentimes reality requires us to take our leisure in much smaller bites.
Luckily, our hometown is within a few hours of the alluring Gulf of Mexico. We've traveled along Florida's Northwest Coast to find appealing sojourning spots — no matter what is your idea of a great coastal vacation. Both are less-than-a-tank drives that can easily be accomplished in a long weekend.
What will you do? Grab the kids and make a run for the rollicking good times to be found at Panama City Beach? Or head to Portofino Beach Resort for a condo stay that's just like home — maybe even better — with a view of miles of Florida's last unspoiled beach? Read on and be beguiled by the possibilities.
---
Panama City Beach
It's the Place to Be for Sun, Sand … and Shopping Too
By Wendy O. Dixon
Panama City Beach has gotten a makeover during the past few years. The new look includes whiter, softer beaches, luxury resort condos, exciting attractions and trendy shopping centers.
Nothing says relaxation like the beach, and now you can spend your carefree days on an additional 30 feet of coastline, thanks to an expansive beach renourishment project done between 2005 and 2006. The $30 million project replaced about 3.5 million cubic yards of sand lost as a result of hurricanes since the first nourishment project in 1998. With meticulous attention to detail, beach inspectors hired by the U.S. Army Corp of Engineers made sure that the sand's grain size and color met or exceeded project specifications. The additional sand is more than just an attractive landscape — it provides vital storm protection for buildings, infrastructure, shorebirds and sea turtle habitats.
And though the beaches are the draw for vacationers year after year, new condos have sprouted up recently, offering luxury rivaling many of the country's top resorts.
Make yourself at home in modern and spacious beachfront accommodations. The family-friendly Edgewater Beach & Golf Resort offers exceptional service with the luxury accommodations. In addition to Edgewater, The Resort Collection at Panama City Beach includes the Majestic Beach Resort, Emerald Beach Resort, Long Beach Resort, En Soleil and Marina Landing. Between them you'll find more than 1,500 full-service suites and villas, tennis courts, 21 luxurious pools and 36 holes of championship golf, including the Hombre Golf Club on Coyote Pass.
Bay Point Marriott Golf Resort & Spa, the only Marriott in the United States to receive the Conde Nast Traveler gold list for 2009, boasts the award-winning Nicklaus Design Golf Course and the country club-style Meadows Course. For those who prefer tranquility and relaxation, check out the luxurious Serenity Spa at Bay Point for star-quality service and pampering. Sip a glass of complimentary champagne or wine as your masseuse prepares to soothe aching muscles and tension with a hot stone massage, a relaxing Lavender Salt Glow or the "Fountain of Youth" Body wrap. Serenity Spa offers a full range of services, so check with the concierge for a full list of body treatments.
The Food
A must-visit restaurant while in Panama City Beach, Capt. Anderson's Restaurant & Waterfront Market has mastered the art of seafood. Founders Jimmy and Johnny Patronis have been serving millions of loyal customers since 1967. The 660-seat restaurant has been named among America's top 50 restaurants and is the recipient of the "Best Seafood Restaurant" award from Southern Living and Wine Spectator's "Award of Excellence." Try Capt. Anderson's famous grilled bay shrimp or the Florida Lobster Thermidor, which is baked in a rich cream sauce with a touch of sherry.
For casual, upscale dining within walking distance from Edgewater Beach & Golf Resort, Majestic Beach Resort and Holiday Inn SunSpree Resort, FireFly restaurant in the Shoppes at Edgewater features Continental cuisine with a Floridian flair and a romantic ambiance reminiscent of a Mediterranean bistro. Enjoy a grilled-to-perfection "Cowgirl" ribeye steak with a port wine demi-glacé and shallot mashed potatoes, or a refreshing poached lobster and shrimp salad with an herb emulsion dressing.
If you like fresh-baked bread — and let's face it, who doesn't? — you'll enjoy the quaint and charming Andy's Flour Power Café & Bakery on Thomas Drive. Try the ham and cheese croissant or the creamy, flaky cheese Danish for breakfast. The lunch menu offers salads, soups and sandwiches made with the freshest ingredients. The homemade cookies and hospitable service make it worth a return trip.
Make the Most of the Beach
For watersports enthusiasts, Sunjammers, located at the west end of the beach on State Road 79, can hook you up with all of the water recreation supplies you need for an excursion in the Gulf. Rent or purchase a kayak, surfboard or stand-up paddleboard for a fun workout. Or take the family out on one of Sunjammers' Hobie catamarans for an afternoon sail. If you don't have a boat, Sunjammers has you covered. See the complete list of equipment and services at sunjammers.com.
For a fun time at a bargain price, visit the area's state parks, which charge around $5 to $8 per carload.
Camp Helen State Park is a playground for nature lovers of all ages. The lake is one of the largest coastal dune lakes in the state, providing visitors with a unique look at the coast's diverse environment. From dunes and marshes to wetlands and pines, the park gives guests a snapshot of a variety of ecosystems. Along with beach access, the park offers fishing areas, nature trails, picnic areas and wildlife viewing areas.
St. Andrews State Park landed the No. 2 spot on the Top 10 beaches in the United States in 2008, according to the popularity index on travel-information Web site
tripadvisor.com. Known for its bike trails, camping sites and rock jetties, the park brings together the best of both on- and off-the-beach activities. St. Andrews offers something for everyone, with eight pavilions, designated swimming areas, two nature
trails, two fishing piers, a play area, scuba and snorkeling rentals, canoes, kayaks and two overlooks for spying wildlife.
Another popular destination, Shell Island, is easily accessible from St. Andrews State Park during the spring and summer seasons. The pristine, 700-acre barrier island provides an undeveloped landscape for a day of walking the beach, collecting shells, basking in the sun and swimming. Capt. Anderson III out of Capt. Anderson Marina (captandersonsmarina.com) offers boat rides to Shell Island. Take the family on a dolphin cruise while on the Anderson III. Cruises are offered from March through October.
And Don't Forget About the Shopping
After a morning of fun in the sun, it's time to get in the shade for some shopping. Pier Park, the million-plus-square-foot open-air shopping, dining and entertainment destination that opened in the spring of 2008, can be a day trip all on its own.
With its Key West-inspired colors, Old Florida architecture and jazzy music playing in the streets, Pier Park has a festive atmosphere that makes even the locals feel like they're on vacation. The fabulous boutiques, well-known department stores, delicious eateries and family-friendly entertainment truly make this venue a must-stop shop.
Retail stores you know — Target, Dillard's and JCPenney — anchor the shopping center at Pier Park, while Old Navy, Yankee Candle and Borders are interwoven with more than 100 other national retailers and unique local shops within.
Pick up a souvenir from the world-famous Ron Jon Surf Shop and dine at Jimmy Buffet's Margaritaville, Back Porch Seafood and Oyster House, or Bootleg Barbeque, among others.
If you need some time away from shopping and eating, check out a movie at the 16-screen Grand Theatre.
Another new outdoor mall, The Village of Grand Panama, offers 55,000 square feet of gift shops, boutiques, salons, bookstores and restaurants. Located on Hutchison Boulevard, the shopping center includes Another Broken Egg, Chan's Wine World and Liquors, Bonefish Grill, and Indulgence Spa and Salon.
Amusing Amusements
You won't be able to miss the Ripley's Believe It or Not! Museum — its Titanic-look-alike exterior makes it appear to be sinking. Robert Ripley — a modern-day Marco Polo and real-life Indiana Jones — traveled the world amassing an unbelievable collection of unusual artifacts. This eclectic museum, one of 27 Ripley's sites located all over the world, boggles the mind with its collection of unique and weird stuff. Don't forget to check out the 4-D moving theater.
The Coconut Creek Family Fun Park is home to two miniature golf courses, each landscaped with beautiful tropical flowers, fish and cascading waterfalls. The Gran Maze, a human maze the size of a football field, is just as much fun for grownups as it is for the kids. Test your navigation skills as you seek out four checkpoints located at the epicenter of the labyrinth. Kids under 6 years old play free, and coupons are available online at coconutcreekfun.com.
Nightlife
For those who want to shake a tailfeather, get your groove on by dancing until dawn at the hottest beach clubs in the world. Spinnaker Beach Club has 20 bars in the giant nightclub. And the world-famous Club La Vela has nine different dance clubs, all under one roof. Tootsie's Orchid Lounge at Pier Park offers country music, and Schooners entertains till the wee hours with hot local bands.
Enjoy the warm Gulf breeze aboard the Lady Anderson Dining Yacht, offering cruises with entertainment and a seafood and prime rib buffet. The boat departs from Capt. Anderson's Marina at Grand Lagoon.
For those who prefer to sip their way through their Gulf-side stay, Panama City Beach is home to two wineries worth fitting in their schedule — the Seabreeze Winery, featuring wines made from locally grown muscadine grapes and blends, and the Panama City Beach Winery, offering a collection of citrus, berry and fruit wines made in Florida.
Panama City Beach is an easy drive from Tallahassee, just short enough for a day-trip or a long weekend. But with all of the new things to do, it's easy to spend an enjoyable week there too.
Portofino Island
A Luxurious Experience in Pristine Surroundings
By Jack Macaleavy
Imagine walking out of a guest suite on par with one you'd find at the Ritz Carlton, then looking east toward eight miles of pristine Gulf beaches — with no buildings as far as the eye can see. You might think it's a vision from Florida's past, but it's the sight you can enjoy today at Portofino Island resort, located within the Gulf Islands National Seashore in Pensacola Beach.
What to do in this idyllic natural setting? Walk barefoot along the seashore; drive a simple, two-lane highway, with the Gulf of Mexico on one side and Santa Rosa Sound on the other; hop on a bike and head out on a paved bike path to take in all the sights and sounds of nature; or lace up your walking shoes and traverse those same paths. Better yet, climb aboard a kayak and paddle along the bay or Gulf coastline to take in every aspect of the pristine barrier island, which is located just three-and-a-half hours from the intersection of Thomasville Road and Interstate 10. It's an easy drive, with probably no more than five to seven traffic lights between Tallahassee and Portofino Island.
Completed in 2007, Portofino Island consists of five 21-story towers, each with its own pool and whirlpool spas. Guest suites consist of two- and three-bedroom units, all with a stunning view of the Gulf, the bay or both. Unlike typical resort furnishings, these "sky homes" are designed and furnished for full-time living done high-end all the way. From the thread count on the sheets and towels to the top-brand furniture and accessory lines, including a gas grill on every elongated balcony, the accommodations are several steps above almost any rental available along Northwest Florida's beaches.
The resort is family-friendly, with plenty of activities to keep everybody — even hard-to-satisfy teenagers — happy and having fun. There are numerous water-related activities on both the beach and sound sides of the resort, including cruises, surfing lessons, volleyball, snorkeling, ecotours … and so much more. The High Tides Kids Club is designed to keep youngsters happy and active. Portofino Island also offers five tennis courts and ferry service to the Portofino Boardwalk, a bustling shopping and entertainment area.
If you make a reservation through portofinoisland.com or the resort's toll-free phone number, you automatically become a Premier Club member. As a member, you'll receive the following amenities as part of the stay: a welcome gift; beach chair/umbrella set-ups for two; a round of golf at a choice of courses; a deep-sea fishing excursion; ferry service to shopping and dining locations at Portofino Boardwalk; fitness-center access; a dolphin cruise on weekends; a 20–percent discount on food and beverages; a 30–percent discount on Adventure Beach, Adventure Cove and the High Tide Kids Club; and the opportunity to earn free nights as a repeat customer.
Pensacola, with 450 years of history, is a short drive away — and it's full of museums and attractions to explore, as well as a lively downtown area.
The National Naval Aviation Museum, located at Naval Air Station Pensacola and open to the public, will captivate children and adults with an up-close look at military aviation over the past century. NAS Pensacola also is home to the Blue Angels precision flying team; visitors can look online to find the dates and times of the team's flight practice schedules, then sit back on a lawn chair to capture a private air show.
The Terracotta Restaurant on the Portofino resort property features fresh local seafood and steaks. Visitors can also stop in at Terrazzo Grille for fresh salads, sandwiches and burgers, or make a quick stop at The Market to pick up what they need to prepare supper at home in a fully equipped kitchen. Better yet, they can enjoy the "Chef to You" service, in which a chef creates a dining experience in their suite. A similar amenity brings the "Spa to You," with massages and other treatments available in visitors' rooms, or beside the beach or pool.
With more than 300 condominiums available, Portofino Island also provides a perfect wedding destination, with packages to accommodate most any budget, and event planners on staff to coordinate and execute details to perfection.
Portofino Island is the perfect weekend or family vacation getaway for those ready for an upscale experience on the edge of nature. The fitness center is fully equipped with a second shore view of the bay, an indoor, Olympic-size pool, four outdoor pools, full spa services, and a professional staff impeccably trained to ensure that your experience is done right.