Godby Grad Lauded For Work on Mideast-Bound Navy Ship
Tyrelle Smith receives commendation for 'exemplary performance' aboard USS Bataan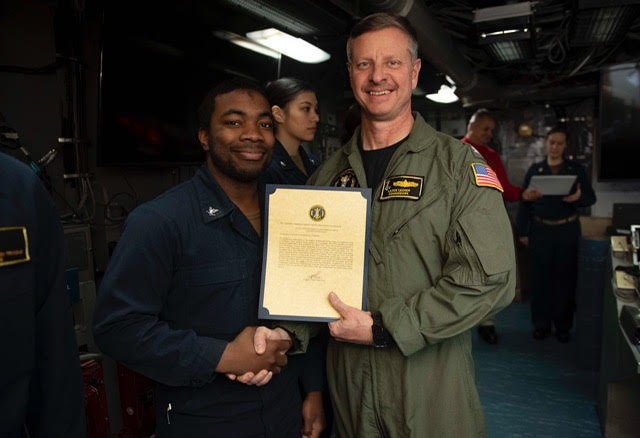 Tyrelle Smith does his work a long way from Tallahassee. But he's getting recognition that, given events near the Persian Gulf, really hits home.
Smith, a 2018 Godby High School graduate, has received an official commendation as a Petty Officer Third Class in the U.S. Navy.
The Navy said in a news release that Smith received the commendation from Capt. Lance Lesher "for exemplary performance during pre-deployment aboard the Wasp-class amphibious assault ship USS Bataan (LHD 5)."
Military.com reported on Saturday that the Bataan, carrying its crew and 2,200 Marines, would skip a planned training exercise with Morocco and head to the Middle East.
Tensions escalated in the Persian Gulf region last week after a U.S. military strike targeted and killed a top Iranian military officer and the Iranian government vowed revenge.
The Bataan and the Bataan Amphibious Ready Group deployed in December from the U.S. East Coast and arrived last week off North Africa, Military.com reported.
Smith's certificate trumpets his participation in over 100 training missions, including a five-hour Navy-Marines exercise, and he emerged as "one of the top staff mission board operators Expeditionary Warfare Training Group Atlantic had ever seen."