Give PCB Conservation Park a Go
12 trails pave the way for fitness and fun for nature-loving hikers and bikers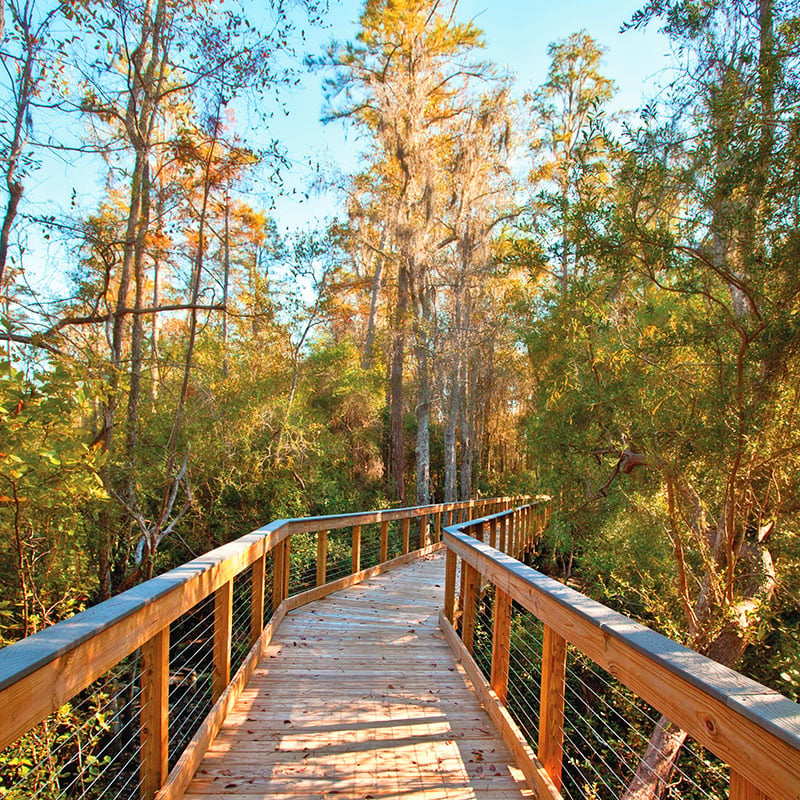 Do you know where to go to get your "green" on at the beach? Head to the beautiful Panama City Beach Conservation Park located just west of Griffin Road off Highway 98. This innovative public green space protects and balances the area's natural resources while providing 2,912 acres of outdoor recreational fun.
And that's just the start. As ecosystems are restored and habitats are improved over time, more native species will be reintroduced to the park. The park is part of a network of trails and connects to Frank Brown Park and Aaron Bessant Park. It's a long-term environmental project that's off to a great start.
The park is open daily from dawn to dusk. Hikers can trek 24 miles on 12 different trails (ranging from .6 miles to 11 miles) not to mention over a mile of boardwalks that meander through scenic cypress domes. A great place to start is the 1.8-mile hike on the Green Trail; it hits the high points closest to the trailhead, is a comfortable walk for children and is wheelchair friendly.
This is a fantastic place to exercise furry four-legged friends. Up to two dogs per person are welcome as long as they are leashed.
Bring a mountain bike and enjoy an easy ride through the restored pine forests on any of the trails.
For your convenience, parking and public restrooms are located at the Trail Head building. Here, you can pick up a brochure with a map and size up the various trails. Make a day of it and picnic at the covered pavilion (which is available for rent for family gatherings and special occasions). Ask about the guided Audubon bird walks, and the volunteer and recreational programs offered in the Trail Head classroom seasonally. To fully enjoy all the nature around you, be sure to bring your binoculars for bird and wildlife watching. And don't forget your camera to capture the beauty of the moment.
Getting There
From the intersection of US 98 and SR 79, drive west to Griffin Road. You'll find it on the right immediately past a La Quinta Inn. It's the main road through Beach Commerce Park, a St. Joe-owned industrial and office park. Follow Griffin Road until it ends. It jogs left into the Panama City Beach Conservation Park through a main gate at the southern boundary of the preserve and continues north, paralleling the paved bike trail to a loop through the trailhead area.