Four Geese A-playin'
The Brown Goose spreads its wings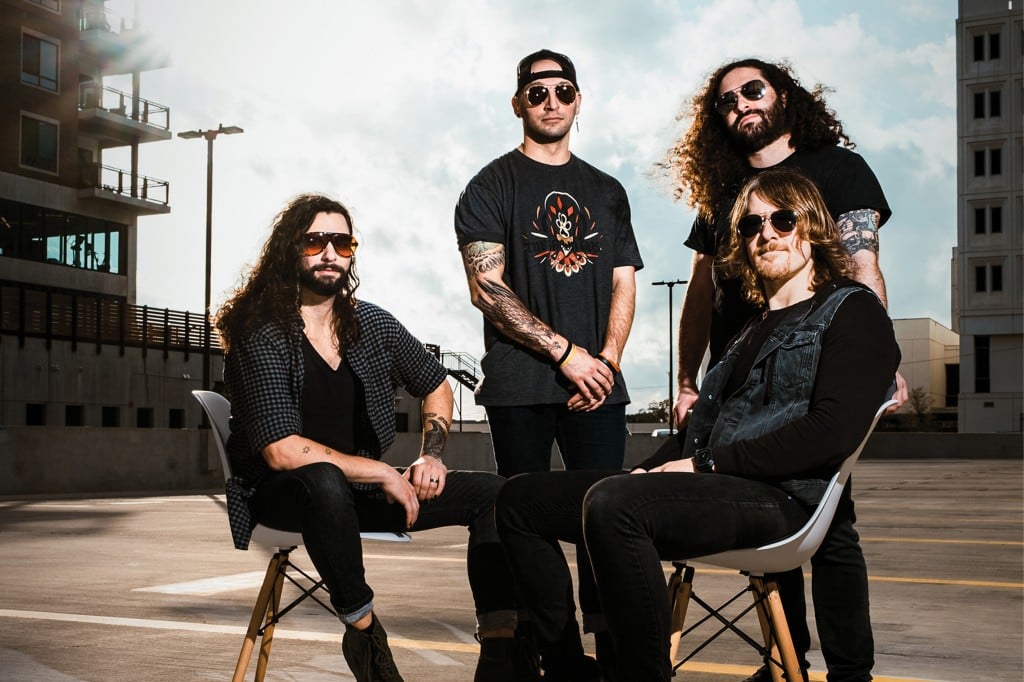 The Brown Goose is a staple in Tallahassee's music scene but has taken flight across the Southeast with its iconic covers and an ever-expanding catalog of original anthems. The geese describe their style as modern alt-rock with a vintage edge, citing inspirations from Incubus to Aerosmith.
The band's lineup has been consistent for four years with Mike Ingram and Giovanni (Gio) Marrero-Baez on guitar; Barrence (Barry) Dupree on bass; and Jonathan McLaughlin on drums. Everybody honks, that is, sings.
Fans of The Brown Goose love its emotionally charged rock anthems and whimsical music video shoots. The band's YouTube channel is home to gems like the surprisingly athletic rendition of Bowie's Just Dance, which was filmed at Skate World, and a delightfully irreverent execution of The Beastie Boys' Fight For Your Right, performed from pool floats.
Where the band really thrives is live performance. After a year of few shows, The Brown Goose performed everywhere in 2021 from South Carolina burger shacks to packed-out clubs in Atlanta and then converted their best and worst road experiences to music.
This Is the Way, The Brown Goose's first full-length album, dropped in late summer 2021 and was produced by Lee Dyess and Earthsound Recordings. You may not know Dyess by name, but you've likely heard of the bands he's worked with — Mayday Parade, From First to Last, Evergreen Terrace, and Go Radio, to name a few.
The album was the product of 17-hour studio sessions, blueberry flavored coffee and ample collaboration, as the guys swapped lyrics and experimented with vocals.
"We were all feeding off each other," Marrero-Baez said.
"That's what we're used to, being together and playing together," Dupree added. "But to be in the moment, playing or coming up with an idea, and then have someone stop things and say, 'What if' or 'Let's try this' — you can't do that during a live performance."
The year 2021 was a hot one for the geese, who performed along with Mayday Parade's Derek Sanders; Aaron Gillespie of Underoath and Paramore; and Saliva of Click Click Boom fame. They have also appeared with Red Jumpsuit Apparatus, Corey Smith, Zach Deputy, Sister Hazel, as well as George Clinton and Parliament-Funkadelic.
Dupree has worked under Clinton for nearly 11 years, starting as an intern and working his way up the ladder. Today, he serves as director of operations for Clinton and his band. The larger-than-life figure has become a mentor, not just to Dupree, but to all Brown Goose members.
"George once told me, 'Don't forget to speak up, or you might not eat,'" Dupree recalled. "At first, I didn't know what he meant. Later I figured it out. He was saying, 'Don't forget to tell people about yourself. Don't be timid. Put yourself out there.'"
So, that's what The Brown Goose has set out to do. They perform, they hustle, and later this year, they have new music coming. The Brown Goose's sophomore album is projected for release in the second half of 2022.
"It's gonna be pretty rocking with really good lyrical content," Dupree said. "It's coming together quickly, so I think that's a good sign."
The Brown Goose has been around for more than a decade, growing from a barefoot, backyard cover band to a tight rock ensemble that combines head-banging melodies with lyrical precision. During those years, the band has both welcomed new members and seen old members depart. Still, they never forget their roots, intermixing original singles with classics from iconic rockers like Jacksonville-native Shinedown. Former band members including Josh Grimes still drop in for a show every once and a while.
As the guys say, "Once a goose, always a goose."