Florida State Celebrates Champions Club and Doak Enhancements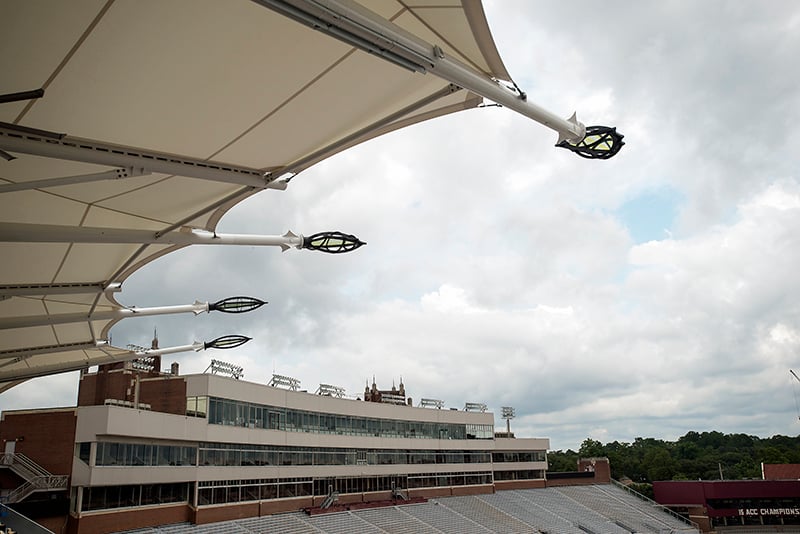 The Champions Club opening weekend was a celebration that impressed not just diehard FSU football fans, but the community at large. More than $95 million in improvements to Doak Campbell Stadium were unveiled, with the highlight being the Champions Club, itself. Other improvements include a high-definition, 58-by-120-foot video scoreboard and a state-of-the-art sound system. The V.I.P. event included good food, informative tours and an elaborate fireworks show that put an exclamation point on the momentous occasion.  
The Champions Club is a uniquely designed, premium seating section built into the stadium's south end zone. It is intended for use not just on game days, but as a site for gatherings throughout the year. The facility will serve both the university and the community as a catered meeting and events space and is one of the few club seat sections, college or professional, that provides Friday to Sunday use of club amenities on football weekends.
With the renovations, there are now more than 5,800 Champion Club seats, making Doak Campbell Stadium the home of one of the five largest club seat sections in college football. The Champions Club offers outstanding views of the action on Bobby Bowden Field, whether from a plush seat or the rooftop terrace. More than 600 feet of glass walls surround the interior. 
Given all that the Champions Club has to offer, it's no wonder we chose to make it the site for the Rowland Publishing Best of Tallahassee event this year. You can explore the Champions Club for yourself at Best of Tallahassee 2016 when we announce and celebrate winners in more than 100 categories. Get your tickets to the event here.