Festive Dressing
This holiday season, the look is casual luxe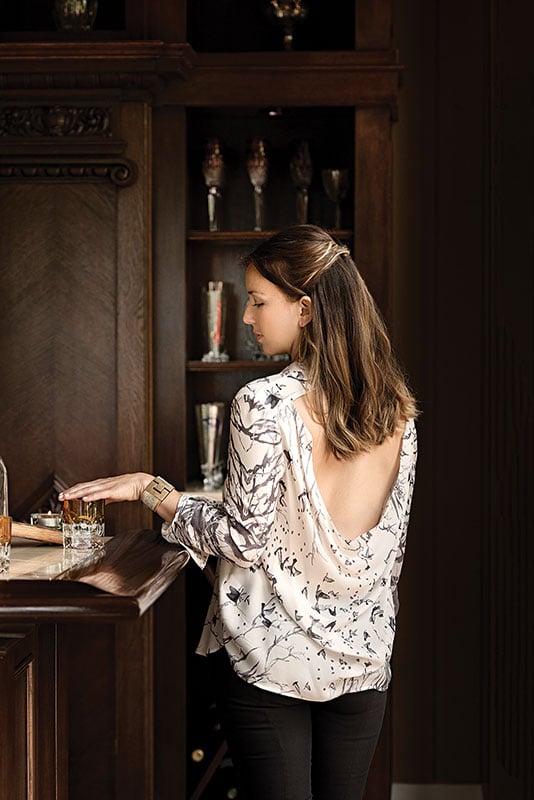 One of the reasons I love Christmas so much is that you can rock a holiday look from Black Friday through New Year's. That's a six-week-long season for my LuLaRoe Santa leggings and striped Christmas wreath top.
But when it comes to holiday get-togethers, it's time for us to leave the novelty wear at the grocery store and strike a more sophisticated tone.
The trick, say local fashionistas, is to create a look that incorporates seasonal trends while giving a festive nod to the season. All very possible, they say, without going The Full Santa.
In the cooler months of 2017, those trends include luxury fabrics such as leather looks, velvet, satins, cashmere, fur, dramatic lace and embroidery.
"Our motto is simple, modern, classic and I think that's the best way to translate into festive wear," says Candice Thompson, apparel stylist at Hearth & Soul in Market Square. While gatherings have become informal, you can still dress "to the nines" with rich fabrics and saturated colors. She suggests pairing "a beautiful silk shirt with a great pair of heels worn with a dark denim jean." At party's end, step down to a pair of velvet slippers for a look that's comfortable and stylish.
When it comes to party dress, "what my ladies seem to want to wear are the colors," says Courtney Glazer, owner of the As You Wish boutique in Midtown. "I've got to have a really nice selection of red tops. Not so much green, but the red and maybe some sparkly stuff. But no one wants Christmas bulbs hanging from their ears anymore."
Two standout colors for fall/winter 2017 are burgundy and goldenrod, which combine to make a holiday party-ready outfit, says fashion blogger Nada Manley (beautymommy.com). They'll do double duty for Nole fans, with colors that are aka garnet and gold.
Accessories are a great way to take an outfit from everyday to holiday. Luxe is the operative word for apparel, says Thompson, so just add glittery touches with items such as handbags or necklaces. Her store will be stocking belts with iridescent beading that would finish off the look of a top tucked into jeans. Or choose a scarf with silver threads to add a little shine.
Shoes can make a holiday statement, whether they're comfortable flat slides in comfy velvet or metallic, or heels in emerald green or bright red from VEERAH.com. The Mulan style ($298) is made in vegan suede or patent with removable tassels on the heel or bejeweled toe brooches.
Inexpensive stretchy gemstone bracelets continue to be popular, says Alana Hollifield, owner/manager of fab'rik, and make it easy to mix-and-match to coordinate with your party outfit.
Metallic, sparkling lipsticks are trending this year, says makeup artist Caitlin Picou, so why not make your lips your outfit's "statement piece" for the holidays? She suggests a new color in her Kismet line of lipsticks (kismetcosmetics.com) — a shimmery red called "Glitzy."
For the guys, "I like to see a sport coat with a nice plaid shirt or tie," says Hollifield.
Thompson concurs. "A dark sport coat and a dark pair of jeans, maybe a fun bowtie. Dark wash makes it more special," she says. She also suggests cashmere vests worn over a T-shirt or a button-down shirt.
But if your holiday social calendar includes an invite to one of those ugly Christmas sweater parties, there are still plenty of ways to get your tacky on. You can pick up an Eagle's Eye (a label responsible for some of the most egregious holiday fashion disasters of the '90s) cardigan for less than $20 on eBay. Or visit websites such as tipsyelves.com and myuglychristmassweater.com, which are devoted to styles that are over-the-top tasteless.