Festival Has Heart for the Arts
Pensacola streets come alive this fall for Foo Foo Fest's 10th anniversary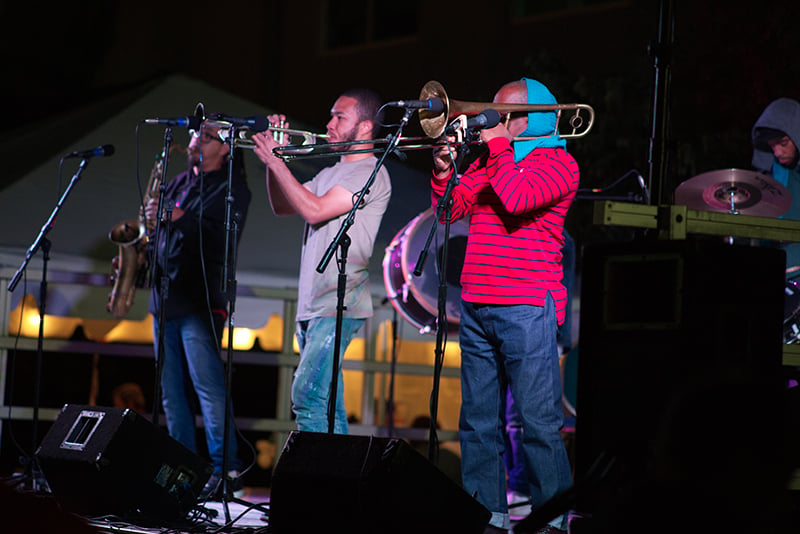 Immersive art installations, musical performances from a variety of genres, historic moments reenacted — all this and more will unfold at the Pensacola Foo Foo Festival from Nov. 2–13.
Foo Foo Festival is a 12-day celebration throughout the city of Pensacola with high caliber artistic and cultural events including art, music, dance, theater and more. In its 10th year, the festival will be bigger and better than ever as it welcomes attendees from Northwest Florida and beyond.
"Alongside our beautiful beaches, Pensacola has a diverse arts scene and community that Foo Foo Festival showcases," said Therese Felth-McKenzie, chair of Foo Foo Festival. "We have a vast variety of events catering to everyone whether it be a family trip, a couples weekend or a girls getaway. A reasonable drive from Tallahassee, this event will introduce you to incredible artists just down the road."
Produced by nonprofit organization Art, Culture, and Entertainment Inc. (ACE), Foo Foo Festival has become one of the most popular and highly anticipated festivals in the Southeast.
The 12 days of festivities are anchored by major area events including the Blue Angels Homecoming Show, the Frank Brown International Songwriters Festival and the Great Gulfcoast Arts Festival.
Grant funds supplied to local arts groups and organizations support the festival's signature events. One participating organization, Fiesta Pensacola, celebrates Pensacola's heritage, promotes tourism and builds pride through festive activities that enhance the community's quality of life.
"I love that Fiesta Pensacola gets to be part of an event that brings so many different organizations and people together under one cause, to celebrate the artists, culture and history of Pensacola," said Nikki Fuqua, director of volunteers and grants coordinator for Fiesta Pensacola.
On Nov. 7, Foo Foo Fest and Fiesta Pensacola will present The Living Museum: A Trip Through Pensacola's History. This interactive evening, held at the Pensacola Museum of History, will feature diverse characters of Pensacola's storied past, from the 1559 Pensacola discoverer Don Tristan de Luna to figures of today. Dressed in period-appropriate attire, actors will incorporate museum artifacts into the show, engaging with guests and answering questions throughout.
Other event highlights include:
Night Moves, Nov. 3–4, an alternative music festival, and Jazz for Justice, Nov. 11, a unique jazz and blues festival presenting a nationally recognized lineup of talent.
On Nov. 11, 309 Punk Project will hold Night on the Tracks, hosting a New Orleans-inspired second line street parade and four community-oriented immersive art experiences.
Theatrical performances include Singing in the Street, a flash mob street party presented by the Pensacola Children's Chorus on Nov. 2; Songs Down South — From Opera to Opry, a diverse collection of country, bluegrass, gospel and more presented by the Pensacola Opera on Nov. 8–13; Desperate Measures, an energetic Wild West musical romp presented by PenArts on Nov. 9–12; and On Broadway: A Broadway Musical Review with special guest Megan Hilty and the Pensacola Civic Band on Nov.11.
Throughout the festival, art installations will be on view in locations across the city. First City Art Center will present Poseidon's Garden including various-sized blown glass orbs and spikes rising from the water as an offering from Poseidon to recognize our area's stewardship of our beautiful surroundings.
Friends of Downtown's The Magic Carpet will take flight over Museum Plaza in the heart of Historic Downtown Pensacola in collaboration with internationally-renowned ImpactPlan Art Productions that will feature 48,000 translucent rectangles of vivid color painstakingly stitched together with wire filament.
Pensacola State College will host Rhythm & Canvas — A Celebration of the Arts! featuring an art exhibition free to the public, a visiting artist lecture and an artist welcoming reception event.
For the full list of events, visit FooFooFest.com.