Farm Bureau Donates Food to Ronald McDonald House
Helping feed the families of hospitalized children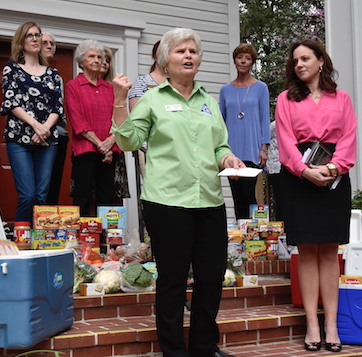 A gathering on Tuesday, Feb. 20, at the Ronald McDonald House in Tallahassee saluted farmers and ranchers as food producers and supported efforts by Ronald McDonald House Charities to shelter and provide support to families of hospitalized children.
Brenda Gail Land and other representatives of the Florida Farm Bureau presented $1,000 worth of food and grocery gift cards to Traci Proctor, executive director of Ronald McDonald House Charities.
For almost 20 years, gifts made by the Farm Bureau's 10-county District 2 have helped feed families who travel here to tend to hospitalized children and who need temporary, supportive accommodations.
The service is free. The Ronald McDonald House in Tallahassee has nine bedrooms, a large kitchen and common areas.
The occasion for the gift was Food Check-Out Week, a Farm Bureau program that spotlights food producers by pointing out that average American families can earn enough income in only five weeks to purchase an entire years' worth of groceries.
The Florida Farm Bureau Federation is the state's largest general interest agricultural organization, representing more than 145,000 members.