DivvyUp is Rising to Be More Than a Sock Company
It has proven itself socially in step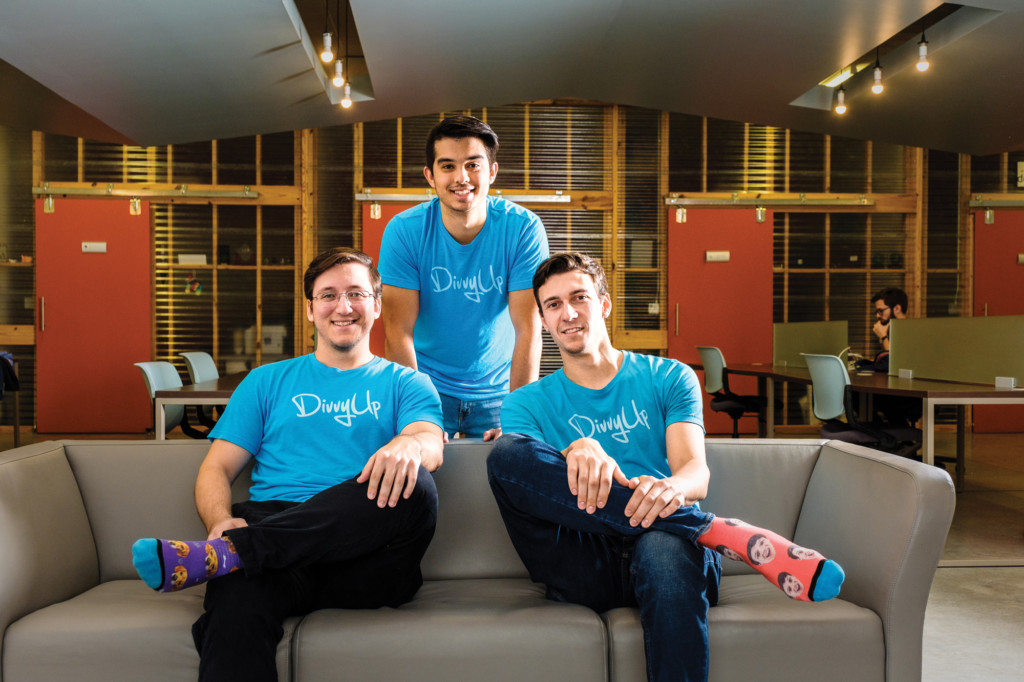 A trip to a Tallahassee homeless shelter has spawned tens of thousands of socks and a business with sole.
DivvyUp, the product of an effort to do good, hardly takes the competition in stride. In about five years, it has gone national.
"Our vision is to be the No. 1 custom-sock company," said Jason McIntosh, a company co-founder along with Mitch Nelson and Spencer Bluni.
DivvyUp calls itself an on-demand custom-sock company. You choose an online template, upload a photo of a loved one or a pet — and, boom, you have bounce in your step because you have caused a new, specialized pair to be sent to a local homeless shelter.
That's the result of the company's giving component.
Customers usually receive their orders within about 10 days, the company said. Early this year, prices started at $24 a pair.
McIntosh said the company focuses on custom pet socks.
"Put your dog on socks, put your cat on socks," he said. "Our goal is to expand to anything you can imagine."
Buyers can imagine.
"These socks with my toddler's face were a huge hit for Father's Day," Julie Shackleton of San Francisco wrote on the company's Facebook page. "They bring a laugh every time my husband wears them."
DivvyUp got its start in early 2014 in Florida State University's entrepreneurship progam. The company recalled it this way:
A class project required students to get into groups and start a small business. A group that included McIntosh and Nelson focused on starting a venture that would help the community.
The group struggled with its first idea and eventually found its way to a homeless shelter, since demolished, on West Tennessee Street.
"We simply asked the receptionist, 'What can we do to help?' " McIntosh said. The receptionist's response: Homeless clients need clean socks, which people tend not to donate.
The students got a $400 loan from their professor and bought what they called "fun socks" to sell. For every pair they sold, a pair would go to the mission.
Within about six weeks, they gave 160 pairs of socks to the shelter.
"They've always been very kind and generous," said Susan Fiorito, director of Florida State's Jim Moran School of Entrepreneurship. "I hope they have a world of success." 
To gain traction, DivvyUp took full advantage of educational resources, mentors and connections at Domi Station, said the incubator's executive director, Antonio Montoya.
Montoya said DivvyUp hit an untapped market in 2017 and grew exponentially. DivvyUp through mid-January sold more than 350,000 pairs of socks worldwide and gifted an equal number, the company said.
"DivvyUp clearly demonstrates the success that is possible by playing the long game," Montoya said. "Now, it hopes    
that its model will be replicated by others who will benefit from their entrepreneurial experience in creating more success stories."
The company says it worked with leaders in the homeless community to create a sock that includes, among other features, dark materials to hide wear and antimicrobial treatment to prevent infection. DivvyUp says it has donated socks to shelters or organizations in 45 states, including 11 in Florida.
Sara Jean Hargis of the Big Bend Homeless Coalition said most coalition partners suffer from severe funding shortages and that their clients appreciate the DivvyUp donations.
"We really enjoy objects like this that are super practical," she said.
DivvyUp now has its own 17,000-square-foot production facility, which employed 95 people during the holiday season.
DivvyUp emphasized its commitment to giving away a pair of socks for every pair it sells but said it has shifted its marketing approach.
"We thought we should be offering customers true value," McIntosh said. "We stopped leading with the giving and started leading with the value proposition. It allows us to do good behind the scenes."