Classic Living in the Northeast
Whatever Your Lifestyle, Killearn has a Neighborhood for You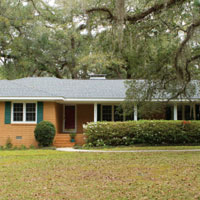 Photos by Scott Holstein, Larry Davidson and courtesy Tallahassee Area Convention and Visitors Bureau
In 1964, J.T. Williams and partners Mallory Horne and Bill Cartee bought 3,800 acres of what was then Velda Dairy Farm property, located at the northeast corner of the city — at the time a relatively undeveloped, uninhabited section of town. This was the beginning of what would eventually become Killearn. It was also a very bold move.
"I thought, 'What are they doing building so far out? Nobody is going to buy out there,'" remembered Virginia Glass, realtor with Coldwell Banker Hartung and Noblin Inc. At the time, Tallahassee was a much smaller city, with a population around 65,000, Glass said. The area was far from the city center, as well as shopping, which made the development a risky venture. Contrary to the naysayers' predictions, Killearn flourished; Killearn Estates, Killearn Acres and Killearn Lakes are now the county's largest subdivisions; with about 3,800 homes between all of Killearn's neighborhoods.
Killearn has developed a variety of architectural styles over time. While early homes are predominantly one-story brick, later homes built in the '80s and '90s feature stucco exteriors, and now Hardie board is the material of choice. New units of platted land have developed over time, and all have been well received. The neighborhood's location has become increasingly desirable, as it is now located very close to shopping, churches and popular schools.
While some of Killearn's oldest homes, around 50 years old, might feel a bit dated, owners also take great pride in their homes, keeping them in good condition — a plus for most buyers today, who might not have the time to undertake large renovation projects. The neighborhood also has an active board that works hard to assure homes are maintained according to the subdivision's covenants and restrictions. The large yards, some of which can be around three quarters of an acre, are another attractive feature in some of the older subdivisions. Homeowners' annual maintenance assessment is an exceptionally reasonable $100.
The neighborhood's population is as diverse as its architecture, ranging from young families attracted by good schools, to university professors and professionals in various fields.
Glass believes the neighborhood's diverse array of housing types — grand homes, zero-lot line and attached units, townhouses, waterfront and golf course homes, and more has largely contributed to its success and longevity. "There's something for everyone, and that is what kept it in such a positive growth position over the years," she explained.
The one thing the neighborhood left behind in its past was its horses. In the beginning, the area near the Killarney Way roundabout was designed for horse stables; and the neighborhood's first unit had easements at the back of properties designated for horse riding. In the last couple decades, the space dedicated to horses became another subdivision, Glass remembers. But the golf courses remain, and the abundance of green grass and old trees provide the neighborhood a peaceful, country club feel.
Just Listed
Deluxe Design Creates a Tallahassee Treasure
Only one word describes this property: luxury. Located on seven acres of privacy in Moore Pond, this home leaves little — if anything — to be desired.
First, there are the basic numbers: The house boasts five bedrooms, five and a half bathrooms and a three-car garage housed in two stories and 6,923 square feet. Three of the bedrooms are master suites, one with a self-contained kitchenette (two master suites are downstairs, and the other, with kitchenette, is upstairs). Another bedroom is a guest room with a separate entrance.
Then there are the additional features and upgrades: indoor and outdoor fireplaces, a gaming room and a true theater room. Additionally, tremendously high ceilings and beautiful molding throughout the house make it as gorgeous as it is spacious. The home itself is a world-renowned plan by Sater Design.
For outdoor entertainment, the yard and gardens offer relaxing, fresh space for the family nature enthusiast, while a rock garden complements a country club-style pool for outdoor relaxation, recreation and meditation. Lest we forget, there is also a tennis court to train the inner athlete in everyone.
This is a unique home in the local real estate market, and its location in the Ox Bottom area only adds to its value. Kevin Davis, the agent representing this house and a top producer with The Naumann Group, pointed out, "This home is located in one of the exclusive northeast gated communities and is attractive because of the limited amount of supply in this price range."
With its one-of-a-kind design, it is a must-see for Tallahassee residents in the market for absolute luxury. In preparation for sale, the home has had an exterior cleaning and been freshly painted, making it sparkling clean and move-in ready.
Just Sold
Golden Eagle Home Sells in Just Three Days
It might be surprising, or even unbelievable, to hear about a house selling in three days, but in this case it was not too good to be true. In that short time, this Golden Eagle gem sold for only $28,000 below its $715,000 asking price.
There was a lot to like about the house, said Realtor Yvonne Howell of Coldwell Banker Hartung and Noblin, who represented the buyer. The house is situated on almost an acre of waterfront property, just a stone's throw away from Golden Eagle's clubhouse, pool and tennis.
"What they loved was really the floor plan and the location; they really liked the Golden Eagle area," said Howell.
The floor plan offers plenty of space, with four spacious bedrooms, an office, a bonus room and four bathrooms spread over 4,000 square feet. The outdoor living area (including a saltwater-filtration, screened pool) is situated to let the space act as an extension of the rest of the house, visible from many vantage points.
"The living spaces wrap around the screened pool with glass enclosures, which brings the outside in for a very relaxed feel," explained Howell.
The master bedroom's position on the opposite end of the house from the other bedrooms affords privacy, which, along with the nice office, was another key selling point. "The house just flowed," Howell noted. Its layout was all that her buyers were looking for.
Additionally, updates in the kitchen and bathrooms with "the most current and up-to-date products" were a nice touch. The kitchen is particularly unique, with three ovens — a welcome abundance for the buyers, one of whom loves to bake. The kitchen's central location also made it perfect for both family living and entertaining.
That Second Home
St. George Island Beauty
Gulf Getaway Offers Luxury, Privacy and Plenty of Space
This gorgeous, beachfront home-away-from-home is an absolute must-see. Located on deep water in the gated St. George Island Plantation, it's also close enough to home to let you get plenty of use out of it. The private boat slip and lift on the community dock near Bob Sikes Cut allows easy access to the Gulf. The property is just a short walk from the beach, and a community pool shared by only nine properties provides more fun in the water for those who prefer a pool to the ocean. Enjoy sunrises, sunsets and stargazing over the bay from the sunbathing deck, which faces the Gulf.
The house is impressively constructed for energy efficiency, with 12-inch-thick exterior walls made from 8-inch masonry block covered with 4-inch brick, concrete pilings and cross beams, and floors of 8-inch hollow-core concrete deck panels. The ground level features a heated/cooled game room, a screened area for fish cleaning and cooking with seating for eight people, and a garage. Six bedrooms offer more than enough sleeping space for a large family, and 4,334 square feet promises plenty of living space, too.
Refinancing
Dealing With Underwater Mortgages
When the housing market peaked in the mid-2000s, home values were highly inflated. Many people who bought or refinanced during that time are now underwater simply because they had just started paying their mortgage (or newly negotiated mortgage), when the value of their home plummeted with the crash.
Luckily, there are a few paths to get back in control, depending on your situation. Those who aren't planning to move can wait it out and continue to make their house payments, but many would prefer a more proactive approach.
If you'd like to renegotiate and take advantage of today's incredibly low interest rates, refinancing could be the answer.
"Refinancing is possible for underwater borrowers," said Dana Cummins, president of the Mortgage Bankers Association of Tallahassee. "There are several new programs in place, and it all depends on who backs your loan."
Refinancing options are available for your current home, investment property or even a second home — no matter how underwater you are. Start by evaluating your present situation: Are you up to date with your monthly payments? If not, before you try to refinance, you need to contact your loan servicer and work with them to discuss modification options, and see what you can work out to get back on track. If you're up to date, find out who backs your mortgage and go from there. And remember, you don't have to go with your loan servicer. Shop around and see who can give you the best deal.
"I think people are very cautious when it comes to refinancing. There is so much information available on the Internet about programs and rates," Cummins noted. "Even if I do not end up working with a client, I do urge them to work with a local lender to establish a relationship. I definitely have seen an increase in refinances over the last few months, as rates have been so fantastically low. It's giving people good cause to go ahead and look into it."
It's Just Business
Growing Coton
The homegrown giftware and décor company Coton Colors was enjoying a banner year in 2012, and the lease was up on their company offices in an industrial area on Garber Drive. Business owner Laura Johnson decided it was time to buy a headquarters for her 18-year-old company and found the perfect spot, purchasing an unfinished, bank-owned building for $415,000 in July 2012 at 2718 Centerville Road. The move increased Coton Color's corporate office and design center space from about 3,000 to 11,000 square feet. The two-level building, which formerly housed a commercial furniture business, was about 20 years old and in the midst of being renovated when the builder went bankrupt. After the sale, Childers Construction built out the interior in 60 days, and Coton Colors moved in Dec. 26. While the bottom level of the building — which houses the sales staff, a small warehouse for samples and a photo studio — is more traditional offices, the upstairs design center is truly unique. Before the original renovation was halted, the space was planned to be a builder's showroom, with a variety of ceiling and doorway designs. Johnson decided to retain these features, creating an eclectic look to the offices and open spaces that are conducive to collaboration, as well as a multitude of meeting spaces.
Changes at Carriage Gate
Georgio's restaurant, a tenant at Carriage Gate for nearly 20 years, has moved out, concentrating the entire restaurant operation at Georgio's Apalachee Parkway location. This leaves another unit up for grabs in the shopping center.
Also relocating is the Leon County Tax Collector office. This space will be filled with the much-anticipated specialty grocer Trader Joe's, which should open following construction between October and December of this year.
The Florida Bank building, which has been vacant for over a year, is being torn down, and in its place will be 74 new parking spaces, says Patrick McKinley, leasing agent for Regency Centers. The entire parking lot will be resurfaced, and the façade will be redone, giving this Tallahassee shopping center a fresh face for its new tenants.
Trending
Downtown continues to have the strongest and highest valued commercial spaces in Tallahassee. The market's small size, combined with the difficulty and cost of new construction, has kept values relatively high, but vacancy is still around 18 percent — the highest it's been in 20 years, according to Jimmy Nystrom, an agent at NAI TALCOR. Rates for Downtown's "Big 5" class A buildings (Highpoint Center, 215 S. Monroe, Monroe Park Tower, Alliance Center and the League of Cities Building) dropped a little but still start around $26/square foot, compared to $24/square foot in 2003 and more than $30/square foot between 2006 and 2009.
Compiled By Laura Bradley and Rosanne Dunkelberger