Carrie McNeill Deserves an A+ in Fashion
Carrie McNeill, former educator and owner of Cole Couture, earns top marks for style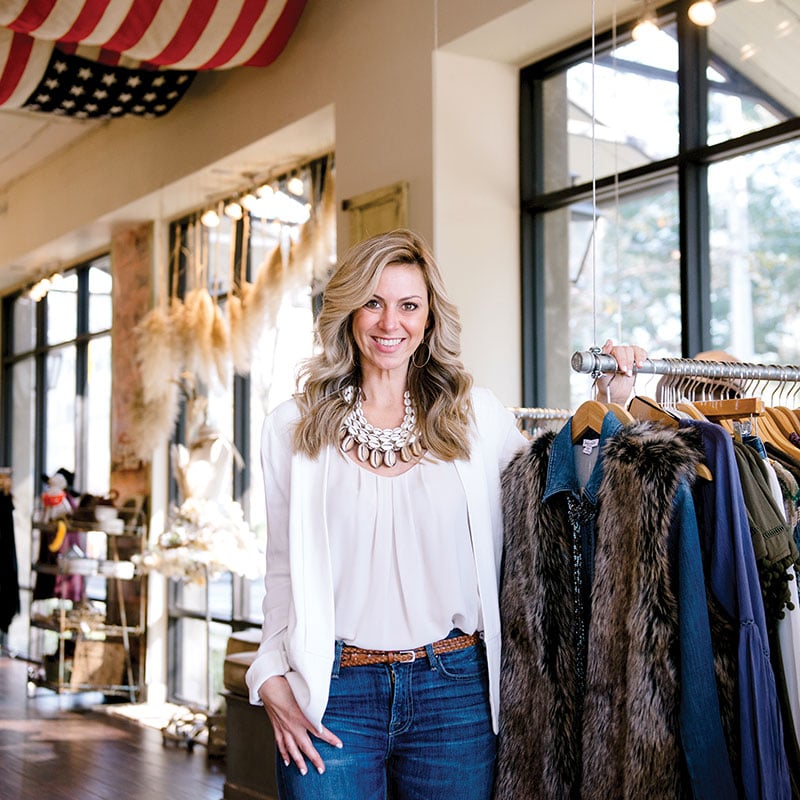 The school system's loss may be Tallahassee's style-community's gain. At least that's what many of the age-diverse clients at the eclectic Cole Couture boutique think. Located on Thomasville Road across from Table 23, Cole Couture is the 1,800 square-foot brainchild and passion of fashion experimenter, Carrie McNeill.
Formerly an elementary school teacher and adjunct FSU professor, the diminutive blonde says she knew when it was time to follow where her heart called: Ten years ago, she packed away her English grammar books to launch her "edited" collection of clothing in a small house near Cole Couture's current location.
McNeill, who is 36, could be mistaken for one of the college-aged patrons who browse alongside women in their 40s — and even 70s — at her boutique. Wearing a white off-the-shoulder stretch top, a flowing print skirt and gold sandals, McNeill strolls in the casual atmosphere of vintage-distressed chairs, wall-mounted animal hides and sparkling accessories that she loves to pair with clothing choices in new and unusual ways.
"My style is a bit 'Boho' (Bohemian)," she says. "I love to mix old with new: vintage ripped jeans with an elegant silk blouse, or maybe a white tee with a sequined gold skirt." McNeill laughs and says she wouldn't wear something like that to her son's school PTA meetings, of course. While mixed elements and surprising fabrics and textures excite her, McNeill says she loves an elegant, polished look, too. "You notice when someone has taken the time to present themselves beautifully," she says.
McNeill also welcomes new trends that are surfacing this year: "Yellows and dusty pinks that will see us into autumn; metallics — especially gold; high-rise jeans and a return of the midi." But faithful black won't ever go away. McNeill says that if she were preparing for a gala, she would choose a long black dress with a clean line, accessorize with huge earrings and an armful of stacked bracelets, then add a powerful — possibly sparkling — clutch. Oh, and one other thing: Don't forget the fur.
McNeill's personal favorite among her "wearables" is the collection of furs she inherited from her grandmother, who lived in Connecticut. "Fur stoles and capes… She had lots of them. Paired with anything, from jeans to chiffon — I just love the feel … and the connection."