Can't Miss Event: Bourbon, Bites + Brews
A fundraiser to benefit Independence Landing, whose mission is to bring joy and liberty to adults with a range of disabilities.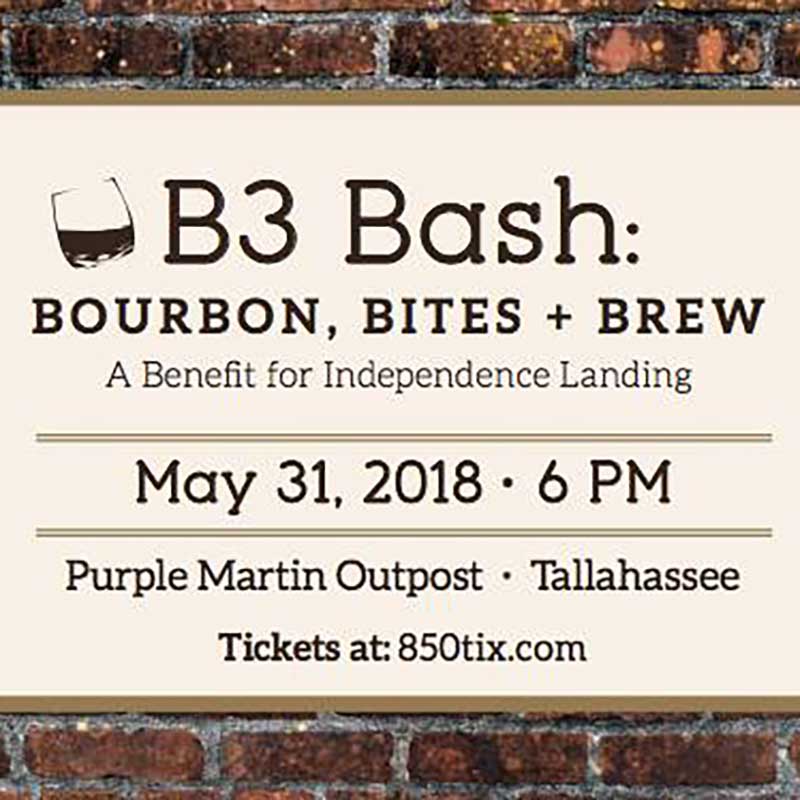 The Big Bend is about to get its first independent-living community for disabled individuals.
Independence Landing is a nonprofit corporation, and its mission is to build an affordable and safe residential community for adults with a range of cognitive and physical disabilities while allowing residents to successfully lead independent and fulfilled lives.
On the thriving residential campuses of the community, all residents will have access to community dining, an assortment of continuing education and vocational opportunities, plus various social and recreational activities.
To further their cause, Independence Landing is holding an amazing charitable event to kick off the summer — the B3 Bash at the Purple Martin Outpost.
This new event will feature mouthwatering gourmet cuisine prepared by award-winning Chef Jackson Yordon, owner of Kennebunkport, Maine's Salt & Honey restaurant, which has been featured in Town & Country Magazine. The event also will include exceptional bourbons by Warhorse Whiskey, limited edition craft beers by Anheuser-Busch and select wines by sommelier Lee Satterfield.
In addition, guests will be treated to gourmet "bites" by Black Fig, bourbon and bacon pairings by Social Catering and Events, Lucky Goat's Cold Brew Bus and decadent desserts by Paisley Cafe.
Entertainment will be provided by the Thursday Night Music Club, playing jazz, swing, funk, blues, rock and Latin jazz arrangements for big band.
All proceeds will benefit Independence Landing and their mission to provide the freedom and independence to those with cognitive and physical disabilities.