Best of Tallahassee Stages a Big Night at The Moon
For 20 years, the annual Best of Tallahassee event has celebrated the best of the best.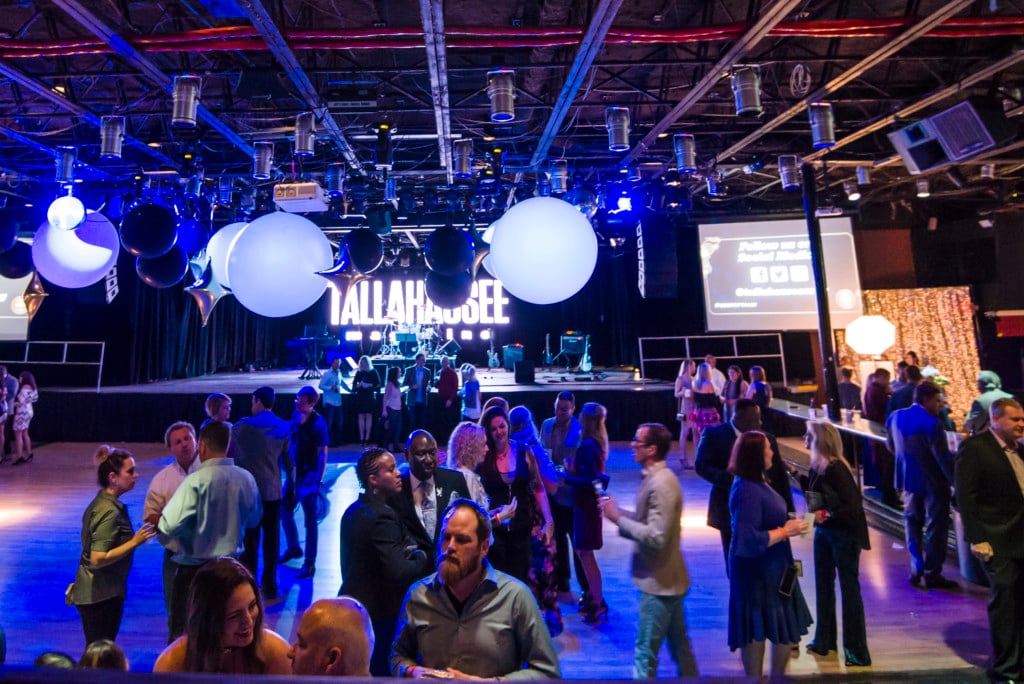 When you're at Tallahassee's biggest annual business and social event and you spot the biggest person in the room, you must walk over and introduce yourself.
And because you're 5-foot-7 and you like to make big people feel good, you must tell him that he's the biggest person in the room.
On Thursday night at The Moon, that person was William Jefferson, who wore all black and a cowboy hat that made him look 6-foot-6.
"Well, thank you," Jefferson said with a humble laugh.
Politeness, humility, recognition and triumphant cheers summed up the 20th annual Best of Tallahassee awards celebration of the Capital City's best businesses, as voted on by readers of Tallahassee Magazine.
About 800 people attended on an evening that involved dancing, drinking, networking and, at least in one case, cowboy-hat wearing.
"I'm here representing Boot Barn," said Jefferson, the store manager. The clothing store features Western wear, which explained the cowboy hat.
And hats off to Jefferson and Boot Barn, which won Best of Tallahassee in the Men's Shoes category.
Speaking of big, consider what happened to businesses that won awards in two categories. Coldwell Banker Hartung and Noblin was among them, winning for Commercial Real Estate Agency and for Residential Real Estate Agency.
"This is huge," said Bruce Foster, 23, a "Top 30 Under 30" agent for Coldwell Banker. "Best of Tallahassee is one of the most prestigious awards in Tallahassee, and this is our fourth year in a row getting commercial and residential. That's massive for us."
Pink Narcissus knows the feeling, becoming a repeat winner in the Store and Teen Clothing Store categories.
"It allows us to be able to put the Best of Tallahassee logo next to our name, and we love being able to do that year after year," store manager Laura Wittenberg said.
Attendees mingled and partied in a hip setting designed by John Gandy Events, but they stopped in their tracks when it came time to announce the winners and runners-up, which appeared on screens in the music and entertainment venue.
Response to the results ranged from polite applause to, in the case of Bumblebee Waxing & More, rather wild woots. The company won again for Day Spa and for Hair Wax/Laser Services.
"We have a lot of fun when we're at work, and it does solidify our collaboration and that what we're doing is working," said Amber Swartz, the company founder. "And for us, it's a lot of fun. It's a lot of fun to get dressed up and come out together."
The evening featured entertainment by Top Shelf Band, a Tallahassee-based group that kept heads bobbing with classic pop and rock hits. The night also featured much activity around a Selfietally selfie machine that looked like an old-fashioned gas pump, dispensing photos of happy faces on demand.
"How cool is this? Self-serve," a man remarked as a couple posed for a photo.
The couple was smiling, of course. Who wasn't?
"This is a great event. It's an extremely valuable event," said Kyle Phelps, an executive at Capital City Bank, which served as Best of Tallahassee's presenting sponsor. "It's not easy for us to get to know a lot of businesses in our community and what they're doing. This is a good event to mingle and get to know folks who otherwise we'd not see and also to see some people recognized for doing really, really well that may have been overlooked."
Thomas Howell Ferguson, a Tallahassee-based certified public accountant firm, served as official ballot counter and saw to it that the winners and runners-up reflected the votes of readers of Tallahassee Magazine, said CPA Brian Walgamott, a director in the company's tax services department.
"We really like the structure of this award," he said, "The fact that you guys would have an accounting firm, whether it's us or someone else being the ones to count the ballots to make sure it's credible … lends credibility to the awards itself."
Of the event, Walgamott said, "These are the top businesses in Tallahassee. Why wouldn't you want to be here?"
El Jalisco will second that. As he watched results for Best Mexican/Latin American Restaurant appear, founder Jesus Carranza, a Mexican immigrant, hugged family members and colleagues amid cheers. His restaurant had become a repeat winner.
Asked what Best of Tallahassee status means to the business, Maria Carranza, daughter of the founder, said: "Everything."
Check out the list of those who won this year's Best of Tallahassee awards.
Thank you to our partners and sponsors:
Presenting Sponsor Capital City Bank
See photos from the event below:
Event photos by Larry Davidson and selife station photos courtesy of Selfietally