COCA Seeking Volunteers for Asphalt Art
The creative painting will take place in the Greater Bond Neighborhood May 26–27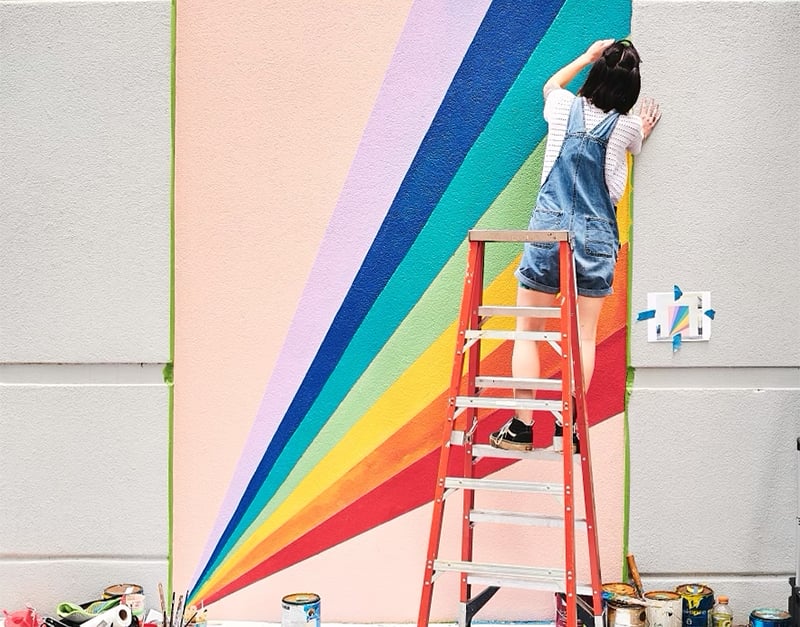 Through the Bloomberg Philanthropies Asphalt Art Initiative, the City of Tallahassee, the Council on Culture & Arts (COCA), and the Greater Bond Neighborhood Association partnered to facilitate the creative painting of nine crosswalks and three intersections on Saxon Street.
Initially scheduled for the end of April, the Asphalt Art painting will occur on Friday and Saturday, May 26–27, from 4 a.m. to 2 p.m. The three locations are Saxon Street at Bond Linear Park, Saxon Street at Osceola Street, and Saxon Street at Tucker Street by Bond Elementary School.
The roads immediately surrounding all three locations will be closed to through traffic from when painting begins on Friday to when it concludes on Saturday. Drivers are asked to slow down in the area and avoid these locations. Detours will be established to help route drivers around the closures.
Community members who would like to participate in this effort can sign up to help paint the Saxon/Tucker Street intersection, the Saxon/Linear Park intersection, or the Saxon/Osceola intersection.
The Asphalt Art Initiative focuses on art and its ability to transform a city. The program helps cities looking to improve street safety, revitalize public infrastructure and engage residents to integrate visual art into their designs. Tallahassee distinguishes itself as a national leader in public art by partaking in this Bloomberg Philanthropies Asphalt Art Initiative.
The partnership between the City, COCA, and the Greater Bond neighborhood is part of the Great Art for Greater Bond initiative that started in 2021. Through the initiative, Greater Bond envisioned and discussed what kind of art it would like for its neighborhood, with the goal of infusing more public art in the area. COCA hosted an RFQ and paid 12 local artists to create designs for the community. Residents then picked their favorite through rank-choice voting. COCA attended public meetings and events in Greater Bond to gather design feedback, including neighborhood meetings, farmers markets, and other events between January and February this year.
Artist and design selection took place between February and April, with over 300 surveys submitted in the selection of the three winning designs. The selected artists are Franzline Whaley (Saxon Street at Tucker Street), Vardyce Gaines (Saxon Street at Osceola Street), and Lindsey Masterson (Saxon Street at Bond Linear Park).
For more information and details about the artists, visit www.TallahasseeArts.org/Asphalt-Art.
To learn more about the Asphalt Art Initiative, visit asphaltart.bloomberg.org.
Find out more about the Greater Bond Neighborhood First Plan by visiting Talgov.com/NeighborhoodFirst.