An Evening of Music with Phillip Rumlin-Bond
Javacya Arts Conservatory presents a Facebook Live concert in support of young violinist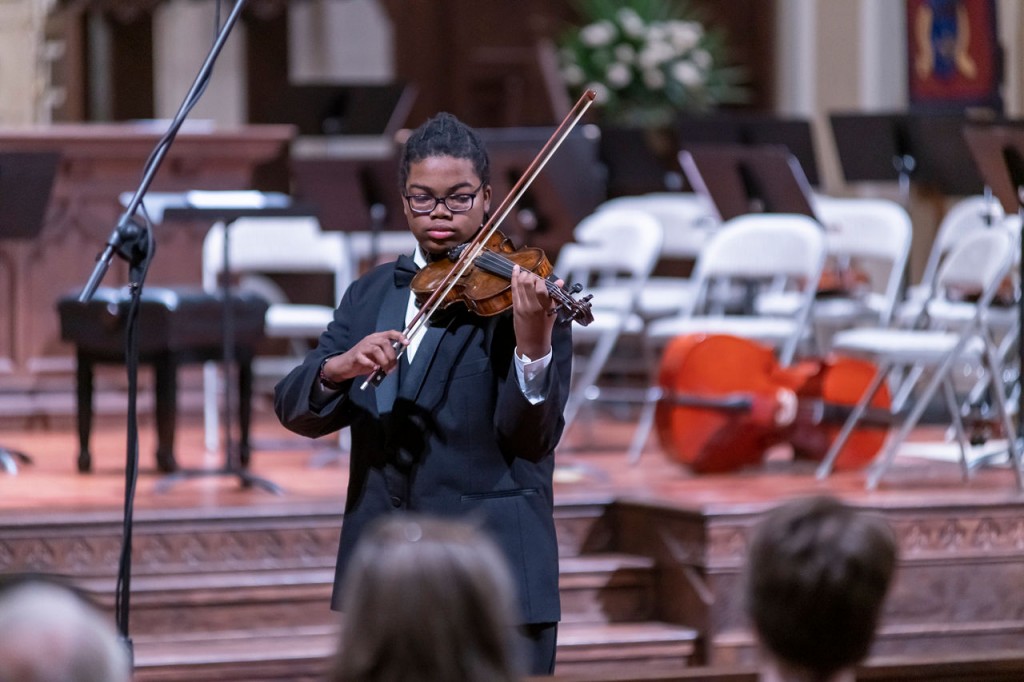 At 13-years-old, Phillip Rumlin-Bond knows the path he wants to take in life and is already headed in the right direction. He first began his studies as a violinist at the age of 7 with Patrice Floyd, the founder and director of the Javacya Arts Conservatory. In the five years since, Rumlin-Bond has become the concertmaster of the Javacya Elite Chamber Orchestra in his pursuit of becoming a professional classical musician.
As a student at Javacya, Rumlin-Bond has experienced additional training at college-preparatory institutes, such as at the Interlochen Center for the Arts Summer Music Camp in Michigan and Four Strings Academy in Boston. He has received coaching in a master class with renowned violinist Rachel Barton Pine and Australian cellist Amber Van Dexter.
Phillip willingly shared his Javacya concertmaster position with Sphinx Competition Laureate Mariana Green-Hill, founder of Boston's Four String Academy and award-winning violinist, during a premiere performance in February. They jointly led the Javacya Elite Chamber Orchestra as the group accompanied Rachel Barton Pine for the Arts-In-The-Heart concert series. 
Rumlin-Bond received the coveted Javacya Arts Conservatory Director's Nod Award, and a rating of "superior" at all-district and all-county public-school festivals. Phillip, a native of Quincy, Florida, is one of the leaders of Deerlake Middle School's orchestra, where he plays both violin and viola. He has been a part of the gifted program since first grade, excelling in mathematics, writing and history.
On Thursday April 30 at 7 p.m., the Javacya Arts Conservatory will feature Rumlin-Bond in a live stream benefit concert. Rumlin-Bond will play a variety of music, including Mozart, Bach, Vivaldi and more. 
Guests will include Khari Joyner, award-winning cellist and teacher at The Juilliard School; Hope Ward, principal violist; Darryl Tookes, director of music industry studies at Florida A&M University; The Mad Violinist, an award-winning internationally acclaimed artist; and Ralph Jean-Paul, senior conductor of the Javacya Elite Chamber Orchestra and a FAMU professor. 
Attendees will be able to donate to a fund that contributes to Rumlin-Bond's purchase of a high-quality violin, bow and travel case. The goal is to raise $5,000. Any additional donations will benefit the Javacya Arts Conservatory and will ensure they can continue to offer tuition-free orchestra training and the purchase of instruments for deserving students.
The Javacya Arts Conservatory provides students with the opportunity to learn and perform a variety of music genres while giving them a glimpse into a future life in the world of professional music. Through Javacya's programs, hundreds of students have achieved successful careers as professional musicians. 
The concert can be watched at Facebook.com/javacya.