Alleviating Food Insecurity for All
The Junior League of Tallahassee's Mighty Meals program combats hunger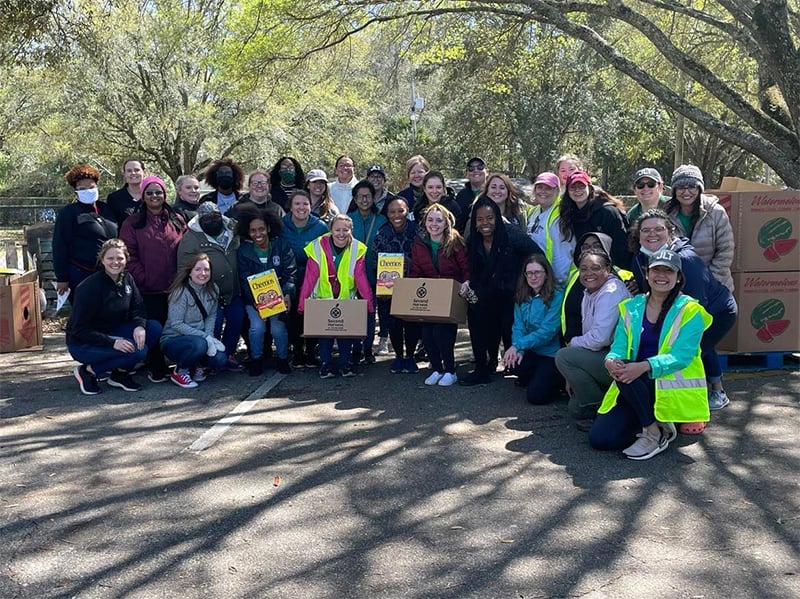 Having to choose between paying your rent or putting food on the table for your family is not a decision anyone should have to make. But for 17.6% of Leon County residents, that difficulty is often a reality.
The Junior League of Tallahassee (JLT) is dedicated to advancing social causes through projects that directly benefit the Tallahassee community. In 2020, it came to the organization's attention that 20% of children in the Big Bend are unsure where their next meal will come from. More than 9,000 children in the region experience food insecurity.
Working with schools in the 32304 zip code, JLT was able to identify that spring break was a time of great need for children who relied upon school lunches.
Mighty Meals was launched in March 2020 in partnership with Second Harvest of the Big Bend. JLT members package boxes with enough fresh, nutritious foods to make 84 meals for a family of four, equating to three meals a day for the seven days of spring break. Originally offering this service to Leon County students and their families, Mighty Meals has since expanded to serve the entire Tallahassee community at a first come, first serve basis.
In 2020 over 15,000 meals were served, and by 2022, 30,000 meals were distributed to the community. JLT intends to exceed that goal at their 2023 event taking place on March 11 at the Governor's Square Mall.
JLT works with Second Harvest and nutritionists to ensure the boxes contain fresh meats, cheeses, milk, vegetables and fruits.
"As an organization, it's rewarding to be able to pack these boxes that are filled with plenty of nutritious foods," said Becca Piers, President of JLT. "Our first priority is to alleviate hunger, and it's an added benefit to be able to encourage healthy lifestyles to young children."
Each year, with the support of partners and sponsors, the event has evolved to further meet the needs of our community. In 2021 and 2022, JLT was able to expand this program to include an educational workshop that offers elementary students an opportunity to learn about the food they eat and encourage healthy lifestyles. This workshop has taken place at Sabal Palm Elementary and the programming offered in coordination with the University of Florida's Institute of Food and Agricultural Sciences.
"JLT wants to alleviate stressors from our neighbors experiencing poverty, food insecurity or recovering from any form of financial impact," Piers said. "Every year, we continue to see a growing need, and this event not only helps those experiencing hunger but brings awareness by sharing the statistics with our entire community."
---