A Colorful Past, A Bright Future: Mobile Bay
A getaway that gives you a taste of the Deep South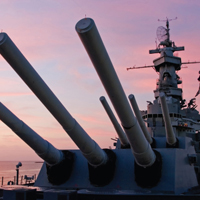 Michael Hare / Shutterstock.com
The USS Alabama, centerpiece of Mobile's Battleship Memorial Park, is open daily for self-guided tours that allow visitors to imagine life aboard this relic of World War II, as well as other military ships and aircraft.
Why Mobile?
Mobile is steeped in history, a vibrant city redeveloping into an international destination that will provide something to do for all generations. Due to its unique positioning, where several rivers flowing south to the Gulf of Mexico merge into a very large bay before reaching the open water, Mobile was established in the early 1700s as a military and commerce outpost, a heritage it has retained in modern times. Mardi Gras actually originated in Mobile, and its tradition is very much alive with a 2½-week celebration each year hosted by the community and the many krewes that put on the show of parades and society events.

Getting There
It's quite easy: a 3½-hour ride west on I-10, just 45 minutes past Pensacola, with the highway bringing you directly into the downtown corridor.

Where to Stay
There is a plethora of accommodations, from an upscale historic Grand Hotel Marriott Resort Golf Club and Spa, just 30 minutes from downtown overlooking Mobile Bay, to the splendor of The Battle House Renaissance Mobile Hotel and Spa in the downtown district. The Battle House is where royalty, presidents and famous figures have stayed over the past 200 years. It has been revitalized to modern-day standards with many historic pieces, such as the huge Tiffany glass skylight ceilings in the lobby and restaurant, and artwork and images throughout the property showcasing the hotel's critical importance to the history of Mobile.

Where to Eat
Wintzell's Oyster House
Oliver Wintzell opened this landmark restaurant on Dauphin Street 75 years ago, and it quickly became a local favorite for fried, stewed or "nude" oysters and has weathered the test of time and economic cycles. Wintzell sold his ownership a while back, but his spirit, quality of food and his famous quotes are displayed prominently at all locations. For example: "Everyone wants to go to heaven, but no one wants to go right now."
Callaghan's Irish Social Club
Opened in 1946, this authentic Irish pub is in one of Mobile's oldest neighborhoods. USA Today says it serves the Best Burger in Alabama. Within walking distance from downtown, you'll feel like a local eating there.
A Bit of History
Bellingrath Gardens
Walter Bellingrath was Mobile's first Coca-Cola bottler and amassed a fortune in the early 1900s selling Coke to Alabamans. He and his wife, Bessie, had a passion for creating gardens. At his fish camp getaway property on the way to Dauphin Island, he installed thousands of trees, plants (mostly azaleas) and elaborate rose gardens, and then built a majestic 10,500-square-foot home. They opened the grounds to the public in 1932, and since then it has been a favorite destination for locals and visitors. Spring bloom and extensive holiday lighting are signature events, and the house and gardens are open every day except Christmas.
Creative Experiences
The season of culture runs from September through May. Everything from the symphony, opera and ballet to a collection of small clubs that provide intimate musical experiences are available to enjoy. Space 301 is an 8,000-square-foot contemporary downtown gallery housed in the remnant space of the old daily newspaper. Under construction and due to open in mid-2013 is GulfQuest, the first maritime museum to totally focus on the Gulf of Mexico and the coastal region. It has taken the shape of a seaworthy cargo ship and will feature many interactive opportunities to learn about "America's Sea," its history and the culture of the Gulf Coast.
Recreation
The Grand has two championship courses, part of the Robert Trent Jones Golf Trail, designed to challenge the avid golfer. With 10 tennis courts, five pools and a white sand beach there are plenty of opportunities for outdoor activities at this beautiful resort, located across the bay from Mobile in Point Clear.
Fishing
Some of the best fishing along the Gulf can be found on the Mobile Bay and out into its quick deepwater access to the Gulf. Fresh water comes south from the mountains to mix with the salt water of the Gulf, creating a brackish environment that supports many species of fish and crustaceans.
Must See
The USS Alabama Navy destroyer that saw much action in the Pacific Theater during World War II has been retired at Battleship Memorial Park, just a short drive from downtown. Gain a sense of what life was like within the ship for the 2,700 seamen who guided the nation's mightiest warship of the time. Adjacent to the Alabama is the USS Drum, a WWII submarine also available for a walkthrough. It will just amaze you to know 76 men lived and operated this attack vessel in such a cramped space for weeks at a time below the ocean's surface.
Mobile Bay Convention & Visitor's Bureau, (800) 5-MOBILE, mobilebay.org