A Businesslike Spirit
The Rev. R. B. Holmes Ministers to All the Needs of His Congregation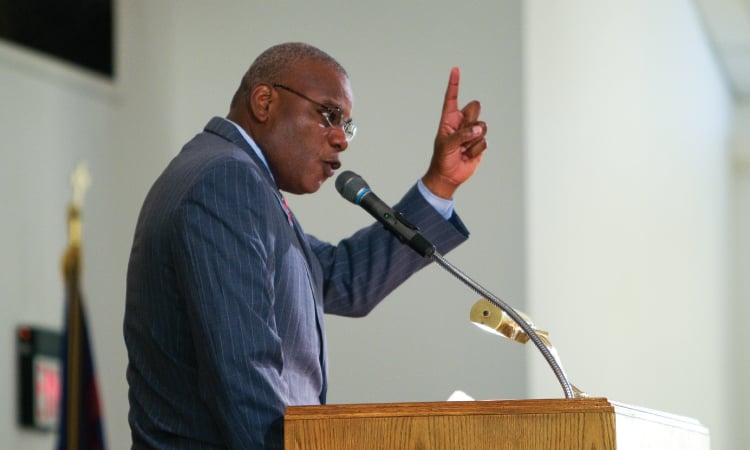 In times gone by, the church was often the cornerstone of every community, the place where people went to find healing, comfort and security. Today, the Rev. R. B. Holmes is reclaiming that holistic approach and transforming Tallahassee's Bethel Missionary Baptist Church into an all-purpose corporation designed to meet all the needs of its community.
"You can't 'love your neighbor' when your neighbor is unemployed or hungry," Holmes says. "I think the church must have holistic ministry. That means we want to minister to the total body, mind, spirit and soul."
While the historic church building at the corner of Tennessee Street and Martin Luther King Boulevard is unprepossessing, the Bethel name can be found on buildings and businesses throughout Frenchtown. There's hardly a segment of his church community that isn't touched by the entrepreneurial endeavors of Holmes himself or the church he leads. There's a nursing home, a mental health clinic, a counseling service, a radio station, a new paper, until recently a restaurant and soon, perhaps, a credit union.
"Dr. Holmes is a visionary leader," says Linda Fortenberry, the director of education and institutional development of Bethel. "The Bible says we shall be the owners, not the borrowers. This is an example of that."
When Holmes left First Timothy Baptist Church in his hometown of Jacksonville 25 years ago to become the pastor of Bethel Missionary Baptist Church, he came with a plan and an unwavering entrepreneurial spirit.
Holmes' approach to business and leadership was inspired by former General Electric CEO Jack Welch's "4 E's of Leadership" — energy, energizers, edge and execute. Holmes, however, has six E's of his own that are a little more church-centered — evangelism, education, entrepreneurship, encouragement, ethics and excellence.
"We strive to make sure that whatever we do, we do it ethically and evangelically," he says of his approach to business.
One of Holmes' greatest accomplishments, of course, is the Bethel church. Since he became pastor, the congregation has grown to 5,000 members who support his vision, even though the road has not always been easy.
The plan that Holmes and the other church leaders developed when he arrived in the late 1980s was called "Vision 2000." It was a project designed to help revitalize the historic Frenchtown area that at the time was ridden with drugs and crime. With his new congregation behind him, Holmes took the church that already had a rich history dating back to the 1800s and created a central location for hope in a community in desperate need of it.
"As a historic church, we had to decide: Do we leave the downtown area and build the church up in the suburbs or do we work in the area that needed our strong presence," Holmes remembers. "We decided to stay and transform the community."
The ideas behind Vision 2000 led to the creation of the Bethel Christian Academy, an elementary school, and the C.K. Steele Charter Middle School. Then came The Bethel Family Life Center, the Bethel Counseling Center, Bethel Towers, a nursing home for the elderly who have limited income but still require assisted living, and a mental health clinic that sees more than 200 patients a month.
The Bethel Family Restaurant opened in 1995 but was recently leased out to become a Roly Poly franchise.
In addition to his church-related work, Holmes is also the president and CEO of Live Communications, the parent media and broadcast company that heads up Capital Outlook, a minority-owned community newspaper that has taken on the mission of delivering positive news, and Christian radio station WTAL-AM 1450.
And despite doing all that, this entrepreneur has found time to serve on the board of trustees for three historically black colleges and universities: Florida A&M University, Edward Waters College in Jacksonville and Florida Memorial University in Miami Gardens.
Holmes' most recent endeavor is the establishment of the National Save the Family Now Movement, Inc. The group's mission is to recognize issues that plague the structure of the family unit, the black family in particular, and find ways to strengthen those weaknesses.
Fortenberry has worked alongside Holmes for eight years with the National Baptist Congress of Education and the Nation Baptist Convention. She relocated to Tallahassee after Hurricane Katrina and has been with Bethel ever since, serving as a chief of staff and filling in wherever help is need.
Too often, she says, someone will create a new ministry in a church and be the leader of it until they leave — and the ministry dies. "Dr. Holmes doesn't let that happen," she says. "He has a way of finding people's talent and keeping each ministry fresh."
Most likely it is the flow of new ideas into Bethel that has kept the church's ministries current and encouraged innovation.
One example is Carolina Oaks, which was completed in 2006. Part of a Frenchtown revitalization project, the church purchased land and created a small subdivision of 24 homes to help first-time homebuyers find affordable houses they could be proud of.
"We have all kinds of people living out there," Holmes says. "This project wasn't about making money for the church. It was about helping people."
It has long been the mission of the church to bring relief to the crime, poverty, homelessness and hunger that plague the Frenchtown community. And every Saturday, church members head into the Frenchtown area to feed the homeless, physically and spiritually.
"This is not something that we do just for Christmas and Thanksgiving," Fortenberry says. "We do it every week. This community knows the church cares about them. That's why we are able to do so much, because the community cares about our vision too."
And she is right. Everyone from the homeless who the church feeds every week all the way up to the mayor can see the impact Holmes and Bethel Missionary Baptist Church have on the community.
"Rev. Holmes' dedication and service to the people of our community is evident in all that he does," says Mayor John Marks. "Tallahassee is truly blessed to be home to a man of such tremendous faith and character."
With the success of Vision 2000, the church was able to move on to a 2010 plan that allowed them to purchase the property that can now house all of the church's enterprises. The next step in the church's vision — the "2020 and beyond plan" — is to establish the Bethel
Frenchtown Credit Union and to strengthen the Economic Development Ministry.
"Through the Economic Development Ministry, we want to somehow empower people to become entrepreneurs and we want the church to somehow lead the way through evangelism and strong moral and ethical standards," Holmes says.
The establishment of a credit union to serve all of Tallahassee is in its final stages and is awaiting approval before construction can begin. When it gets the green light from regulators, the building will be located across from the church in the shopping plaza on West Tennessee Street and Martin Luther King Boulevard.
"Humbly speaking, all that God has given us to do, we've been able to do and hopefully, we'll be able to do more," Holmes says. "Tallahassee needs strong ministry and as people of faith and people of color, we need to lead that."
The next item on the agenda for Holmes will be to establish an operational Save the Family Now chapter to develop a positive and proactive agenda for holistic programs, events and activities designed to rebuild, reenergize and stimulate the family structure in 25 cities by 2012. Holmes and a host of churches he has inspired across the country are banding together to recreate the holistic ministry that he has managed to create here.
"As minorities, we should own some things," Holmes says. "But it's not about profit, it's about prophesy. This movement will teach people that we can have results and the church can quietly change America.
"We're trying to transform lives for the glory of God and the goodness of the people."
{nomultithumb}