A Bountiful Harvest
Destin Charity Wine Auction Foundation's Harvest Food & Wine Festival will be more plentiful than ever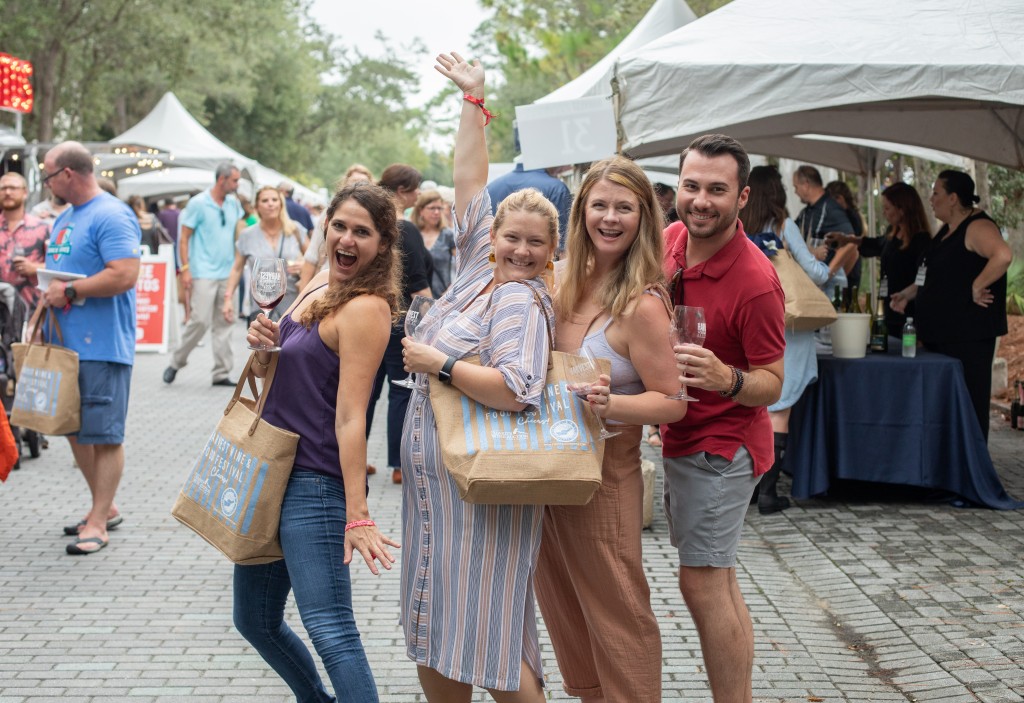 Throughout time, wine has been a great unifier. It has long gathered together individuals and communities who join to sip and savor it in social settings. The Destin Charity Wine Auction Foundation (DCWAF) values and recognizes the communal nature of wine, happily presenting the Harvest Wine & Food Festival, now in its fifth year.
As one of the premier wine and food festivals of the Southeast, epicureans looking to tantalize their palates with the finest local food offerings and national and international award-winning wines, gather in South Walton during the region's most beautiful time of the year. From Thursday, Nov. 4 through Sunday, Nov. 7, attendees can take part in wine dinners, the Grand Tasting, auctions and more at scenic Cerulean Park and surrounding restaurants.
"On a nice sunny day, the festival feels like a Hollywood movie set," said John Russell, president of DCWAF. "We look forward to once again welcoming wine lovers from around the region to a weekend of excellent food and wine while promoting the area and the industries that so greatly support the foundation."
The anticipation is high for this year's event as the 2020 event only featured intimate dinners and an online auction. From the 2020 event, some valuable aspects arose that will be present in 2021, such as more wine dinners and a Sunday brunch.
The weekend will begin with four signature dinners on Thursday night — Purlieu Wines at Seagar's Prime Steaks & Seafood presented by Stephen and Joan Carter, Roy Estate at Cuvee 30A presented by Chuck and Glenda Palmore, Cast Wines at Café Thirty-A presented by Emerald Coast Association of Realtors, and Stonestreet Estate with celebrity chef Adam Evans of Automatic Seafood presented by 360 Blue and Good Grit. Friday will continue with four more dinners featuring Corazon del Sol at Vin'tij Food + Wine presented by Cory and Hillary Fosdyck and Black Sheep Tequila with celebrity chef Maricela Vega in a private WaterColor residence presented by 360 Blue and Setco Services. These meals grant attendees access to wine pairings customized to the chef's culinary creations and one-on-one interactions with the winemakers.
The main event, the Grand Tasting, occurs on Saturday, where you can fill your cup from hundreds of wine options and sample provisional stations cooked up by the finest Gulf Coast chefs. Sunday concludes with the Better Together Beverage presented by 360 Blue and Good Grit with scrumptious brunch fare by Kristen Hall and Victor King of Essential Birmingham and craft cocktails mixed by Better Together Beverage and Distillery 98.
Whether attending or not, the silent auction is available for virtual bidding all weekend long. Money raised from tickets and the silent auction goes directly to 16 local children's charities, addressing issues such as homelessness, hunger, abuse, mental health, after school funding and more.
DCWAF hopes that each attendee enjoys the beauty of eating and drinking their way through South Walton — all while making a special connection with the organizations and charities involved.
"It will be a wonderful weekend of food with celebrated chefs, wine from notable vintners and philanthropy support, which is the reason behind why we all gather and make lasting memories," said Karah Fridley-Young, director of DCWAF.
5th Annual Harvest Wine & Food Festival
November 4–7, 2021
Boasting a series of epicurean events throughout South Walton, Harvest Wine & Food Festival offers something for every wine, spirit and food lover to enjoy.
Visit HarvestWineandFood.com for the most up to date schedule of events. Tickets on sale now.