10 Stories That Wowed, Shaped or Shocked Tallahassee
Tallahassee Magazine celebrates 40 years and looks back at the last four decades in the Capital City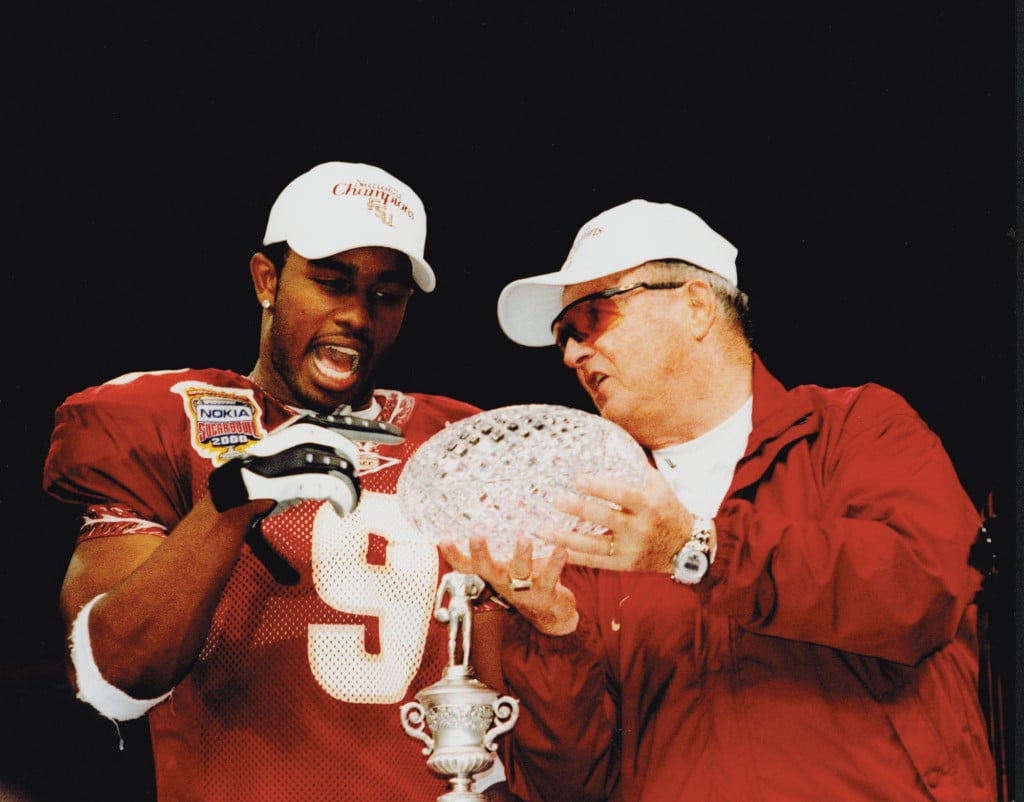 Eight pages, three ads and a cover that featured a foggy pine forest. That summed your first Tallahassee Magazine.
"It was a marketing tool," recalled Bill Needham, Tallahassee Magazine's first editor.
Yes, even in that ancient time before Southwood, Twitter and the "flyover," marketing was a thing.
The year was 1979.
Jerry Lundquist, the founder of Homes & Land Publishing Corp., wanted a publication that would celebrate life in Tallahassee. But he needed to hurry because he had heard that somebody else wanted to start a lifestyle publication and call it Tallahassee Magazine.
With Needham, a vice president at Homes & Land, as editor and Al Cuneo as creative director, Lundquist moved quickly to get a magazine printed so that he could obtain rights to the name.
They threw something together over a weekend and printed six copies.
"He was calling it a magazine," Needham said of Lundquist and that first edition. But Needham said that Spring 1979 issue looked like and served as a flyer.
Lundquist's vision for the magazine began to emerge that summer with the publication of the first real Tallahassee Magazine, Needham said.
"He liked Tallahassee," Needham said. "He thought it was a great city and that it deserved a magazine. So he wanted a publication that would reflect the people and the events and the places and the beauty that Tallahassee offered."
The magazine began as a quarterly publication. But in its 10th-anniversary edition, Lundquist told readers that the magazine later that year would begin to publish bimonthly, as it still does.
"When we began Tallahassee Magazine ten years ago this spring, we really weren't sure what we were getting into," Lundquist wrote in his editorial. "As publisher, I knew that I wanted a publication that reflected the values that make our city such a great place in which to live: friendliness, hospitality, beautiful natural environment, family-centered, concern for each other."
That edition, Spring 1989, listed Brian Rowland as advertising manager.
Late that year, Rowland would purchase the publication and create Rowland Publishing, which today produces numerous magazines, including Tallahassee Magazine as its flagship publication.
"We've had the opportunity to continue Jerry's vision of bringing Tallahassee Magazine into the homes of our community so that people feel informed about Tallahassee's people, places, history and culture," Rowland said.
Rowland pointed to the company's three-person digital department as evidence of the company's evolution in an ever-changing communications landscape.
He emphasized, however, that the company's hallmark remains printed magazines because readers continue to embrace them.
Regardless of the platform, Rowland said, Tallahassee Magazine aims to perfect the art of storytelling through a three-point mantra that he has trumpeted for three decades — "current, quotable and well-read."
"We certainly maintain a close allegiance to the business formula that Jerry began 40 years ago," Rowland said, "and we continue to evolve with society so that we can maintain relevance for the next 40 years."
We invite you to take a look at the past 40 years. We present 10 significant stories in the Capital City since right around 1979, which saw the birth of the Walkman, the Happy Meal and Tallahassee Magazine.
1. Bush vs. Gore
Tallahassee drew the eyes of the state, nation and world for weeks as a constitutional crisis unfolded.
A dispute over Florida's vote count in the 2000 presidential election between George W. Bush and Al Gore turned the Capital City into a magnet for protesters, counter-protesters, lawyers, political power figures and mobs of journalists, satellite trucks and TV cameras.
The Florida election result would decide the presidency.
"Tallahassee was the epicenter of the quake. It was the perfect storm. You couldn't predict that would happen," attorney Steve Uhlfelder recalled in 2012 in an interview with Tallahassee Magazine.
"And the town, surprisingly, without enough hotels or restaurants, did quite well."
Butterfly ballots and "hanging chads" became household terms as the Florida Supreme Court and the U.S. Supreme Court joined the dramatic fray.
The tightness of the election in Florida triggered an automatic machine recount, prompting legal fights over, among other things, recount deadlines and Florida's certification of Bush as the winner.
The U.S. Supreme Court ultimately ordered the recount of certain votes stopped, reversing a Florida Supreme Court ruling that had sided with Al Gore.
That effectively kept Bush as the state's certified winner by a 537-vote margin and made him the 43rd president.
2. MagLab
The policy-making board of the National Science Foundation rocked the scientific community, as Tallahassee Magazine later would put it, with a decision in August 1990 to locate the National High Magnetic Field Laboratory in Tallahassee instead of at MIT in Boston.
The MagLab opened amid national promise and fanfare, as Vice President Al Gore served as keynote speaker at the facility's 1994 dedication. Gore boasted that the MagLab would "lead America into the next frontier of technology." Florida State University physicist Jack Crow became founding director.
The MagLab's website boasts that the facility "has continued to break record after record" for resistive magnets, hybrid magnets and pulsed magnets as "faculty and visiting scientists have used the powers of those magnets to make important contributions to magnetic resonance, superconductivity, semiconductor and other areas of research."
The facility says it annually attracts more than 1,100 visiting scientists from around the world.
Tallahassee business and economic-development leaders continue to tout the MagLab and its Innovation Park setting as magnets for new business and innovation.
In the fall, leaders of the Tallahassee-Leon County Office of Economic Vitality told organizational and business leaders that they aimed to "let the world know that Tallahassee and Leon County is the magnetic capital of the world."
MagLab director Greg Boebinger told the 850 Business Magazine in 2016: "We are proud of the role the National MagLab plays in our community, both in growing our local economy but also in providing a stimulating environment in which entrepreneurial scientists can thrive."
3. New Capitol Building
No place or thing symbolizes Tallahassee more than the 22-story structure that opened in 1978.
It's the image that appears in newscasts around the state. It's the image that websites use when they share news or information on the Capital City.
And it's the image that peaks above the trees from miles away and gets bigger and bigger as you approach downtown on Apalachee Parkway.
Counting three floors below street level, the new capitol houses 25 floors, plus the House Office Building and the Senate Office Building.
The new building took almost four years to build at a cost of $43 million, all "paid before the first cornerstone was laid," according to the State of Florida website.
Construction finished in August 1977, and the building opened for the 1978 legislative session.
Few observers found themselves bowled over.
"Unlike prized Capitol buildings in other states, Florida's has settled into begrudging acceptance," Lilly Rockwell wrote in Tallahassee Magazine in 2012.
"The skyscraper building, finished in 1977, is often dismissed as a snooze — architecturally boring and a bit of a joke for its obvious phallic image."
The historic capitol, with a dome added in 1902 to its core from 1845, remains directly in front of the new capitol.
A 2014 Tallahassee Magazine article said the historic capitol "enjoys its status as an elder statesman, revered and cherished as a landmark of great significance."
Tabbed for demolition before Tallahassee residents led a movement to save it, the historic capitol opened as a museum in 1982 and received a $1.1 million makeover in 2012.
4. Football Greatness
Tallahassee Magazine's Fall 1979 cover featured Florida State coach Bobby Bowden and Florida A&M coach Rudy Hubbard at a time when both football programs were rocking their collegiate divisions.
That issue included a feature article that carried the headline: "Tallahassee: Football Capital of the Nation?"
In October 1979, FAMU shocked coach Howard Schnellenberger and the University of Miami 16-13 at FSU's Doak Campbell Stadium, prompting FAMU fans to rush onto the field and, according to published reports, to chant, "We want the Gators!"
That came the season after Hubbard continued to revive the glory of the Jake Gaither coaching era of the 1950s and 1960s with a 35-28 victory over Massachusetts in the inaugural NCAA Division I-AA championship game.
"We are proud of what we have here, and we try to sell the kids on that," Hubbard told Elgin White in the Tallahassee Magazine article.
Meanwhile, Bowden was building a national football powerhouse at Florida State. Hired in 1976, Bowden made a name for himself and FSU with victories over powerful opponents.
Bowden had come to Florida State from West Virginia and told Tallahassee Magazine that he planned to stay in Tallahassee.
"The pace of living is much easier, sort of like a country town, and I love it," he said. "I don't want to leave Tallahassee. I don't know if I would leave."
Behind Bowden and Heisman Trophy winner Charlie Ward, FSU won its first of three national football championships in 1993.
Bowden's second one came with an undefeated season in 1999, and his successor, Jimbo Fisher, led the Seminoles to their third national title, in 2013.
Bowden would have only one losing season, in 1976, before his retirement after the 2009 season. In 2006, he was inducted into the College Football Hall of Fame.
"What Bobby Bowden means to Florida State University cannot be measured or overstated," FSU President Eric Barron, now president of Penn State, said in 2013.
5. Seminole Tribe Support
The Seminole Tribe of Florida in 2005 gave a public declaration of support for FSU's use of the Seminoles name, logo and images.
This followed the NCAA's distribution of self-evaluation to member institutions on the use of "hostile and abusive" mascots and nicknames.
The university touted the Seminole Tribe of Florida's declaration as "an unprecedented, historic step," according to its website.
FSU said the Seminole tribe took the step in recognition of the university's continued efforts to include tribal members in many of the university's most meaningful events and to take steps to ensure authenticity of tribal imagery.
Former FSU football player Myron Rolle called the university's use of the Seminole name "an absolute reverence."
"It's a reverence where the spirit, the unconquered nature of the internal values and ethos of these people, FSU tries to embody that," Rolle told The Washington Post in 2014.
Meanwhile, sports teams continued to face scrutiny for the use of American Indian nicknames and imagery, perhaps most prominently the Washington Redskins of the National Football League. Some say the practice promotes stereotypes and bigotry.
6. New Schools and Colleges
The last four decades saw major expansion at Florida A&M, Florida State and Tallahassee Community College.
In 1982, FAMU and FSU joined forces to create the FAMU-FSU College of Engineering. In 2014, the Florida Legislature considered whether to break up the college, but the state Board of Governors rejected that idea, which would have cost $1 billion, according to a study.
"The joint college that was emphasized as a result of the takeover attempt … actually has resulted in a much better relationship for both of the schools around engineering," Elmira Mangum, FAMU's first female president, told Tallahassee Magazine in 2015, a year before she left the university.
Also in 1982, FAMU founded its School of Journalism and Graphic Communication, which the school touts as the first accredited program of its kind among the nation's historically black colleges and universities.
The end of the decade saw the founding of FSU's College of Motion Picture Arts, which later produced Oscar winner Barry Jenkins, who directed "Moonlight" and "If Beale Street Could Talk," the latter for which he wrote a film adaption.
With the new millennium came a new College of Medicine, the first built in the U.S. in a quarter century, says FSU.
In 2015, the Jim Moran Foundation presented FSU with the largest gift in its history, $100 million, to establish the first stand-alone school of entrepreneurship at a public university in the U.S.
Three years later, a 19th-century building in downtown Tallahassee became a state-of-the-art home for the program.
At Tallahassee Community College, projects included the Ghazvini Center for Health Care Education, in the center of the city's medical corridor, and the downtown Center for Innovation, a 34,000-square-foot facility that serves as home to businesses, organizations and conferences.
7. Mass Shootings
The Capital City twice felt the horror of a national epidemic as gunmen opened fire at Florida State University's Strozier Library in 2014 and at Hot Yoga Tallahassee in November of last year.
Tallahassee also experienced the effects of a 2018 mass shooting at Marjory Stoneman Douglas High School in Parkland, where a gunman killed 17 students and staff members.
In the Strozier Library incident, a Florida State University graduate shot and wounded three students before police shot and killed the gunman. One of his victims would become paralyzed.
Last November, a gunman opened fire inside Hot Yoga Tallahassee, killing two women and wounding four other women.
Reports said the gunman had made numerous racist and misogynistic comments in videos. Police said he took his own life.
The effects of the shooting at Marjory Stoneman Douglas also reached Tallahassee, especially among FSU and FAMU students who attended high school there or in the Parkland area.
The effects also reached the Capitol, where dozens of students from the school traveled to plead for changes to gun laws and where the legislature passed new gun laws.
8. Ted Bundy
Tallahassee and the nation received a sense of closure on Jan. 24, 1989, with the electrocution of Ted Bundy at the state prison in Starke.
Bundy shocked and horrified Tallahassee and the country in January 1978 when he entered Florida State University's Chi Omega sorority house and killed two young women. He attacked and seriously injured two other women there and one woman blocks away.
With a killer on the loose, the Capital City became gripped with fear. Residents kept their doors locked during the day and avoided going out at night. Guns and padlocks sold out. FSU students walked to classes together or left school entirely.
One month later, 12-year-old Kimberly Leach went missing in Lake City, before Bundy's arrest days later during a traffic stop in Pensacola. He would be convicted in her death.
Bundy had been missing for days in Colorado, having broken out of jail as he awaited a murder trial there.
He would confess to 30 murders of women and girls in seven states.
"He told me everything, and I've not told people what he told me," Joe Aloi, who worked as an investigator on the public defender team assigned to Bundy, told Rosanne Dunkelberger of Tallahassee Magazine in 2012.
"I could write a book and be very rich (telling) the things that we talked about. I really don't have the heart to tell these parents what happened to some of their daughters."
9. City's Transformation
If you left Tallahassee in, say, 2001, and returned today, you'd hardly recognize it.
So we can't imagine how stunned you'd be if you'd been gone for 40 years. Start near downtown.
CollegeTown and Cascades Park, the centerpieces of a revitalized Gaines Street corridor, flourished about a decade after the city targeted them for growth.
CollegeTown today boasts a bustling spot for eats, drinks, apartments and nightlife near Doak Campbell Stadium while Cascades Park stands as a regular destination for events and concerts near downtown.
CollegeTown, within walking distance of Florida State and Florida A&M, occupies land that the FSU Boosters owned and sought to improve in 2008.
The neighborhood now carries an urban feel that especially comes alive on college game days.
Cascades Park, part of the city's Blueprint 2000 plan to spur growth and development, emerged as a regular weekend destination that features a playground, a large pond, running, walking and biking trails and an amphitheater that offers regular music performances and a picturesque view of the capitol.
The development continues with the Cascades Project, which aims to bring what developers call a "vibrant live-work-play experience" to East Gaines Street, across from Cascades Park.
Other areas also saw big changes. Frenchtown's 1994 designation as a historic area preceded activity including more than 20 mostly two-story homes as part of the Carolina Oaks Development.
Artist-educator Annie Harris opened the Ash Gallery on Georgia Street and sponsored "art walks."
In the Killearn area, development crept northward, accelerating with a Publix that opened in Bradfordville and a "flyover" that connected Thomasville Road to Capital Circle Northeast.
Meanwhile, Midtown saw a significant transformation into a business district on the edge of Lafayette Park that today sports bars, coffee shops, pizza places and higher-end restaurants.
It began in the early 2000s as one commercial development led to another.
The January-February 2005 edition of Tallahassee Magazine included a sponsored special section called "midtown: enjoying life in the middle of it all."
"In the heart of Tallahassee, the area now called midtown is what urban planners strive to create: a living, breathing community where businesses and homes rest happily side-by-side," wrote Ann Bannerman Camp, who added, "I grew up on the corner of Thomasville Road and Fifth Avenue, where the new Manor @ midtown is being built."
Note that midtown soon grew into Midtown, on the edge of Lafayette Park. Before you knew it, you could "walk to 15 to 20 restaurants very comfortably," Edward Murray Jr. of NAI Talcor told the 850 Business Magazine in 2017.
"You can't do that anywhere else in town."
10. Destructive Storms
Too often, Tallahassee and its hallmarks — big, beautiful trees — felt the effects of destructive storms.
In 1985, sporadic wind gusts from Hurricane Kate may have reached 100 miles per hour in Leon and Gadsden counties, said Florida's Department of Natural Resources.
That caused trees to topple onto cars, houses and roadways and to cripple the Capital City's electricity infrastructure.
"The city is a mess. Power lines are down, trees are down and about 90 percent of our utility company customers are without power …" a Tallahassee police spokesman told United Press International.
The storm left some without power for three weeks, according to Emergency Management at FSU.
In 2016, Hurricane Hermine became the most severe weather event to directly impact Leon County since Kate and left tens of thousands in the dark for days.
The county addressed frustration surrounding the pace of recovery, with unmet expectations for reliable information and coordinated relief efforts from city and county departments.
In October, Category 4 Hurricane Michael — upgraded in April to a Category 5 — made history as the worst storm to ever hit the Florida Panhandle, leaving a region of downed trees, lost homes and devastated lives, plus an outpouring of support from people and groups throughout the Big Bend.
The storm spared Tallahassee a direct hit yet left most people here without power for several days. Fallen trees and power lines blocked access to homes and, for some, made travel impossible.
West of here, many people and businesses in communities such as Mexico Beach and Panama City remain desperate for housing and relief.