Basking in the "Moonlight"
At FSU film school, the emphasis is on story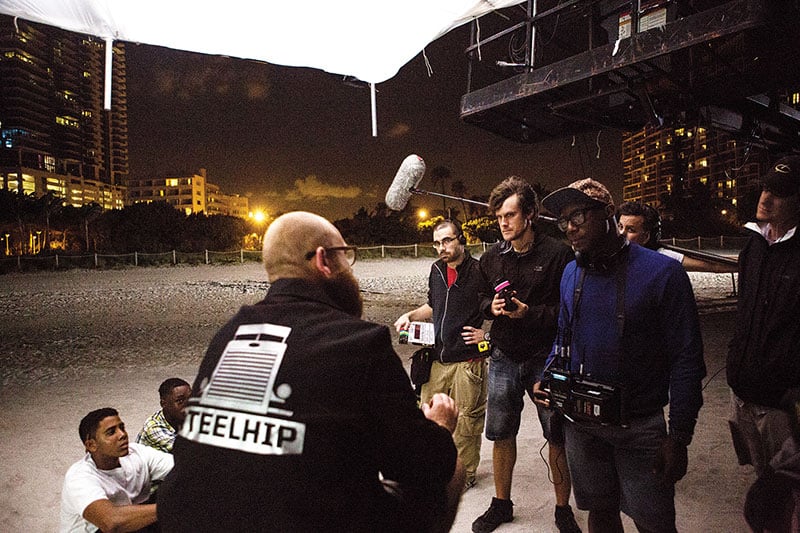 Don't become too jaded by success or the lack of it that you lose the point of it all," Barry Jenkins, the director of Moonlight, told an audience of rapt film school students a little more than a month after his film triumphed at the Oscars.
Six graduates of the Florida State University College of Motion Picture Arts collaborated to make Moonlight, including Jenkins, who graduated in 2003. After earning eight Oscar nominations in February 2017, the Moonlight team took home statuettes for Best Picture, Best Adapted Screenplay, and Best Supporting Actor.
Tickets to a Ruby Diamond Concert Hall screening and question-and-answer session with Jenkins on March 31 sold out in less than two hours. Even harder to get into was an event with Jenkins, editor Nat Sanders ('02), and co-editor Joi McMillon ('03) in the Askew Student Life Center held in the afternoon — a master class only for students of the College of Motion Picture Arts. With the whole film school in attendance, Student Life Cinema was at full capacity.
Brady Holcomb (BFA '19, production) was one of those students in the room when Barry Jenkins came on stage. "My classmates and I glanced at each other down the rows, waiting for him to come in the room. Was this really happening?"
Reb Braddock was named dean of the College of Motion Picture Arts in May. He says that the Moonlight win may already be leading to an uptick in applicants. The college accepts between 7 and 10 percent of those who apply. "My predecessor Frank Patterson, while serving as dean, always said that the difference between our film school and some of the 'better-known' film schools in the U.S. is that we did not yet have our Spike Lee or George Lucas. We are seeing that aspect change right now."
For students, Moonlight served as evidence of the continuing nature of the professional bonds formed at their school. Braddock describes the film school's approach as taking a limited number of smart students with diverse voices and putting them into working teams. At the same time, he says, "There is a unique 'level playing field' structure to our program, which mandates that even though our students are always working in teams, they each individually get the opportunity to lead that team."
To put it another way, Brady Holcomb explains that while students specialize in distinct roles, they gain work experience in every aspect of filmmaking. "Each project we break into cycles, and each cycle, we play a different role. So we have an appreciation for the work demands each person is taking on."
The small size of the program, with only 30 in each class year, helps students form close bonds. Holcomb describes completing the first-year project: "At the end, the five people in my group agreed that we were not friends anymore, we were a family. The professors, too, are an extension of that family." Family, according to Holcomb, can be relied upon for honest feedback. "They're unafraid to critique your work. When they say what you've done works, you know that's true."
The College of Motion Picture Arts was established in 1989 by the Florida Legislature to "prepare men and women for work in the motion picture industry." For nearly 30 years this mission has kept the school focused, explains Braddock, who started as a student and helped build the program since its inception. As new dean, Braddock says his charge is to remain true to that mission while at the same time "providing new opportunities" and "a fertile ground for innovation in storytelling within new forms of technology."
To meet the challenge posed by the rapid rate of evolution in film technology, Braddock envisions creating a "sandbox" for students to experiment with new technology on a limited basis, by renting equipment and temporarily bringing in experts to teach students how to use it. A recent experiment with virtual reality is one example. "We shot a film to see if we could do an authored story in a 360-degree environment," Braddock says. "Our future is going to be in that realm. We need to be able to tell stories in whatever form."
The first class of students from the Digital Arts & Animation program graduated in 2015. Braddock notes that when the program moved to Tallahassee from the Digital Domain Institute in West Palm Beach, the school had to adapt. "Integrating digital media into an old-school, live-action program mirrored what the industry was going through at the time," Braddock says. "Our expertise has always been story and the production of those stories."
Then there are practical matters. FSU's program is the only film school in the country to fund the production costs of every student's motion picture — a big deal for students like Holcomb, who says that at other schools, "the films you make can be a question of whose parents have the deepest pockets" — and its Torchlight Program arranges internships for students with motion picture industry members and organizations, educating students in current and emerging business practices of the industry.
Holcomb believes the program's alumni network will play a role in his success. This was confirmed for him by Jenkins' visit. "He helped give us an idea of what the industry will be like — the ins and outs. It's not just what you know, what you learn in school, but who."
The College of Motion Picture Arts can play a role in making those introductions. "We have alumni working in every significant role in every aspect of the industry," Braddock says, citing the work of director Wes Ball and writer T.S. Nowlin on the commercially successful Maze Runner science fiction trilogy, David Mitchell's direction of independent films It Follows and Under the Silver Lake, and Jonathan King's production of the Academy Award-winning film Spotlight. He adds that alumni currently run several television series, including Arrow, Famous in Love, Gone, and Trolls.
Film school students are poised to take advantage of opportunities in Atlanta. According to the Motion Picture Association of America, more than 25,700 people are directly employed by the film and TV industry in Georgia, and there are more than 2,700 industry-related businesses in the state. "We have had Dean's Advisory Councils made up of alumni in our alumni hubs of Los Angeles and New York for several years, and now we have a council in Atlanta," Braddock says. "So just by that, you can see where Atlanta is falling in terms of our alums' residency."
Moonlight may be a reminder that the next big names in Hollywood (or New York or Atlanta) now walk among us and that we can be part of their success. Actors are invited to try out at auditions every fall and spring, and volunteers are needed for student productions and film school events, such as the Oscar Party in the spring and KeyLight Festival during the summer. Braddock adds, "There are some very important endowments that support student scholarships and awards that are always in need of building up. Coincidentally, Barry Jenkins was a recipient of such awards and these made his career possible."
"If you wanna make it, man, just make it. Make the damn film," Barry Jenkins told the audience of film school students, Brady Holcomb remembers. He liked this advice so much, he wrote it down. The College of Motion Picture Arts is dedicated to helping him follow it.
---
For more information about the College of Motion Picture Arts, visit film.fsu.edu.