After Years of Neglect, Tallahassee's Historic Cascades Area Re-Emerges as a Public Park
Restoring the Cascades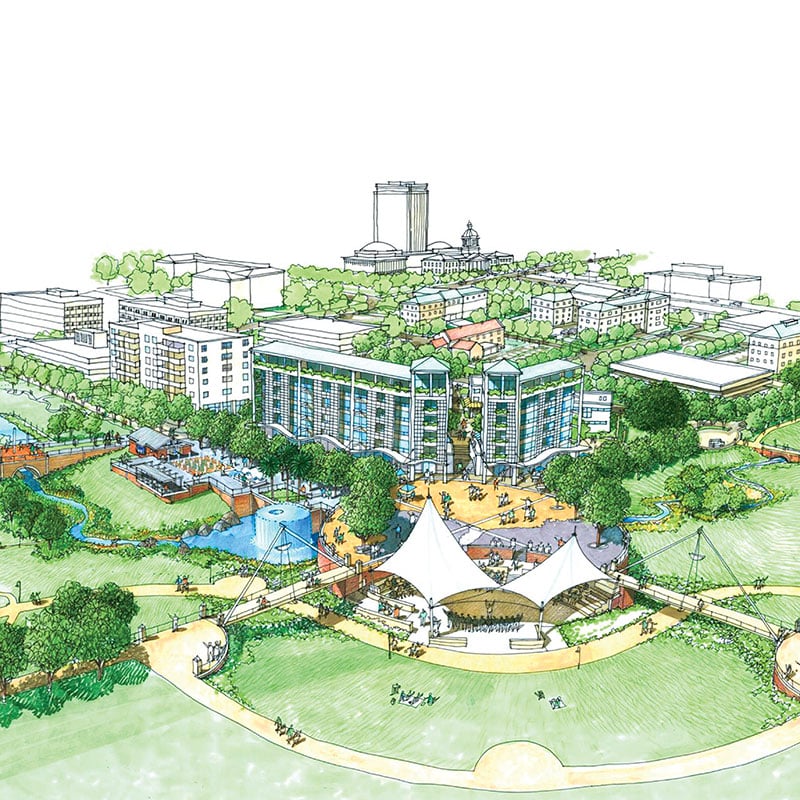 On the edges of Bloxham and South Monroe streets, behind a moss- and vine-covered chain-link fence, is an abandoned lot that has been closed to the public for upwards of two decades. Based on the current scenery, it's difficult to imagine why the property is listed on the National Register of Historic Places. A tractor sits atop freshly tilled dirt and puddles of water gather in a field of patchy grass. Signs surrounding the site alert passersby to the area's contamination and warn that trespassing could result in jail time and a $1,000 fine. It's a sad state, considering that in 1823, the area, complete with a cascading waterfall and fragrant tropical plants, was so beautiful that regional commissioners deemed Tallahassee the capital of Florida.
Today, the property is littered with traces of its diverse past. To the south, the railroad overpass marks the destruction of the once-inspiring waterfall. Slightly to the east, the state's Prime Meridian Marker, from which all Florida land surveys are calculated, stands where it has been since 1824. Remnants of a stone wall indicate the former border of Centennial Field, a ballpark that hosted community and college sporting events for almost 50 years. Lastly, vacant buildings and traces of coal-tar contaminants attest to the industrialization that, up until this year, had left the land totally inaccessible.
But this lost property soon will undergo a positive transformation. This month, Blueprint 2000 will resume remediation of the site and break ground on Cascade Park, a $40 million project aimed at reconnecting Tallahasseeans with their community's history and downtown. Plans for the 24-acre park offer nearly 3 miles of biking and walking trails, an outdoor amphitheater and beautifully landscaped greenspace and ponds. A historical timeline fence will outline Tallahassee's past, while numerous amenities will commemorate specific places and events.
The former waterfall will be reinterpreted as an ultra-modern cylindrical fountain. The Prime Meridian Marker will be showcased in a tiled plaza area and a commemorative garden will recall Centennial Field.
Another plaza, surrounded by misting fountains, will pay tribute to Smokey Hollow, a vibrant black community that existed in the area until the mid-1950s. The Lake Hall School House will be transported to the park grounds, and the site will encompass significant existing landmarks such as the Korean War Memorial and historic electric building.
"It's vitally important that the people of Tallahassee have a place like this," says Gil Ziffer, who was involved in the park project before being appointed to the City Commission in September. "It essentially connects our north side, south side, west side and east side. It's free, and it's going to be a great place for people to go."
While official programming for the park has yet to occur, it should be bustling with activity throughout the week. Brown-bag lunch days, flea markets and outdoor concerts are expected to draw a variety of people in the community to the downtown area.
"There's really not a venue like this right now, so we're stepping beyond what we have out there today," says Blueprint 2000 senior project manager Gary Phillips.
Al Pasini, executive director of the Downtown Improvement Authority, envisions the park as a possible place to revive the Southern Shakespeare Festival in Tallahassee. He also sees the Cascades area as a potential venue for events his organization is setting in motion, such as a series of outdoor movie showings.
Located in the Cascades region since 1824, FL's Prime Meridian Marker is the point from which all surveying in the state begins.
SCOTT HOLSTEIN
"We are looking forward to it," Pasini says. "We think it's going to be a great link to downtown. It's going to be a great asset."
"What we've envisioned is that schoolchildren will use this park," adds Jim Davis, executive director of Blueprint 2000. "We want them to be able to come here on a given day and visit the Capitol, and going to this park is a logical transition." A downtown New Year's Eve party with fireworks could also be possible, as well as events before and after the Springtime Tallahassee parade.
"Your own imagination is the only limitation that you'll have here," Davis says.
While the Tallahassee public will primarily view Cascade Park as a recreational area, one of the major goals of construction is mitigating flooding issues on Franklin Boulevard and South Monroe Street. Currently, the St. Augustine Branch, a small stream that is fed by seep springs between Leon High School and the Brokaw-McDougall House, flows downhill through a shallow, flood-prone ditch that runs down the center of Franklin. During rainstorms, the overflowing water spills directly into the roadway.
Blueprint 2000 officials hope to eliminate this problem by redirecting the water into underground culverts below the street. The water will stream into retention ponds within Cascade Park, where it will be purified through an alum injection system.
"A big charge to us with this project was improving water quality and handling the stormwater and flooding element of it," says project manager Phillips. "With the city and (Florida Department of Environmental Protection), we're chemically treating the water with alum, which is the same thing they do at Lake Ella. It takes out the pollutants, and it also makes the water look a lot clearer aesthetically."
Amazingly, the park will be able to retain more than 32 million gallons of water — enough to fill a 100-foot-deep pool the size of a football field. And it will look good at the same time. Unlike the typical fenced-off, semi-dried-out, weedy retention pond, Cascade Park will beautify and improve the area. New construction will even include widening Franklin Boulevard to allow for bike and walking paths on either side of the street.
"This is a world-class park that cleverly disguises a stormwater facility," Ziffer says.
Because of this dual purpose, Blueprint 2000 is financing the Cascades project through public and private funding. Money from the locally approved 1-percent sales tax for Blueprint 2000 projects is specifically allotted for stormwater and transportation improvements and the purchase of environmentally sensitive lands. The stormwater-facility aspect of Cascade Park certainly meets these criteria.
However, other dimensions of the project fall into a gray area not covered by Blueprint 2000 and are a hard sell to local governments during lean economic times.
"It would be a major undertaking to get the city and county commissions to say it's OK to spend taxpayer dollars on certain things," Davis says.
"This is a unique situation," Ziffer says. "It's a stormwater facility because public funds can pay for the stormwater facility. From there, we can pay for the amenities through private funds."
Fortunately, a number of local businesses are making significant contributions. Capital Health Plan has pledged $660,000 to create the walking trails, Mainline Information Systems has agreed to pay $200,000 for the waterfall, and Pittman Law Group has offered $100,000 for the construction of the Smokey Hollow plaza.
"If you research across the U.S. for large parks like this, there are always some private and corporate donors to make it happen," Phillips says. "Parks and recreation tend not to get the funding level, especially in tough economic times, that they might deserve, so to offset that, people in the community say, 'Well I want to see this happen' — and that's how it comes to fruition."
Because of this reliance on private funding, Cascade Park will grow gradually, and each amenity will reflect the community's dedication to the area's redevelopment. Blueprint 2000 still seeks donations for a number of amenities, such as the amphitheater and Centennial Field Commemorative Plaza.
"We've looked at this as being iterative," Davis says. "The important thing — and pardon the pun — is that we have a blueprint for this. There's no question as to where (these amenities) are going to go. The real estate has already been allocated in this master plan that we have."
Blueprint 2000 predicts that, in drawing more people downtown, the park will not only develop at a steady rate but also stimulate growth in the surrounding areas.
"This is going to have a huge impact on downtown," Ziffer says. "Also, by having this as an economic engine, it's going to help drive growth off of South Monroe."
The park could prompt vacant structures in the vicinity, such as the historic electric and waterworks buildings, to finally find tenants. Also, the project ties in to the Gaines Street Revitalization Plan, as it is likely to create an ideal location for new shops, restaurants and residential development.
Ultimately, Cascade Park promises to create a hub for the local community. It will be a place for the people of Tallahassee to meet, enjoy their surroundings and develop a better sense of the city's history and identity.
"This will be the catalyst that will change the sense of place in downtown Tallahassee," Davis says.
---
Cascade Park is expected to open in May or June of 2011. For more information and to locate opportunities to make a donation, visit cascadepark.org.