An Extra-ordinary Joe
Whether they're infamous, innocent or just "poor, dumb and ugly," the colorful and outspoken Joe Aloi has spent most of his life helping assure those who are accused of crimes get a fair shot on their day in court.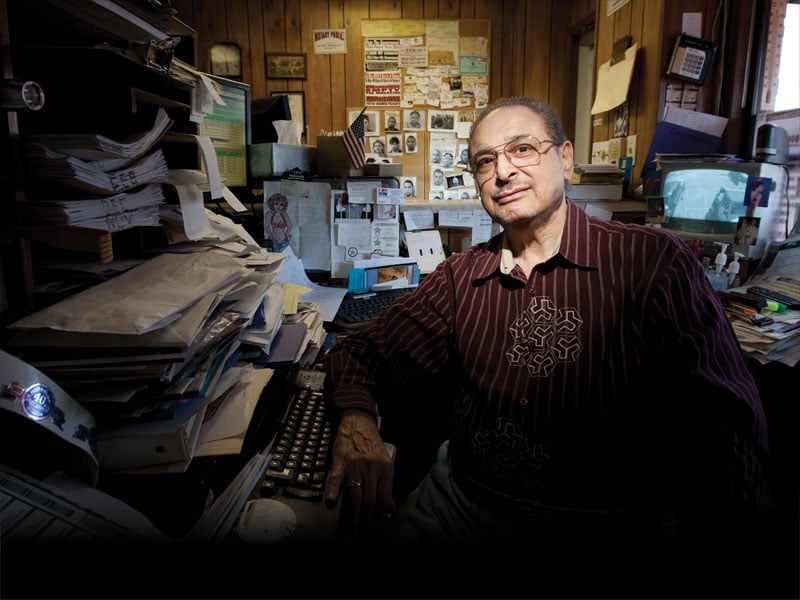 He calls serial killer Ted Bundy "very, very evil" and "a disgusting human being" but says the state convicted him on flawed evidence in one of Tallahassee's most notorious murder cases.
He was appalled by the institutional racism of the legal system in 1960s-era North Florida, even though he was raised by a father he calls an "Italian Archie Bunker."
His jobs as a private investigator and bail bondsman for 40 years have been setting people free, but he often advises loved ones willing to put up the money to let the accused stay in jail — and has done so with his own grandson.
Sixty-five-year-old Joe Aloi is a study in contrasts who has had an almost Forrest Gump-like ability to find himself involved in pivotal events in local history.
Locked Up with a Serial Killer
A fugitive Ted Bundy was apprehended in Pensacola on Feb. 15, 1978, exactly one month after his murderous rampage at Florida State University's Chi Omega sorority house, where two female students were savagely killed, and attacked another woman in a nearby house. Aloi (pronounced al-loy, like the metal) worked as an investigator for the circuit public defender's office at the time and traveled from Tallahassee to Pensacola with then-Public Defender Mike Minerva to meet with their notorious new client.
Describing their initial contact, "Bundy was very irrational, which is about how he is," Aloi recalls. He ended up spending several hours talking with the accused murderer.
"By the time he got transported back to Tallahassee, they had me on a routine of spending almost every day with him at the jail in the top-security cell," Aloi says. "Part of my job was to try to figure out what was really going on mentally with him, and the other part of the job was to just kind of … compartmentalize him and keep him focused on the case."
Those weekday visits with Bundy would last about eight months. With defense attorneys fearing that the jail cell was bugged, Aloi explained that the two would "talk" by typing messages back and forth to each other.
At the end of each day, Aloi would gather the typed pages and typewriter ribbon and burn them.
Bundy, he says, "had the ability to turn on and turn off his murderous rage." Outwardly he appeared normal, even attractive.
"I've only seen him lose control twice — only twice did he scare me," Aloi recalls. Once was when Bundy was told that authorities had found another victim's body in Lake City, that of 12-year-old Kimberly Leach. "He went really nuts. I could smell him … like an animal or a wet rug."
Most accounts of Bundy's trial in the Chi Omega murders, which was moved to Miami because of pretrial publicity, say the most damning evidence was a bite mark left on the body of one of the victims, as well as the identification made by a sorority sister who saw a man leaving the Chi Omega house after the brutal attack.
Both, Aloi contends, were faulty.
The first time the witness, Nita Neary, positively identified Bundy as the man leaving the sorority house was on the witness stand in Miami. Before that, she had never been sure, Aloi says. He points out that immediately after the killing, based on Neary's description, police were looking for a light-skinned black man and suspected one of the house employees.
The only physical evidence connecting Bundy to the crime were the bruises made by two bites. Investigators had taken photographs of the bite marks, which at trial were analyzed by forensic odontologist Dr. Richard Souviron referred to by the defense team as the "tooth fairy." It was to be the first case that relied on bite mark evidence, and the doctor used blowups of the photos overlaid with drawings taken from impressions of Bundy's teeth.
Yet while prosecutors used the bite marks to put Bundy at the scene of the murders, Aloi says he personally knew the evidence was faulty. That's because before the trial, when Aloi told Bundy that investigators were going to make an impression of his teeth, "he broke his tooth off right in front of me" using the metal return bar from the typewriter. Bundy told him, "Now let them figure that out."
During his testimony, Souviron matched that gap in Bundy's teeth to the photograph. But, says Aloi, "Of course it couldn't be, because I saw him make the gap." (Two of Aloi's more macabre souvenirs from the trial are a huge, blown-up photo of the bite mark and plaster impressions of Bundy's teeth ensconced with other memorabilia in a shadowbox.)
But all this is not to say the investigator believed Bundy to be innocent. In fact, Aloi was convinced Bundy was responsible for the sorority murders from the first time they met.
"He was a very guilty person, (and) he was the best witness 'cause he was there," Aloi says. "I could tell from what he was telling me versus (what) the police were alleging that they had a very bad case against him — very bad evidence. It's true, he deserved to be convicted. I didn't like the manner in which they did it."
His encounters with the sociopathic serial killer may be Aloi's most high-profile exploit, but it also has been a burden in the ensuing three decades.
"Bundy is not a great reason for me to be well-known," he says. "I'd rather be known for something more important. Bundy's kind of interesting, but he's a disgusting human being.
"He told me everything, and I've not told people what he told me," Aloi says. "I could write a book and be very rich (telling) the things that we talked about. I really don't have the heart to tell these parents what happened to some of their daughters. They talk about closure. Closure's bullcrap. If they knew what happened to some of their daughters there would be no closure — ever."
Poor, Dumb and Ugly
The power wielded by the state can be a terrible thing, particularly for people without life's advantages, Aloi says.
"If you're poor, or you're dumb or you're ugly, you're in trouble," he says. "If you have enough money, you can get out of most anything." Aloi says he doesn't think of himself as a "flaming liberal" but considers his life's work to be helping to level the playing field for all defendants.
He illustrates with a hypothetical situation using suspects A and B:
"Same charges, same background, same color, same facts. 'A' gets a policeman that's overzealous; he gets a judge in a bad mood; gets a public defender that doesn't give a shit. He gets six years in prison. You've got guy B: Everybody does their job right, the guy gets six months. That's what's wrong with the system — you've got to decide, where are you going to be? A or B?"
Aloi's beef with the police in general begins with overzealousness in charging and not thoroughly investigating cases.
"The problem with most of the police officers I know is when they're doing cases (in which) they think they've got the right slant, they take shortcuts," he says. "O.J. Simpson's a perfect example. Good policemen are very important, but many of them get overzealous, taking shortcuts — they get badge-heavy."
While working as a police officer in Pinellas Park, Aloi says he rode with two more-experienced officers. One, a big, muscular "jockhammer," would approach situations with an "I got the badge, I'm the man" attitude, and the violence would often escalate, according to Aloi.
The other, a smaller man named Ron Forbes (who would go on to become the city's police chief and city manager), had a much different approach. A local trouble spot at the time was a bar called the Teepee Lounge, home to fights, shootings and killings.
When they arrived, "within two minutes he had the whole place calm," Aloi says. "He went in and handled people — no problem. Ronnie'd go in and he'd say: 'Listen, somebody's going to jail. I don't want it to be you. We can do this one way or the other. Please be intelligent. I know you're drunk and you're stupid, but don't be too stupid.'"
Based on his short time working in law enforcement, Aloi is not unsympathetic to the dangers and challenges officers face.
"Policemen need to be protected, don't think they don't," he says. "A lot of people will kill them, given a chance. Policemen have to be very cautious, very careful — but there's a line somewhere, and you've got to figure out when you're going to step across it."
The Quincy Five
Aloi says the high point of his professional career came in the early 1970s during a case that came to be known as "The Quincy Five."
On Sept. 18, 1970, two uniformed but unarmed Leon County jail guards would enter Luke's Grocery, a small convenience store on Orange Avenue, unaware that they had arrived in the midst of a robbery.
Eyewitnesses said there were three or four robbers, and when they were finished shooting, guard Khomas Revels was dead and the other sheriff's deputy seriously injured. Revels was a friend of Aloi's. He had spoken to the deputy a day earlier.
David Roby Keaton, from Quincy, was identified as one of the suspects and was brought to the Leon County Jail for questioning. After three days of interrogation, Keaton confessed and named four other Quincy men as his partners in crime. One of those, Johnny Burns, would lose a toe during his interrogation ("They beat him like a dog," Aloi says) before confessing, and both were convicted at trial. Keaton was sentenced to death, Frederick to life in prison.
Aloi helped another suspect, David Charles Smith, turn himself in and temporarily left the public defender's office to work as an investigator for Smith's court-appointed private attorney, the late Wil Varn.
"The Quincy Five story is a whole book in itself, but the bottom line is the police arrested the wrong five guys," Aloi says. "The five guys involved did do bad things, they just didn't do this particular thing. They robbed some stores, they blew up the power plant in Quincy — 'black power,' 'right on' and all that — (but) these are country boys trying to be big-city boys."
In jail at the time was one Benjamin Franklin Pye — known to Aloi as "Popcorn" — who was hoping to help his own case by telling what really happened that night at Luke's Grocery.
"Probably the most important thing an investigator has, police or defense, is informants — people who trust them and will give them information … and I had a lot of that back then," Aloi says.
None of the Quincy Five was involved, Pye told Aloi. Instead, it was three men from Jacksonville, who came to town to rob the registrar's office at Florida A&M University. Pye said he was with the trio as they plotted in a motel room near the campus. When their original plan didn't work out, they decided to rob Luke's Grocery for gas money to return home. The informant knew their first names and their unique appearances. One was named Butch; another was named John and wore an eye patch; the third was Jesse.
Convinced they had the right suspects in custody, the state attorney wasn't interested in chasing down this lead. So Aloi began his own investigation, first by visiting the motel and looking at the check-in cards.
"It was what they used to call a 'hot sheet' motel. You could rent a room for $3 for an hour, $5 for three hours, like $8 for half a day and $10 all night long," Aloi says. He would spend two days going through 600 cards until he found one that matched Pye's description.
"Fortunately, back then the law made them keep this stuff," he says.
"I get the tag number, and back then we didn't have data and computers, everything was by hand — walkin', beggin', kissin' butt to get anything," Aloi says. At the Florida Department of Motor Vehicles he was "trying to be charming" and found that the car was rented from a mom-and-pop agency in Jacksonville.
The investigation was not without danger. When he made inquiries at car rental agency, Aloi was confronted by a knife-wielding man who turned out to be related to one of the Jacksonville suspects. Another Jacksonville three offered a $10,000 contract for Aloi's death. (He was given an automatic weapon for protection and escorted to and from work. A contact he described as a "Black Panther politico" was murdered shortly after helping the investigator.)
With the help of Duval County Sheriff Dale Carson, who was an acquaintance of attorney Varn, Aloi was able to run Pye's descriptions through a primitive computer and match three men with their descriptions. Carson gave the defense team the men's fingerprints.
Those fingerprints would match ones found at Luke's Grocery; none of the Quincy Five's fingerprints were recovered there. Ultimately, all three would be arrested, charged and convicted of the crime. Nevertheless, prosecutors contended that all eight suspects were involved in the shooting and continued the cases against Smith and the other two defendants.
When the Tallahassee Democrat didn't seem interested in investigating the injustice being done to the Quincy Five, Aloi got in touch with St. Petersburg Times columnist Martin Dyckman, who would write several stories as the case wore on.
"We got a regular rapport going" during an era without text messages, cell phones or the Internet, and when long distance calls were expensive, Aloi says. "Every time I'd get a little something, he'd write another article. It forced the Democrat to recognize the case. It forced the state attorney's office to be less malevolent in the way they acted."
At the trial, Smith was defended by Varn and co-counsel Deeno Kitchen. He would be found not guilty by an all-white jury, although he did remain in prison serving time for other crimes.
"We knew in our hearts he was innocent, not just not guilty," Kitchen says. "But without Joe Aloi, it wouldn't have broken for us that way. And he just happened to be at the right place at the right time, but he followed it up.
"I just have the greatest respect for (Aloi)," Kitchen says. "He's just an outstanding person and investigator."
Ultimately the charges against all of the Quincy Five would be dropped, although the state "never admitted they got the wrong guys," Kitchen says. "If you look at the state's nole pros (when the prosecutor elects to not continue the case), they said the only reason we're doing it is because the witnesses were tired and they'd been badgered."
Early Days
A self-styled "little boy from Brooklyn," Aloi "did it all" in his hometown, he says. He was president of his class, editor of the school paper and a varsity football player. Even though he moved to St. Petersburg during high school, Aloi still retains his New York accent and attitude. "I had plenty of mouth on me," he recalls.
Aloi says his father had a profound, although not always positive, effect on his life.
His father was a native of Calabria, Italy, home of that country's prizefighters and soldiers. "All hardheaded, stubborn people," is how Aloi describes it. "You know Archie Bunker on TV? That's my dad. My dad was a strong, hardworking guy, loved his family. He worked 7 in the morning to 8 o'clock at night. He was steady as a rock. He had a lot of ways about him, but he made me a tougher guy.
"When I told him I was going to college, he said, 'Why are you going to college? Get a job. Be a man.'
"He just hated government, period," Aloi remembers. "He didn't care what kind it was. So when I got to be a cop, it upset him. Then I got to work for the public defender; he called me a, quote, 'n—-r lover,' unquote.
Eventually … he kind of came to rest with it, that I'm doing good. He never told me, but I knew he knew it."
During his days at St. Petersburg Junior College in the early 1960s, Aloi was enrolled in a criminology program. Most of his classmates, he says, were police chiefs "trying to catch up." He was by far the youngest in the class and was ultimately selected for a Law Enforcement Administration program to develop college-educated police officers. Aloi worked with the Pinellas Park Police Department while he was in school and ultimately earned two associate degrees.
He went to Ocala to be a police officer but quit after only three days.
"The prejudice was just unbelievable … and the brutality I was seeing … stuff that didn't make sense," he says. He decided to go back to college at the University of Florida to study journalism but "got a little disillusioned with the craziness" of the partying lifestyle he found there and ended up as a criminology major at Florida State.
It was there that Aloi had an awakening.
"Until I started at FSU and worked at the public defender's office, I didn't realize that in high school (and) junior college I never had a black classmate, didn't even know they were around — and that startled me," he says. "It sickened me, 'cause that showed me just how stupid I was."
Aloi never did get his degree. He quit to work when he was just six credits away from graduation.
At Work
Aloi began interning with the public defender's office while he was a student at FSU. At the time, a young lawyer from a prominent family — Richard Ervin III — served as the six-county circuit's public defender. He was the first public defender in the area appointed after the U.S. Supreme Court's unanimous decision in Gideon v. Wainwright gave all defendants the right to an attorney, even if they couldn't afford to pay.
"Back in those days, we didn't have much in the way of help and very little in the way of money, and Joe was kind enough to donate his time without pay for the first year or so before we got enough money to put him on the payroll," Ervin remembers.
Ervin says he first met Aloi when he was fresh out of law school and had not yet received his public defender appointment. Aloi's home, a trailer, had blown up because of a faulty gas heater, and he wanted to sue the landlord. A tenant winning a case against a landlord was unheard of at the time. But Ervin worked with Aloi — who served as his own investigator — and ultimately they won a jury trial and the landlord had to pay to replace Aloi's books and clothes.
Aloi now recalls that "the only person (Ervin) ever met who had anything to do with investigations … was me," so Ervin called and asked Aloi to work for him in the public defender's office — for no salary, just a 6-cent-per-mile car allowance.
They were up against a well-entrenched history of prejudice and a disdain for those upholding the rights of poor defendants. Aloi remembers the time when the state attorney stood up during jury selection "and said something like, 'Judge, we got to put up with these public defenders, they're just temporary n—-r lovers, they'll be gone soon.' Right in the courtroom. Nobody even flinched."
Letting loose the brash Brooklyn native on the Southern court system was a bit of a culture shock. Aloi likens it to the 1992 film "My Cousin Vinny."
"He might have rubbed some people the wrong way, not intentionally so, but it was a different type of attitude, a different type of style," Ervin recalls. "Most people, even in the state attorney's office, respected him because if Joe told you something, it was something that you could take with you to the bank. Joe's not one to play fast and loose."
Because of the criminal activity and the poverty in the area, the defending duo spent much of their time in Wakulla County. On trial days, Ervin would drive while Aloi briefed him on that day's case.
"We'd walk into the courtroom, and he'd be 100 percent ready to go," Aloi says. "And we'd win."
Aloi could predict the outcome of their cases, and not because he had ESP. In the back bathroom of the Wakulla County Courthouse, "there was an air vent and I could hear the jury," he reveals. "Everybody thought I had a bad bladder."
Ervin would continue to serve as the public defender until 1976, when he was elected to the 1st District Court of Appeal. Aloi, meanwhile, worked for the public defender's office until 1979, when then-Public Defender Mike Minerva was defeated and his successor cleaned house.
Aloi next cobbled together a hodgepodge of jobs throughout the years as a private investigator, jury consultant and bail bondsman, among other things.
Former Tallahassee Democrat reporter Jan Pudlow remembers Aloi from throughout the '80s, when she would see him around the Leon County Courthouse. "Joe was the kind of person who, if he didn't know the answer, might could point you to someone who did and I always appreciated that about him," she relates. "He stuck out — definitely. He had a not-from-around-here kind of look. He wore a lot of gold jewelry. I always considered him one of the most colorful people I met on the court beat."
Today, the ponytailed Aloi spends most of his waking hours in his rabbit warren of an office on Appleyard Drive, where he has a fine view of the Leon County Jail, the source of much of his business. He works long days, five days a week, taking off on Fridays ("doctor's appointments and car repairs") and Sundays ("doing laundry"). He was going to pass the business to his son, who had worked for him for 27 years, but those hopes were dashed when his son suddenly died recently.
Aloi's desk is cluttered with a mass of papers that looks totally disorganized but seems to work for him. Atop it all is a book-sized, black leatherette calendar with a page for each day that includes plenty of lines, many of them containing penciled-in notations of when his bonded clients are due for a court appearance.
Those clients, mostly young men, ease into the office and discuss their felonies and misdemeanors with Aloi, who casually talks about their multiple DUIs and restraining-order violations like the rest of us chat about the weather. Most get the "Dutch uncle" treatment from the bondsman, who admonishes them to show up for appointments or risk a trip back to jail. They listen and make promises. But, just to be sure, Aloi has that calendar — and he'll be calling to remind them of their date with The Man.
Many an "enabling" parent comes to Aloi asking him to bail their "good boy" out of jail.
"I tell a lot of people, 'Your son or your daughter (is) safer in jail. You know where they are. From what you're telling me, they're not (listening) to you before they got in jail. They're not going to listen to you when they get out,'" he says.
"And they say, 'Well, he's scared in there.' And I say, 'Well, he wasn't scared when he broke into the house. He wasn't scared when he robbed the gas station.' I don't try to be flippant with them, but I want them to understand there's a bigger picture here than just 'he's a good boy.'"
A Big Heart
When he was a student at FSU, Aloi says that Tallahassee Memorial Hospital would not admit anyone who overdosed on drugs, and only one local doctor would treat them.
"There was a kid who was really, really sick, so we took up a collection, got a couple of kids and gave them gas money to take him down to Jackson Memorial Hospital in Miami, which was the only hospital that would take a drug overdose," he recalls. "He got south of Orlando and dropped dead — and that's when I got to the point that something had to be done about drugs."
With the help of a criminology professor, a campus counseling center was established. The group got a grant to open a treatment facility, which ultimately evolved into DISC Village.
"The neighbors protested and marched because drug fiends were in their neighborhood," Aloi says. "We went through hell for years and years. Now, you don't get any better than what we do." Aloi has served on the board of DISC Village for 37 years, as chairman for more than a decade and has a building on the campus dedicated to him.
While he was at the fore of some big-picture social-rights issues, friends of Aloi say his advocacy for the disadvantaged also occurs on a much smaller, more personal scale.
Ervin recalled Aloi's early days at the public defender's office: "Joe's interest in the cases was not just seeing to it that the job got done. He also did what he could sometimes when people were down and out. He would go into his pocket and try to help them. He was very generous with his own somewhat limited means."
Pudlow has another tale to tell from her reporting days.
"I remember him calling me at the newsroom telling me I should do a story about the fact that there was no covered bus shelter for women and children waiting for the TalTran bus," she says. "This was right in front of his office on Appleyard Drive, and I think the health department, jail and juvenile justice center were all across the street at the time. So he would often see pregnant women with toddlers in tow, getting drenched by the rain waiting for a bus. This bothered him deeply, and he wanted it fixed.
"It got fixed."
A Straight Guy
Now 65, Aloi says he's going to "start slowing down" and let an associate pick up some of the bail bond business. He's getting over some health problems but says, "I'm doing much better now. It's still not what it should be, but I manage very well."
He's been kind of unlucky in love, though, with three marriages — and three divorces.
"I'm a great guy, but I'm not a great husband, 'cause look at the hours I put in. I might work 14, 16 hours straight sometimes," he says. "When you work for yourself, you're married to your business, unfortunately."
Aloi had one child with his first wife, who he was married to for six years. His other six children are actually stepchildren from marriages that lasted 20 and 18 years, but he doesn't differentiate between them. "My kids are my trophies. I raised seven children. All, thank God, successful children. And I've got like 14 grandchildren running around," he says with pride.
A homebody, Aloi has no desire to travel or for life's extravagances. He's perfectly content in his big (seven-bedroom) old house on Lake Bradford.
"There's only two things I care about — sitting in my backyard … and working in my tool shop," he says. "I have minimal needs, and I'm happy with that. I enjoy my peace and quiet and my lake."
His current companion is a very independent "come and go" Manx cat that "shows up when he feels like it. He's a cool cat. He won't kill anything. The whole neighborhood must know him by now." Aloi, who considers himself more of a "dog person," says he also is expecting a little bundle of canine joy to join his household soon.
Aloi relishes telling tales of his fascinating life and proudly mentions how he's had a "ripple effect" on thousands of lives, but he pauses for a moment to reflect on how he would like to be remembered:
"I was sort of a liaison. People would come to me with their problems — not necessarily criminal. I had a lot of trust. To this day, I hope there's not a single person who can say I'm not honest — I've had people give me 60 thousand bucks to hold for them because they didn't trust their own families.
"I pride myself on being very, very honest … and that's the way I want to go out: 'Joe's a straight guy.'"