Wrist Watchers
Wearable health monitors grow in sophistication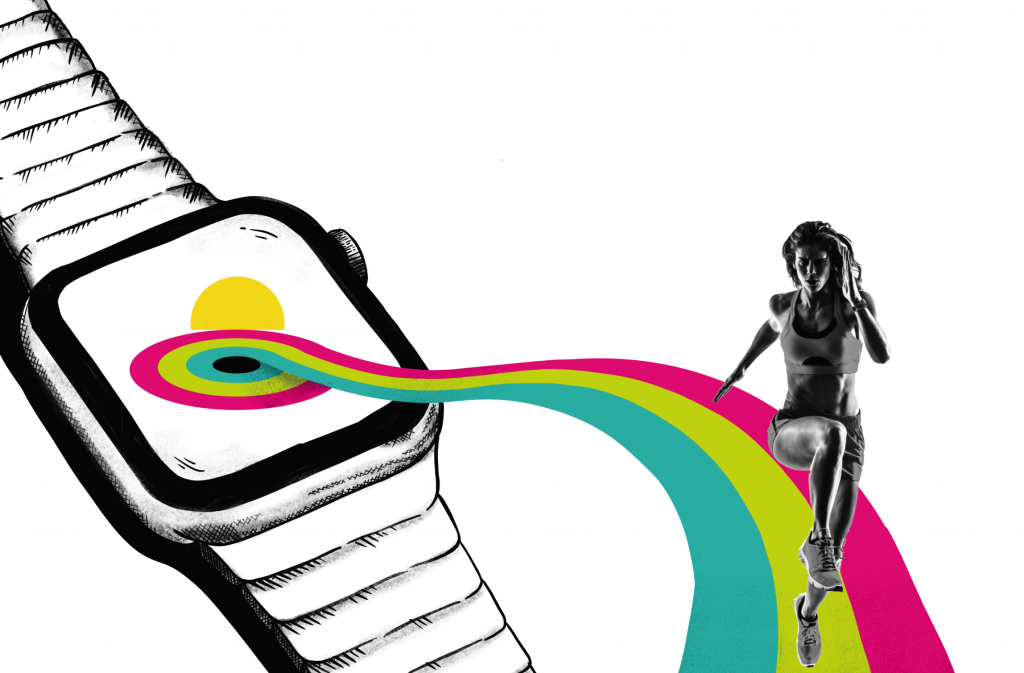 Imagine wearing a device that can monitor your sleep pattern, track your fitness, measure your heart rhythm or detect signs of memory problems. Then imagine that you can get health care without leaving your home or traveling a long distance.
You don't have to imagine any longer. Technology has become a major player in managing your health and "it's only going to grow," said Lauren Faison-Clark, service line administrator for telemedicine at Tallahassee Memorial Hospital.
Spurred by the pandemic, the field of telemedicine — providing for virtual health care visits — "has probably jumped ahead five years," she said.
Wearable technology, whether for medical reasons or fitness, is escalating at a rapid pace, tackling groundbreaking tasks and becoming more mainstream.
"We're at a whole new level of technology with artificial intelligence and health monitoring," said Sherman Rosier, owner of Fit & Functional gym and fitness center in Tallahassee. "More and more people are monitoring their vital signs through their watches. It's where the future is going."
The wearable market is promising, as the number of connected wearable devices worldwide is expected to grow to over 1.1 billion in 2022, according to the website Statista.
Consumers are spending anywhere from a couple hundred dollars to thousands for a smartwatch. There are some deals on older models as tech-savvy fitness buffs move onto the next best thing.
These devices can "monitor simple things like steps per day or heart rate or more complex things like sleep hours, sleep quality, heart rate variability, respiratory rate, recovery from exercise, readiness to exercise hard," said Michael Ormsbee, associate professor of the Department of Nutrition, Food & Exercise Sciences at Florida State University.
"The tech is pretty limitless," said Ormsbee, who is also the associate director of the Institute of Sports Sciences & Medicine. "I think they will become more popular in the future. I would only caution people to also enjoy some 'unplugged' time in nature."
The Accenture 2020 Digital Health Survey points to other concerns. "Privacy, security and trust issues remain, along with difficulty integrating new tools and services into day-to-day clinical workflows."
When considering a smartwatch, weigh the pros and cons, said Ormsbee.
Sometimes it is nice to just enjoy activity and not track it.
We need to remember that the devices are not always accurate — they may be good at seeing day-to-day changes but they can be misleading when compared to others.
The pros outweigh the cons for fans like Joe Miller, an athlete who touts the benefits of being connected 24/7.
Miller has been wearing an Apple Watch for years. He recently added a device called a Whoop strap.
"I wear it to sleep," said Miller, 33, an FSU alumnus and web developer. "I wear it in the shower."
"It gives you really good insight into what kind of shape you're in and how good your fitness levels are," said Miller, also an international champion in both Muay Thai and kickboxing. "What it really does best is record your recovery and how well you're recovering after your workout."
Nevertheless, Miller said "the jury is still out" on Whoop, which collects physiological data, but also requires a membership with a monthly fee. But Miller stresses the Apple Watch "without a doubt improved my health. It got me really excited about running," helping him to keep track of his time and speed up his pace.
Smartwatches "give people a chance to compete with themselves. It's a way of providing motivation," said Rosier, a certified personal trainer, wellness coach and rehab specialist.
The key is follow-through, said Ormsbee.
These devices "can provide us the motivation or the knowledge to make healthier decisions, but they won't just make us healthier by wearing them."
Their use is worthy of more research, Ormsbee said.
"We are actually working now on research at FSU in a collaboration with my lab at the Institute of Sports Sciences & Medicine and FSU Athletics that uses these technologies to help us better understand female athlete physiology, recovery and performance," said Ormsbee. "The more we track, the better we can get at understanding our habits and making decisions that help with health outcomes."
Heart rate monitors are typical functions of smartwatches and fitness trackers now, but electrocardiogram (ECG or EKG) is the new sensor in the spotlight. Its job is to help identify atrial fibrillation, a serious medical condition that is a leading cause of stroke.
The EKG app started with Apple, but FitBit and Samsung are among the companies that have clearance from the FDA to provide the test. While these mobile EKGs can serve a useful purpose, the cautionary note is that it's important doctors be included in the process.
The same goes for other devices that help patients monitor their vital signs, especially important since the pandemic hit.
Terry Sumner, who has Type 2 diabetes, has an insulin pump and glucose sensor. He also uses a blood pressure cuff and a tiny device that slides over your finger and checks his oxygen levels. All his data can be transferred from his iPhone to health care professionals.
Sumner, a 64-year-old retiree from the information technology field, said telemedicine has helped him get health care without a trip to the doctor
"COVID kick-started telemedicine," said Sumner, a manager of the data center at Tallahassee Memorial Hospital from the late '70s to mid-80s. "It's a cool, new approach to providing health care for people who have trouble getting in to see a physician because you don't have to travel."
When shutdowns began in March, "we literally had four or five days to set up 39 clinics and more than 600 providers (physicians, nurse practitioners, therapists) from seeing patients in an exam room to seeing them in their homes," said TMH's Faison-Clark.
"It's been huge for so many of our patients. It was a lifeline for many of them," she said. "It's been a wonderful way to connect our health care system like never before.
"The most powerful side effect to all this technology is engaging patients as a partner in their care."
Telemedicine has been used for childbirth classes, support groups, pet therapy, speech therapy, palliative care and spiritual care. It's also helped patients have some contact, even if remote, inside the hospital, a bonus in light of limitations stemming from COVID-19.
"We don't want physical distance to create emotional distance," said Faison-Clark. "It's a way to connect patients to their loved ones."
It's also crucial for patients who live in rural areas and have difficulty getting transportation to see their physicians, especially during the pandemic.
Telemedicine has been a "phenomenal tool" for providing mental health services, noted Faison-Clark. It's enabled practitioners to continue seeing those patients and "get people the care where they are."
When shutdowns occurred in March and "medically unnecessary" procedures in hospitals were banned, the lasting effect that resulted was a reluctance among many people to go to their doctor's offices or hospitals.
During a pandemic, "people still have strokes, still have heart attacks, still have bad outcomes from uncontrolled diabetes," said Heather Upchurch, an advanced registered nurse practitioner with Capital Regional Medical Group. "With telemedicine, we can talk to them remotely. They can check their pulse, oxygen saturation on their smartphones."
Another positive aspect of virtual visits: "I actually have more access to family members," she said. "They aren't always able to go on appointments with the patient."
"The technology is there," said Upchurch. "It's just getting health care to catch up."
Insurance has also had to catch up.
Emergency provisions enabled providers to see patients via telemedicine during the pandemic, said Christopher P. Mulrooney, FSU's associate dean for Clinical and Community Affairs and chief operating officer of the Florida Medical Practice Plan (faculty practice plan for the FSU College of Medicine).
But the university is also involved with a longer-term strategy to develop the FSU TeleHealth practice.
FSU's College of Medicine "has developed a number of small clinical practices to help care for everyone from children to older adults," said Mulrooney.
The longer-term strategy for FSU TeleHealth is to help reach underserved populations in rural areas, he said. A pilot phase delivered telehealth geriatric psychiatry services to older adults in Dowling Park, as well as clinical psychology services to children and adolescents in Gadsden County.
"Technology has not replaced the human mind — at least not yet," said Sumner. "Having doctors make decisions is still very much needed. But having technology improving their ability to be efficient with their time, and make informed decisions, I think is a big deal."
Upchurch thinks the use of remote technology will continue to be a big deal.
"We're only going to evolve from here."
---
When considering a smartwatch, weigh the pros and cons, said Michael Ormsbee, associate professor of the Department of Nutrition, Food & Exercise Sciences at Florida State University. Some examples:
Pros
Motivation to move/be active.

Easily set goals like steps per day.

Feeling of accomplishment by meeting these goals.

Motivation to sleep more or eat healthier.

Friendly competition between friends using the same tech.

Some technology even claims to help predict the onset of COVID-19 by measuring sleeping respiratory rate.
Cons
Dependence on tech all the time.
Always "plugged in."