Traditional Southern Activity Demands Adherence to Traditions
If you bring beans to a fish fry, they'd better be baked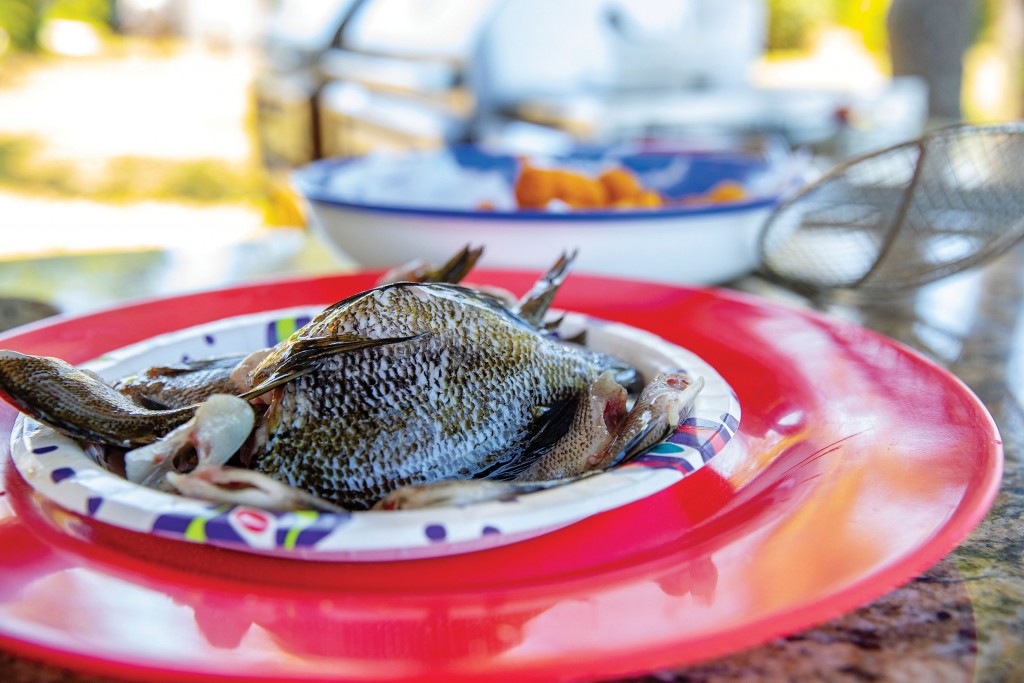 The bream bit on wigglers and grasshoppers with equal amounts of enthusiasm, and before long, I had a nice mess harvested from ponds dug and maintained by Jack Finch, who lives not far from Bear Creek in northern Bay County.
Jack and his wife Linda are people whose generosity is so extraordinary that it is hard to know how to answer it, not that they expect anything in return. Jack granted me access to his ponds — "Take as many fish as you want," he said — and also insisted upon cleaning the catch for me. He led me on a tour of his property, including outbuildings containing tractors, all manner of tools, projects in progress and a Gulf-going boat equipped with the biggest outboard motor I ever have seen.
Linda had much to show me, too, starting with a length of cypress tree, upright in her family room, that is festooned with dozens of fishing lures, all removed from snags in the creek. "Take one," she said, and I selected an old-timey, wooden plug, a Devil's Horse, that has fooled speckled trout in salt water and largemouth bass in fresh water for generations.
She directed my attention to shelves filled with ceramic angels and then explained that she has survived both cancer and a stroke and has a shunt that runs from her brain to her chest cavity. Medical intervention notwithstanding, she is convinced that she is looked over by a guardian angel, whom she acknowledges with her collection of figurines.
I would leave the Finch property with the lure, venison sausage and a carpenter bee trap fashioned by Jack, along with the bluegills, which were destined for a fish fry at the home of a friend.
I come from a place where Friday suppers of walleyed pike are a tradition, but especially in the South, fish fries are a special type of communion that brings together within a man his youth and his latter years; requires beer; invites storytelling; and is laced throughout with an appreciation among participants for nature's bounty.
There is, thankfully, no talk of the one that got away, and if a big fried bream is placed on a platter, it is likely to be ignored. They flat don't taste as sweet or as good as the smaller ones.
Once, I attended a fish fry at a neighborhood Cheers-style bar called Low Places. Spanky, who sold Budweiser beer, was there with a plate in front of him when a dust-up developed outside the tavern. He neither wished to miss out on the fight, nor leave his fried bream behind. He placed the whole (beheaded and breaded) fish in his mouth and, seconds later, withdrew nothing but bones. Damnedest thing, like something a cartoon cat might pull off.
Used to be, I'd fry fish with a cooker fashioned from a tire rim by an old fishing buddy, Ike Holmes. I gave that cooker away when moving one time, and I wish I had it still.
To the home of host Clyde Anderson, I brought the bream furnished by Jack, lemons, canola oil, the requisite Zatarain's seasoned Fish Fri coating, tartar sauce and fresh green beans. Man, folks were just not having the green beans. Shakin' their heads. Asking me if that was the way we did things up North. And, finally, sending me to the store to retrieve coleslaw and hushpuppy mix.
It all went down pretty good. Clyde's outdoor kitchen, overlooking a bright blue bayou, provided the perfect setting. We tossed fish bones into the water down the hill from the kitchen and watched as blue crabs finished off what little sustenance remained on them.
For now, I am called by some "Mr. Green Beans." That's OK. At four syllables, it is too long to last. And, besides, I've been called a lot worse.
I am not likely to share the green beans story with Jack Finch when I next see him, but I am sure to send his wife one more angel. In such a way, I may redeem myself.
FISH LINGO
Bream is an umbrella term that may be applied to panfish including bluegills, stumpknockers, shellcrackers, warmouths, red-breasts and paints, but not to crappie, which are sometimes called speckled perch. Bluegills are the most common of the bunch and occur throughout the country. Up North, folks call them sunfish.