The Importance Of An Exercise Routine For All Ages
Finding a way to become and stay active is crucial not just for the elderly but also for children.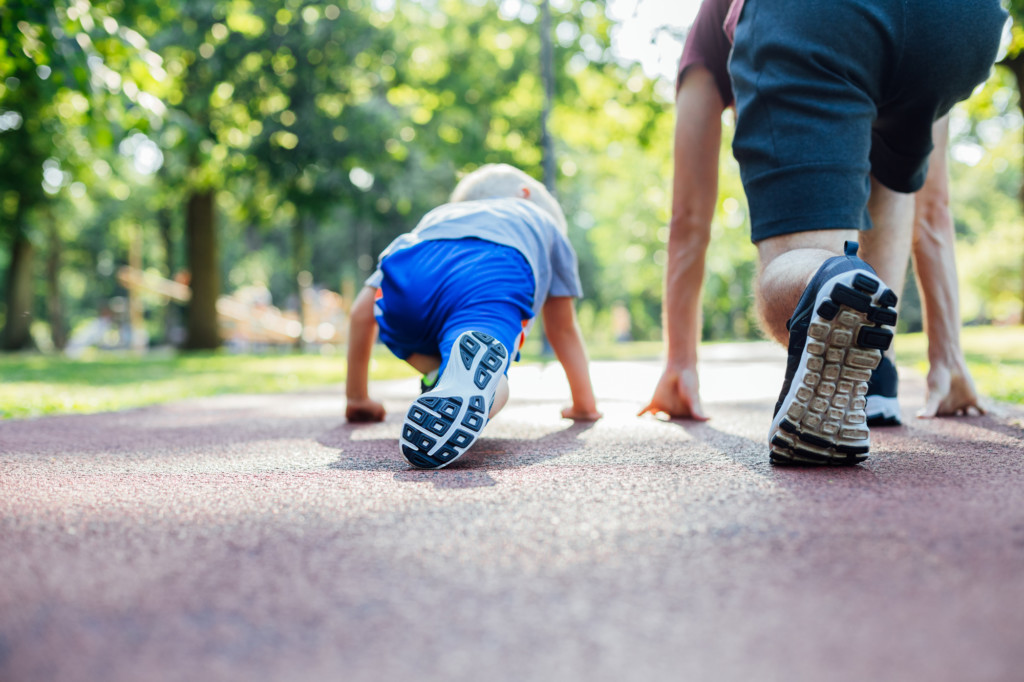 It is widely known that people from the ages of 18 to 55 should be engaging in some form of fitness.
For the outlying age ranges, physical fitness is not as readily addressed, yet it is just as necessary that children and senior citizens develop health routines.
Fitness for kids and seniors might differ in impact, intensity and length, but the physical and mental benefits are no less important.
Being stagnant is never the optimal choice for any age group; whether the movements are large or small, it's key to keep moving or get moving.
With a surge in technology, more children than ever are exposed to screen time and less physical activity.
It may seem as if children don't need as much physical activity as an adult, but that's a false assumption as properly instilled health habits can make a lasting impact throughout life.
"Just like adults, kids need an outlet as well, and exercise is one of best ways for kids to decompress," said Melissa Johnson, owner of Kaos Group Training.
"If physical activity can be taught to be a part of one's life from a young age then, hopefully, as they get older they will continue to use exercise to relieve stress, stay strong and healthy and lead a positive lifestyle." Irene Quevedo, director of operations at American Fitness, agrees on the importance of beginning fitness routines early on, stating that kids learn a great deal from the habits and activities of their families.
Parents are vital in encouraging and promoting fitness activities for their children. Kaos Group Training, American Fitness and many fitness facilities throughout Tallahassee provide classes for families, teens and children.
A noticeable difference between child and adult fitness is that, for a child, the activity needs to be engaging — otherwise they may not show interest and may not understand its influence on their life. "We need to make physical activity fun," said Quevedo.
"Exposing kids and teens to different sports and activities will keep them active and allow them to have a say in which one they prefer. By becoming physically active in an activity they enjoy, kids and teens can reduce the risk of stress, depression and anxiety."
Through workouts, all ages can gain strength, improve cardiovascular health, improve balance and contribute to overall physicality.
Those same physical activities can benefit mentally by elevating endorphins, ultimately boosting happiness and decreasing signs of stress and depression.
"No matter what age or what capabilities someone has, they deserve to enjoy a high quality of life," said Kim Bibeau, owner of Sweat Therapy Fitness.
"As we live longer it is absolutely imperative that we remain active to ensure we have a high-quality life. Research proves that exercise does this time and time again, because the physical and emotional benefits of an active lifestyle are undisputed. It helps with attitudes, depression and cognitive sleep. People feel better, and they are happier."
Sweat Therapy Fitness offers a variety of senior adult fitness classes including: Forever Fit, a total body workout focusing on strength, core and cardiovascular activities; Boxing Balance and Core, which includes a boxing component to assist with strength, cardio and cognition; and Rock Steady Boxing, a course designed specifically for those with Parkinson's Disease.
Premier Health & Fitness Center hosts a Brain, Body, Balance class focusing on fall prevention by addressing skills that decline with aging and contribute to injuries from falling.
Research shows that honing in on strength, balance, reflexes, aerobic activity and cognition can reduce the rates of Alzheimer's and vascular dementia.
Alongside the physical benefits, it's a way to make connections and engage socially. "We have a lot of power over how we age," said Kathy Gilbert, fitness instructor at Premier Health & Fitness Center.
"Our physical and cognitive health is significantly affected by our level of physical activity. Keeping active and maintaining your strength slows down the declines that occur with aging.
I see many 90-plus-year-olds leading happy, fulfilling, independent lives, and these are the people who have stayed active their whole lives.
We need to encourage our aging parents, friends and neighbors to stay active." The research is undisputed, the benefits are vast and the resources are growing, proving it's never too early or too late to engage in a fitness routine that benefits mind, body and soul.
Children's Fitness Classes
Kaos Group Training 2755 Powermill Court, Suite B (850) 459-6082
American Fitness 6668-7 Thomasville Road (850) 907-3555
Girls on the Run Big Bend (850) 570-9560
Namaste Yoga 1369 E. Lafayette St., Suite B (850) 556-2625
Senior Citizen Fitness Classes
Sweat Therapy Fitness 122 Thomasville Road, Units 5 & 10 (850) 222-1781
Premier Health & Fitness Center 3521 Maclay Blvd. (850) 431-2348