The Beauty of Celestial Jewelry
Stunning, starry pieces will transport you to another atmosphere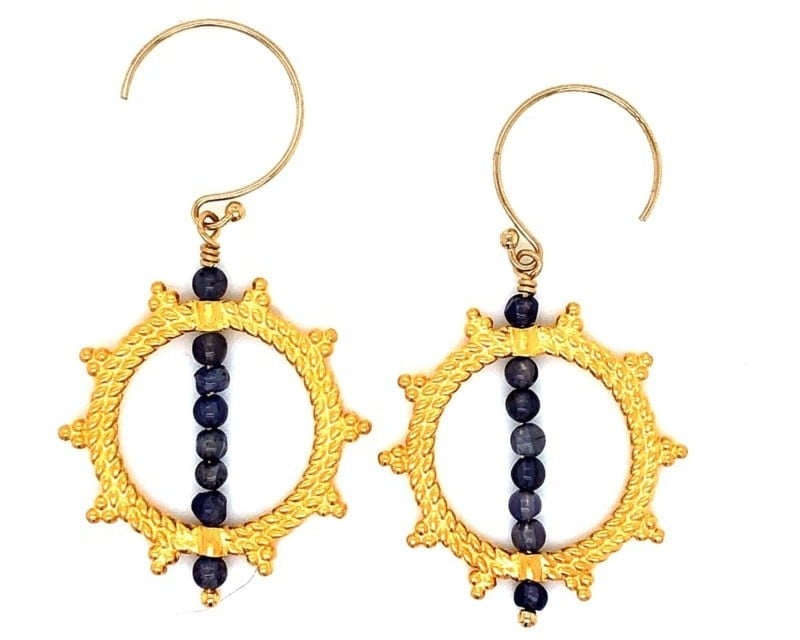 "Yours is the light by which my spirit's born: — you are my sun, my moon, and all my stars."
― E. E. cummings
Just as summer nights are perfect for stargazing, summer days shine bright with beautiful celestial jewelry. Celestial jewelry is composed of elements like suns, moons, stars, clouds, comets and planets.
"Celestial Jewelry is popular right now because, when life gets chaotic, people often find a certain peace by looking to the skies and heavens," said Dorothy Vodicka, owner of The Gem Collection. "Just as seafarers of old used the stars for navigation and mystics from all ages are guided by the planets, many of us find a comfort in the thought that the heavens watch over us and give us a certain spiritual guidance. Stars, planets, the sun and moon are seen as being eternal and something you can count on always. Plus, they are beautiful — so why not adorn yourself with them?"
Stunning, starry pieces will transport you to another atmosphere and make for stellar keepsakes. Give your love, your family member or your friend the moon and the stars with some celestial themed jewel. From vibrant diamond pieces that shine like stars to moonstones that enchant, The Gem Collection has celestial jewelry that is out of this world.
Diamond Compass Pendant and Chain
Perfect for the explorer at heart. This playful pendant features a compass design with eight sparkling diamonds surrounding the center diamond. Let your inner explorer shine through, sail the seas and look to the stars.
GemCollection.com/shop/diamond-compass-pendant-and-chain
Star and Moon Earrings By Carla
Wouldn't you love to give her the stars and the moon? In the meantime, maybe these darling earrings will do.
GemCollection.com/shop/star-and-moon-earrings-by-carla
Tracy Arrington Iolite Circle Luna Earrings
In various cultures, the moon was considered a goddess who blessed us with enlightenment, immortality and controlled both the seas and the weather. Luna was the powerful Roman moon goddess, so let her light dance on your ears, your neck or your finger.
GemCollection.com/shop/tracy-arrington-iolite-circle-luna-earrings
Alex Sepkus "Sticks And Stones" Star Earrings
Put a twinkle in her eye when you gift her these intricate and carefully crafted star earrings.
GemCollection.com/shop/alex-sepkus-sticks-and-stones-star-earrings
Moonstone, Alexandrite, & Diamond Earrings
Wear these for a date night out and let the moon reflect in these stunning, reflective moonstone and diamond earrings.
GemCollection.com/shop/moonstone-alexandrite-diamond-earrings
Enamel Face Pendant By Ricky Frank
Colorful celestial swirls decorate this pretty pendant, creating a cosmic story.
GemCollection.com/shop/enamel-face-pendant-by-ricky-frank
Diamond Vintage Starburst Brooch
Shoot for the stars and land amongst 43 euro-cut diamonds. The 18-karat yellow gold brooch is a sight to behold.
GemCollection.com/shop/diamond-vintage-starburst-brooch
Ricky Frank Celestial Dancer Pendant
Dance along the Milky Way in this beautiful pendant.
GemCollection.com/shop/ricky-frank-celestial-dancer-pendant