The World is Your Oyster
Pensacola boutique hotel provides an eco-friendly retreat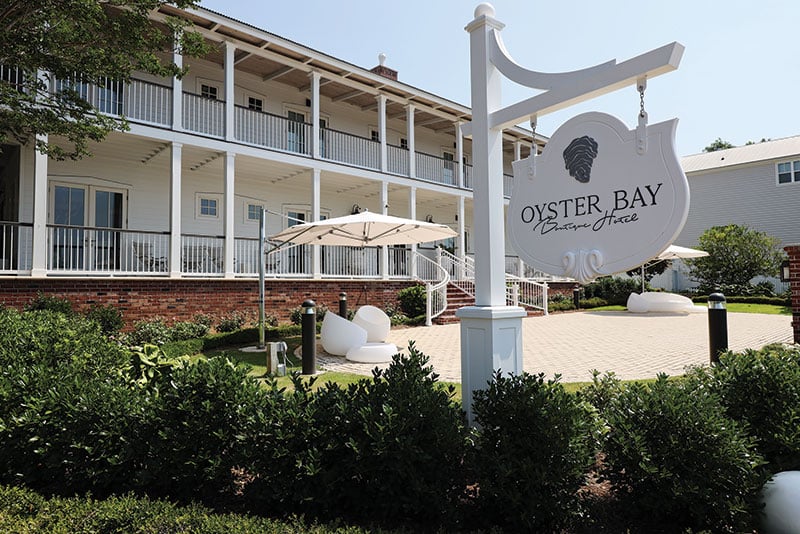 Nestled in historic downtown Pensacola is the one-of-a-kind, 19th-century Oyster Bay Boutique Hotel. With luxury furniture, coastal decor and each guest room inspired by the Florida coastline, the hotel is perfect for an oceanside getaway.
Upon arrival, guests are offered a complimentary charcuterie board and receive a guest card to enjoy an entree and beverage of choice each day. A 24-hour continental breakfast is available with organic fruit, bagels, granola and yogurt. Guests can also bring
their pets, which is rare for downtown Pensacola. The dining room seats 24 and is serviced by Classic City Catering. Within walking distance is access to local boutique shops, highly acclaimed breweries, restaurants and all the nightlife downtown Pensacola has to offer.
The history of theOyster Bay Boutique Hotel is intriguing, to say the least. The original Lee House dates back to 1866, built by William F. Lee, an engineer and officer who served in the Confederate Army while stationed in Pensacola during the Civil War, according to the website The Pulse, Pensacola.
A century later in the 1960s, the house was restored, but it suffered a horrible fire in 2001 and sustained significant damage from Hurricane Ivan in 2004. The original home was razed in 2005. What stands in its place today is a modern rebirth of the original home.
In 2008, The Lee House reopened for business as a bed and breakfast by Norma and Dr. Pat Murray and stayed that way until 2014, when the historic hotel was purchased by local businessmen Tosh Belsinger of Gulf Blue Group and the Merrill brothers of Great Southern Restaurants, according to the Pensacola News Journal.
"When I accepted the position here, it was The Lee House, which was a bed and breakfast at the time," said hospitality manager Jessica Berry. The bed and breakfast was sold to the Studers, who gave the historic location a $3 million renovation. "They've made it into what you see today — this coastal, clean and relaxing vibe, which I love," Berry said.
The Studers used Quinn Stinson, owner of Duh design firm in Pensacola, to redesign the entire space and reopened the hotel in 2018 as the Oyster Bay Boutique Hotel.
The remodeled boutique hotel elevates its modern charm and sophisticated elegance with eight guest rooms upstairs, a full kitchen, conference room, dining area and additional rooms downstairs with all amenities provided. This modern wellness hotel is in another stratosphere of hospitality that most Airbnbs can't compete with.
Berry is grateful for the new women-owned business. The mother and daughter Studer duo now focuses the hotel on corporate and well-being retreats.
"We have them come and take over the hotel. We do one with Reboot where it's just three days of no coffee, no alcohol and no sugar. They just eat clean. There are different workouts set up: The Ride Society will set up a bunch of Pelotons, and a sound bath is offered at night in the courtyard with ice baths and rose petals. It's all really cute but focused on well-being, which I love, and eco-friendly. We try to be as eco-friendly as possible. We're a completely geothermal property. Even down to the toilet paper we buy, we try to be as conscious as we can be," said Berry.
Being Pensacola's No. 1 wellness and sustainability hotel is a big deal. In the past, the hotel has hosted Makers Markets featuring local glass blowers, pottery artists and even printmakers. The hotel has a little shop where you can purchase local artisan products, including scented Oyster Bay candles.
"Mallory, the owner, even made our own Oyster Bay scented candles for guests to purchase from our little shop. They smell just like the hotel," commented Berry.
The hotel also features a contactless experience from check-in to checkout, offering a digital mobile key. During your stay, the hotel staff communicates with you through a messaging app service if needed.
---
To book with the Oyster Bay Boutique Hotel, visit their website, stayoysterbay.com, and fill out their contact form. Berry or one of the employees, will follow up with you for all your accommodation needs. The hotel's busy season begins in February and runs through the end of August, so don't wait too long.