Moving the Finish Line
Gary Griffin keeps goals in front of himself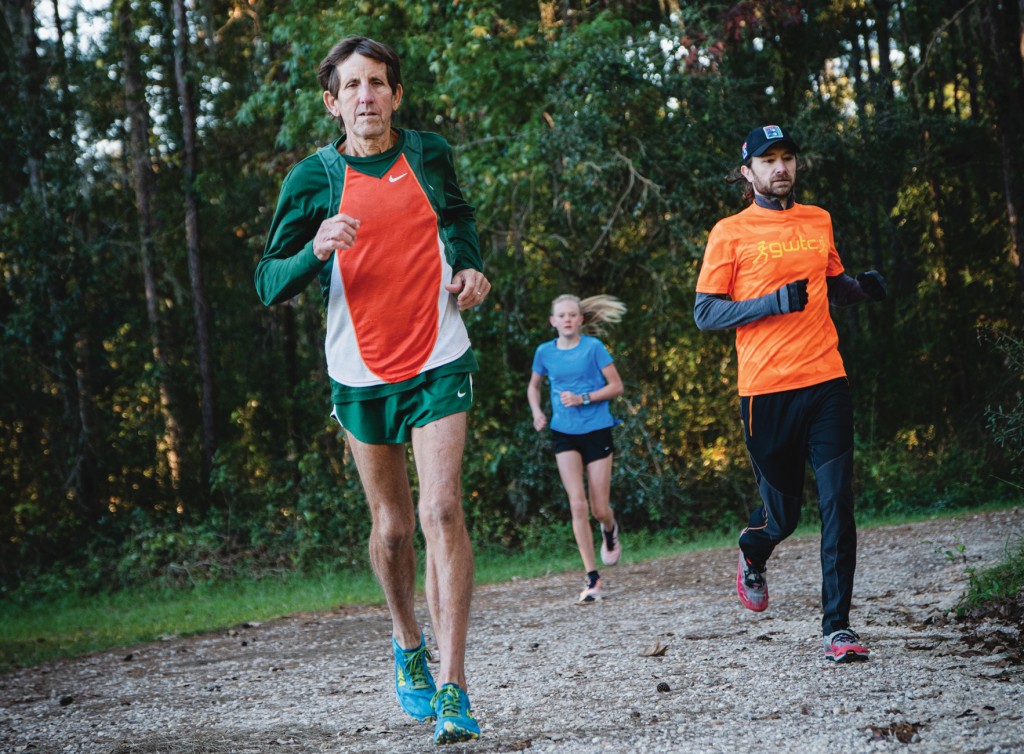 Not for the first time, Gary Griffin had failed in an attempt to finish under 40 minutes in the Tallahassee Springtime 10K run. Frustratingly, he had finished in 40 minutes flat.
"That one second changed my life," Griffin said in November. "I was disgusted that I couldn't run fast enough to achieve that goal, and I said to myself, 'If I can't outrun people, then maybe I can outlast them.' "
Griffin pivoted to ultra-marathons, races of 50 to 300 miles in length. He ran his first such race in 1988.
"I ended up running 142 ultra-marathons," Griffin said. In moving on from 5Ks and 10Ks, he favored gonzo events versus 26.2-mile relative sprints.
"I have run only 40-something marathons," he said. "I love the marathon, but it's the hardest distance there is. The clock is ticking in your mind the whole time, whereas the ultra-marathon is more mental than physical. It's about getting to the finish line and putting up with what we call bad patches, where you get this thing in your head telling you 'I can't do this anymore, I want to quit.' They are highly mental, and that fit me a lot better than trying to run fast."
Griffin so distanced himself from 5Ks and 10Ks that he expressed a desire to get a "NO 2 5KS" vanity plate. His wife, Peg, talked him out of that idea.
So, yes, the difference between 39:59 and 40:00 had a transformational impact on Griffin and, over time, exacted a toll on his body that his legs probably wouldn't have signed up for. But it was an earlier consequential event that led him to take up running in the first place.
Griffin tore up his shoulder playing softball.
"I grew up in South Florida, and we lived and slept and ate baseball," Griffin said. "When I got older, I started playing softball. We moved to Tallahassee in 1980, and I started playing ball here and loved it."
But the shoulder injury ended that. He was unable even to play first base and make short infield throws. Intact, however, was his highly competitive nature.
"I had to quit softball in 1985, and that's when I started running," Griffin said. "I needed to do something to compete. That may be my downfall, but it's in my DNA."
Now, owing to a recurring injury related to nerves in his lower body, Griffin, at age 71, has transitioned again, this time from running to walking.
"If you have ever had a hip injury, you know that it can move around and they are not easily analyzed as to exactly what is causing the pain," Griffin said. "I was off for a year, and I was able to resume running about the time the pandemic arrived. I got in about three or four months of decent running, and then the problem returned."
Griffin has made peace with the fact that he "abused" his body for 35 years as a competitive runner and is now content to stroll around Piney Z Lake or ride a bicycle to stay active.
In the case of the shoulder injury and again in connection with the hip difficulty, doctors recommended that Griffin have surgery. He declined.
"I am a huge believer in the ability of the body to heal itself," he said. "I have had that experience time and time again. I'm confident the nerve stuff will get well. I realize that there are situations where maybe it won't get well, and surgery is needed, but I will try to avoid it at all costs."
Pretty doggone low
Early in his running career, Griffin had to conquer an eating disorder.
"In the late '80s and early '90s, I had a running group that I was training with. I was losing weight and getting faster, and people were noticing my progress," Griffin recalled. "I fell into this death spiral where you tell yourself that the more weight you lose, the faster you are going to get."
Griffin ran his personal-best marathon in 1991 in 3 hours and 1 minute. He drank no water and consumed no calories during the race because he thought that even by drinking water, he would gain weight.
"That's how bad it was," he said.
Griffin adopted a no-fat vegetarian diet and "got down pretty doggone low." Only over time did he realize he was steadily weakening himself.
Overcoming the disorder took "three or four years," Griffin said and required a doctor's care, medication and a community of supporters including, first and foremost, his wife.
Griffin quoted Frank Shorter, an American marathoner who won a silver medal in the 1976 Olympics. "If the furnace is hot enough, it will burn anything, even Big Macs," Shorter said, and eventually Griffin found the truth in that.
"I remain a vegetarian, but I do consume plenty of fuel, even now when I am not running," Griffin said. "I can eat what I want because I am still active. I have never been one to eat a lot of sweets. But I eat a lot of good fat."
Even as Griffin was chasing after distant finish lines, Peg Griffin was serving as the chief timer for the Gulf Winds Track Club, where she is a member of the Hall of Fame. Griffin started going with her to 5Ks and 10Ks to help her out.
"This was probably 15 years ago now," Griffin said. "I watched other people run them and, in a mysterious way, I came back to running short races. I cut back on the ultra-distance stuff and came to love 5 and 10Ks. I think they are the most intense 25 or 40 minutes that you can imagine. The competitiveness of it was really, really exciting and week after week, basically running in the same place in the field trying to beat the runner you ran next to the week before, it was really neat."
Griffin said he developed friendships sweating the small stuff that he never would have developed if he had stayed with ultra-marathons.
The Palace Saloon 5K in 2019 may have been his last race.
"I finished with a really good time, but two days later, I was working out and felt a sharp pain. I thought it was another hamstring injury like I had many times before," Griffin said. But it was not a hamstring, not this time.
---
Getting a late start
For the adult who resolves to take up running after age 40, Griffin has advice.
"If you really have been sedentary in your life, with no foundation for running, you have got to start slow and build up to things," he said. "The hardest part about running, especially if you decide to start at 40, is coming to grips with the fact that running is hard. Most people who go out and just try to start running are doomed to failure because it is so hard that you will tell yourself, 'I'm suffering. I don't want to go through this every day or every other day.' "
So, he advises, start out walking, maybe three miles five times a week. Push yourself and try to get your heart rate up, but just walk. Then, after a month or two, run from one power pole to the next power pole and walk to the one after that.
"As you add more and more to it, maybe you run for 10 minutes and walk for five, and then you will get to a point where you make peace with what running feels like," Griffin said.
Griffin is likely never to become sedentary.
He recently earned a degree in biblical science from Tallahassee Christian College. He is the chairman of the board and president of the Friends of Maclay Gardens. He teaches classes at Faith Presbyterian Church in Tallahassee. And, he serves 20 clients with a landscape maintenance business that he never really intended to start.
"I do it by myself and that keeps me jumping," Griffin said. "And, you know I'm not getting any younger."
Still, the furnace burns hot.