Jiving With a Small-town Vibe
Port St. Joe is alive, well and home to a bustling marina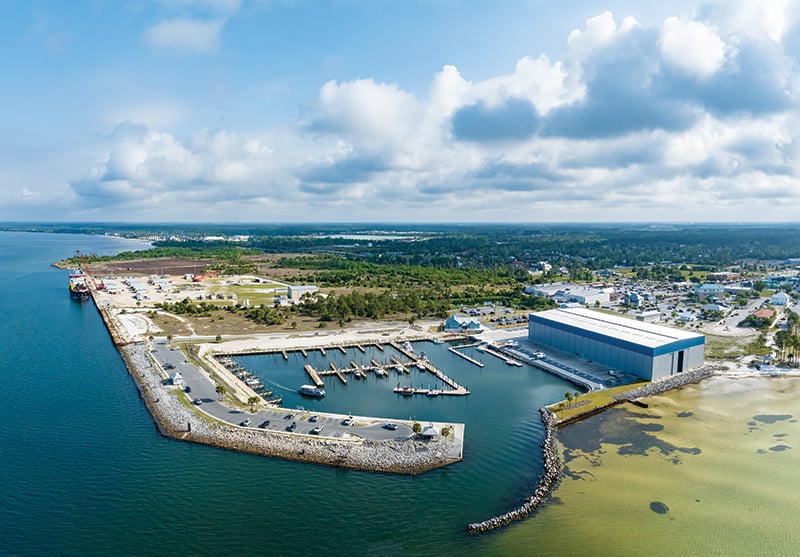 Among Florida beach towns, there are some that are more remarkable for their uniformity than their character. A row of carbon-copy cottages may be enough to bring to mind an old song, Malvina Reynolds' Little Boxes.
There's a pink one and a green one
And a blue one and a yellow one
And they're all made out of ticky tacky
And they all look just the same
By contrast, Port St. Joe, Florida, has retained a certain salty character.
"This is the coolest community I have ever lived in," said Preston Sutter. "It's like Mayberry on the water."
Hurricane Michael hit Port St. Joe hard, but Sutter, who manages the local Point South Marina, said the town is recovering and recapturing its intentionally relaxed lifestyle.
Downtown consists of a main drag with two stop lights and is home to locally owned, non-franchise businesses.
To limit high-density development, the city has implemented a four-story maximum height for buildings. While Sutter said other beach towns "went for the short money and got it," Port St. Joe favors long-term, peaceful coexistence of the community and tourism.
"You can tell everyone what you don't want to become. But you have to decide what you do want to become," Sutter said. "The thing I love about this area is it's still very much a close-knit community with independent restaurants and funky, interesting bars with songwriters. It's just a vibe that we decided as a community to keep."
The rebuilding of Point South Marina Port St. Joe was planned to make it consistent with the community's culture.
"At most marinas, there's dudes smoking and cussing, there's dock lines hanging everywhere, fish heads exploding on the surface of the dirty, oil-stained water," he said. But Point South is kept meticulously clean and family friendly, and Sutter said his personable dockhands have a servant-hearted nature.
People tend to hang around the marina following time spent on the water. Kids pour from the ship store, popsicles in hand. Dads refill coolers with ice and drinks. Fishermen clean their fresh catches. Groups linger, enjoying beer on the dock as the sun sets.
"It's turning into a scene," Sutter said, noting that its "billion-dollar sunset view" doesn't hurt.
The marina caters to both its members and the general public and visitors.
It is home to three excursion companies — AquaBear Adventures, Saltwater Excursions and About Fun Charters — that offer activities including eco-tours, snorkeling, inshore and offshore fishing and scalloping.
Boats can be rented at the marina through Buena Vida Boats. Pontoon and bay boats are available for full-day, half-day or two-hour sunset cruise rentals.
Members of the Freedom Boat Club, a boat rental service, can access memberships at the Port St. Joe marina.
Sutter said that while vacation areas such as Panacea and Alligator Point are a straight shot from Tallahassee, Port St. Joe is also easily reached. The area promises crystal-clear water, both in the Gulf of Mexico and in St. Joseph bay, a result of the absence of incoming freshwater flows.
Gulf County scallop season — from Aug. 16 to Sept. 24 in 2023 — is one of Sutter's favorite times of year, along with the fall red snapper season, when the area is not "Africa hot." Sutter enjoys fishing offshore in the fall for snapper and other bottom fish and inshore for redfish, speckled trout and flounder.
Port St. Joe is a hotbed for transient boaters from nearby areas and a major stop for those traveling the Great Loop — a 6,000-mile route that traverses rivers, lakes and oceans across the Eastern portion of the United States and into Canada.
The marina offers short-term slips for rent to transient boaters. Laundry services, showers, WiFi and surveillance are provided, and area activities make it a perfect respite from the open water.
"We're really set up to accommodate them while they're here," Sutter said. "We make coffee every morning at 7:30, and they come up and have a cup, sit around and chew the fat, so to speak."
Soon, the marina hopes to add amenities including a food truck lot, pool club with a tiki bar, a restaurant and hotel.
---
Tips From a Local
Marina manager Preston Sutter offers recommendations
Reid Avenue: This downtown district is within walking distance of the marina and features local shopping and dining.
» Uptown Raw Bar & Grill
» Provisions Restaurant & Catering
» Joe Mama's Wood Fired Kitchen
» The White Marlin and Oysterette
» Sparks Bar-B-Que & Brew
Outfitter Shop at Point South Marina
Your one-stop shop for boating necessities, snacks, drinks and ice. The store also offers high-end outfitter apparel from brands including Duckhead, Duck Camp, Tom Beckbe, Skinny Water Culture, Yeti and Toadfish.
Indian Pass Raw Bar
"It's shrimp and oysters and beer that you get on the honor system," Sutter said. The restaurant, steeped in a rich history dating back to 1903, bills itself as a "no-frills seafood joint with beer."
Cape San Blas Lighthouse
Located next to Point South Marina, the lighthouse dates back to the 1800s and has weathered storms, restoration and relocation. Visitors enjoy priceless views and a good workout as they climb the lighthouse's spiral staircase on a guided tour.
St. Joseph Peninsula State Park
Enjoy hiking, fishing, swimming and paddling at this state park nestled between the Gulf and the bay. Overnight stays are available at 14 primitive sites and eight cabins.
Blacks Island
"You feel like you're in Central America or the Bahamas, and you're two hours from Tallahassee," Sutter said. This private island resort is located in St. Joseph Bay and offers bungalows for rent. Board your vessel, and set off from the marina for the ultimate island experience.
St. Joseph Bay State Buffer Preserve
The preservation park contains 19 known archaeological and historical sites, dating from prehistoric times to the 20th century. Multi-use trails offer hiking, biking, horseback riding and bird watching.
Stay by the Bay
Nearby accommodations with close proximity to the marina and downtown area include The Port Inn and Barefoot Cottages. Additionally, Airbnbs and VRBOs line the streets between the marina and Reid Avenue.