Delicious Portfolio
Smitty's blends suds with grub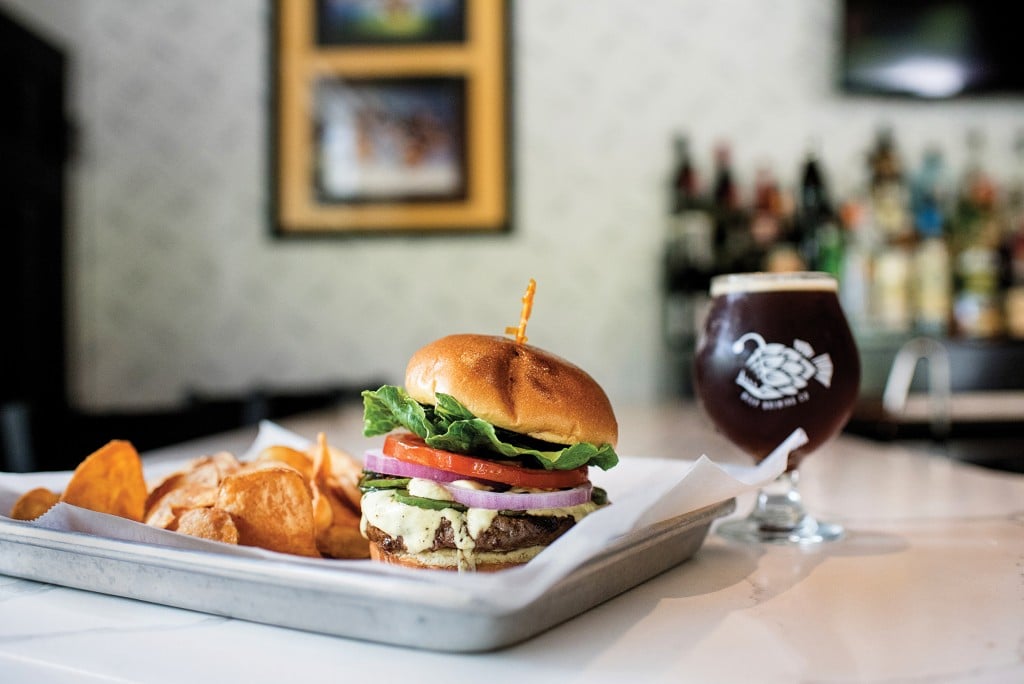 Smitty's Taphouse & Grill has managed the art of good relationships — albeit those between craft beers and complementary foods.
The restaurant, located at 6265 Old Water Oak Road in the Persimmon Hill neighborhood just off Thomasville Road, opened in July 2021 and is owned and operated by Jason Smith and his family. Their mouth-watering menu offers 25 dishes from soups and salads to cheesesteaks, burgers, sandwiches and more.
"The Munich roasted chicken and the rib eye sandwich are my top two favorites, and our special blend pub burger (ground chuck, brisket and short rib) is a close third."
Smitty's beer menu is extensive and diverse with 70 offerings, 19 of them on tap. Their tap list includes cask ales, made by locally owned DEEP Brewing and served at 55 degrees from a specially designed pullman's tap. Smitty's menu advises customers to "ask for a sample before ordering a full pint."
Smitty's also has a full bar, including specialty cocktails made with their own unique recipes.
"The Porch Punch and Peach Palmer are very popular," Smith said. "They're all very refreshing and sweet enough so that there's no overpowering flavor of alcohol, and they're easy to drink."
Smith first learned about beer when he worked for Tri-Eagle Sales, a local distributor, managing their craft portfolio.
"When I got that job, I thought I knew a lot about beer," Smith said, "but when I got into the position, I learned that I didn't know anything about beer." He sampled each of the craft beers and discovered a whole new spectrum of flavors.
"Now I deal with six different beer distributors, and I get their inventory lists every week," Smith added, "and I just look to see if there's something we don't get very much in this area. If there are different styles I may not have heard of or seen before, we try them, and we've had pretty good success."
There's plenty of seating at Smitty's, with 148 seats in the dining room and bar combined, and another 60 seats outside the front door.
"We have numerous events throughout the week and month," Smith said. "Monday is family night where kids eat free, Thursday is general knowledge trivia night and Friday is live music on our patio, which we call Music Under the Stars."
Monthly events include Harry Potter trivia on the first Tuesday of every month and Cars & Cold Ones on the second Saturday of every month.
"We have also been hosting Tap Takeover events once a month," Smith said, "which is where we bring in up to six kegs from a local brewery, and their sales rep offers samples to our customers along with free swag."
Smitty's is proud to be family owned and operated. Jason's son, Connor Smith, is the kitchen manager, and his other son, Jared Smith, is a server and bartender. His nephew, Erik Wheeler, is the front-of-the-house manager, server and kitchen manager fill-in. Stacy Smith, Jason's wife, is Smitty's PR specialist and fills in as a server when needed.
Jason gained experience working for his mother, Charlie Cziraky, and her husband, Anton, when they owned a restaurant known as Sal A. Manders in Bradenton in the 1990s.
"Jason has this business in his blood," Cziarky said. "He knows how to run a restaurant from front to back. He has never been afraid of making his own way. People who work with him have followed him to every restaurant he has been involved in."
Added Cziraky, "Jason is a thoughtful and generous person with a great sense of humor that the customers love."
---
Good Food
Smitty's Taphouse & Grill is open from 11 a.m. to 9 p.m. Sundays and Mondays, 11 a.m. to 10 p.m. Tuesdays through Thursdays and 11 a.m. to 11 p.m. Fridays and Saturdays.
Want more information? Check out the beer and food menus at smittystaphouse.com.