CRMC Director of Surgical Services Combats COVID-19 In New York
Kate Lee works on front lines alongside 500 Navy Reserve medical professionals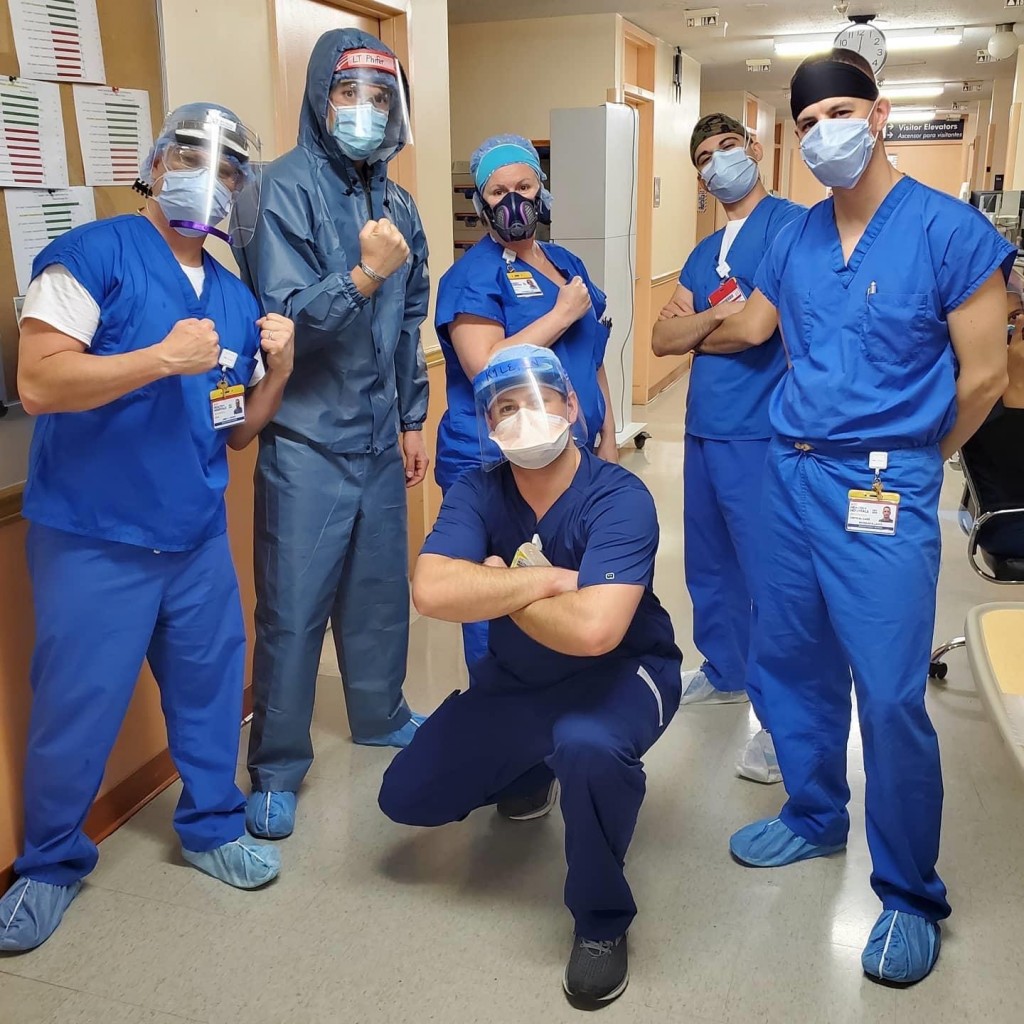 Kate Lee never imagined her first time standing in Times Square would be when it was completely empty. As a Navy Reserves officer, Lee was summoned to New York City to assist with the COVID-19 efforts, and she has been committed to the improvement of patients since April 5. 
Now the director of surgical services at Capital Regional Medical Center, Lee received the call on a Friday evening and was on a plane headed to New York City by 11 a.m. on Sunday. Her head was spinning with less than 48 hours to pack, put her affairs in order and say goodbye to her husband and son for 169 days. 
Upon arrival in New York, Lee trained at the Javits Federal Medical Station. She was then deployed to a hospital in Brooklyn where she is working as a support team nurse for ICU nurses. 
Spending the entirety of her career as a perioperative nurse, working in the ICU has been a major change for Lee. It was overwhelming at first, but she has been able to learn a lot and adapt quickly.
In the whirlwind of it all, Lee says she didn't fully comprehend the emotional nature of being in the epicenter of COVID-19 until a week later. 
"While I am extremely honored to be here and to be helping, I miss my family, and I think about them all the time," said Lee. "On top of that, each day, witnessing so much tragedy is emotionally draining." 
There have been many traumatic moments for Lee, but she will never forget Easter Sunday. The hospital had created a makeshift ICU unit consisting of 10 critical care beds for coded patients. Lee recalls the intensity of the crash cart going back and forth between rooms as the intercom sounded with code blues, which indicates cardiac or respiratory arrest. 
"I have never experienced anything as emotionally or physically draining," said Lee. "I remember looking at one of the seasoned ICU nurses and saying to him, 'I don't know how you do this every day.' He told me this wasn't normal, that we were truly in a crisis situation."
While patients did pass that day, the team did the best that they could to take care of and comfort the patients. One of those patients was a particularly sick man named Mark, who Lee did not think would survive. Even still, every day she talked with him, telling him about the beaches of Florida and her family. 
A week later, Lee walked into his room to find that Mark was off of his ventilator and awake. He began talking with Lee, thanking her and telling her that she had been his favorite nurse. 
"I couldn't help but to cry, I was so overwhelmed to see him healthy and surviving," said Lee. "I will admit that I get attached to patients. It's very touching and overwhelming when they start getting better and are able to squeeze my hand, smile and eventually communicate, and then knowing that I contributed to that." 
When Lee is not in the hospital, she is in her hotel room, on the phone or Facetiming with her husband Ben and her son Aidan. Ben has been working from home, and Aidan is completing school at home. She often wakes up to messages from them both, which gives her hope and comfort each day. Lee credits her husband's strength for keeping the family united and consistent during these stressful and unexpected times. 
"Being here, life resonates differently," said Lee. "I've realized many things I've taken for granted, such as spending time with my family. When all of this is over, I will leave work at work and focus on quality time with the people I love most."
She also credits Capital Regional Medical Center for being abundantly supportive of her and her family from the start. The CRMC team has dropped off care packages in Tallahassee with Lee's family and is constantly checking in to ensure her needs are met. 
"I have never worked somewhere where the staff and people care so much," said Lee. "This has always been the case, but it's especially heartwarming now."
Lee longs for the day when she can go home, but even more so for the day when COVID-19 will no longer infect patients. Still, each day at 7 p.m., whether she is working, leaving the hospital, seeking food or strolling along the Hudson River, she finds hope in the cheers that erupt through the city streets as the community thanks health care workers in the city. 
"Just knowing that people are out there supporting us during this time is what keeps many of us going," said Lee. "I don't necessarily need monetary support or things, but just knowing that I have people behind me and around me supporting me and caring about me, makes me feel like we can all do this and get through this even better and stronger."